The Wedding Site for The Rest of Us
$575
of $7,300 goal
Raised by
5
people in 27 months
There is a HUGE hole in the "wedding industry," a trap for gay couples & "non-traditional" engaged couples that can't escape, and a wall that many creatives cannot climb. There needs to be a change. It's 2016.
As a lifelong artist & photographer, I'm happy to say I've enjoyed a long career attracting & working with the most amazing, unique "non-traditional" wedding couples, but I've busted my ass for years to cultivate those relationships - advertising on mainstream wedding platforms is HELL for us artsy types, and we just don't connect with the clients seeking us half the time, and I know for a fact many couples feel the same about finding the right vendors. I've done it all since 2007: The Knot, Wedding.com, Thumbtack, Craigslist, Facebook, Twitter, Google, even OffbeatBride - all a waste of my money and time. "My clients" just aren't using those platforms - and the ones that are, are forced to choose mainstream wedding vendors who mostly don't care about anything except making money.
Word of mouth and client referrals have been my best advertising....BUT what happens when you leave your client base and move to a new state? You have to start over.....there is NO word of mouth, no one knows you, and everyone says, "Oh you have to work for someone else," or they say they like you and promise referrals but never deliver.
Mainstream wedding vendors have SO MANY CLUBS AND PLATFORMS, it's overwhelming - to the creative vendors seeking to find their specific client AND to the clients specifically seeking THEM.  I can't tell you how many terrible stories I've heard, especially from gay couples, one being,
"We had to go with this one officiant because no one else would marry us, and even though we wanted to hire you as our photographer, we can't because photography is included with the wedding package and we just can't afford to go anywhere else, even though she charged us more money because we're a gay couple - we just want to get married and get it all over with."
THAT'S HORRIBLE! IT'S THEIR WEDDING DAY!
This couple should have had access to a real platform, filled with vetted, open-minded, talented vendors who are supportive and understanding of their struggles, who care about their relationship and their wedding, and most definitely NOT charged them extra just because of who they fell in love with!
NOW LET'S TALK ABOUT ARTISTS LIKE ME:
Ok, I mentioned my issues with mainstream wedding platforms and advertising. I KNOW I'm not the only creative with a unique niche that has struggled with making ends meet because I can't connect with the clients seeking me. I also know I'm not the only "edgy" artist who's been told to conform to the mainstream, "take any job," or be left to starve.  I imagine there are many amazing bakers, caterers, aspiring chefs, photographers, graffiti artists, celebrants, planners, decorators, florists, performers and entertainers with such a passion for their craft, who are loving, hard-working, non-judgmental and just fucking
GOOD PEOPLE who would love to have steady income working with the couples seeking exactly the talents they provide, and actually have a solid place in "the wedding industry."
I know that my endeavor will help fill this hole, at least here in South Florida (FOR NOW). I'd love to be able to connect with the unique clients seeking my talents with the same ease as traditional mainstream wedding vendors do - and I know many of my fellow artsy types would like the exact same thing AND so would the unique couples seeking US.This is about couples and artists connecting in the name of Love, and about giving talented creatives the opportunity to be wedding pros.
There are SO MANY couples out there who aren't your traditional "white wedding" couple - the rockabilly couple, the gay couple, the fetish couple, the hipster couple, the cosplay couple, the Walking Dead couple, the raver couple, the hardcore metal couple, the transgender couple, the non-categorized couple, even the "normal" couple who might just want a rock-n-roll wedding photographer, a drag queen wedding celebrant, a bleeding baby zombie cake and a burlesque, flame-eating dancer at their wedding.
THEY SHOULD HAVE ALL OF IT! AND THE OPEN-MINDED CREATIVES THAT SPECIALIZE IN THOSE SERVICES SHOULD GET THAT OPPORTUNITY.
They deserve to be successful wedding vendors, too, and they shouldn't have to sacrifice their artistic integrity to the "mainstream wedding industry machine" to put food on their tables!
ALL COUPLES DESERVE THE PERFECT WEDDING.ALL ARTISTS DESERVE TO EAT (NOT STARVE.)AND WE ALL DESERVE A BETTER WAY TO CONNECT. FUNKY COAST WILL BE THE WEDDING SITE FOR THE REST OF US - FREE TO #LOVEOUTLOUD!
V V V V V V V V V V V V V V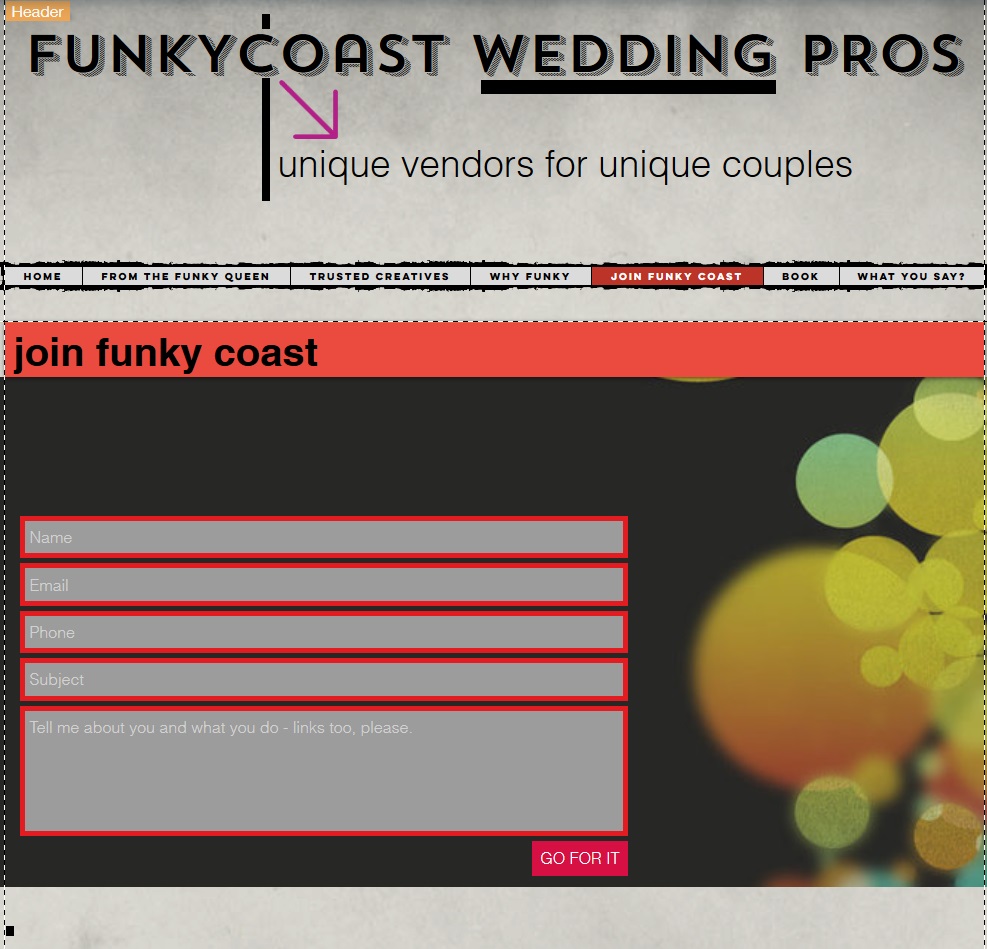 I'm creating
Funky Coast Wedding Pros
, here in South Florida, one of the nation's biggest wedding destinations for ALL types of couples, and it will be the online platform where passionate, open-minded & unique creatives will not only be featured & able to connect to the couples seeking them, BUT it will feature direct online booking, reviews, ratings and more.
A ONE STOP SHOP. And I don't plan on stopping just in SoFlo - I will be making this nationwide.
I know what you're thinking: There ARE sites and places to advertise. SURE there are, but the vendors aren't vetted or interviewed - these sites only care about money, and if a vendor pays to be listed, that's all that's needed. They don't take the time to actually meet with the vendor LIKE I WILL. EACH AND EVERY ONE. Because I care. I, as an artist and professional, am tired of seeing "offbeat" sites actually support undercutting artists and outsourcing services to wedding guests..."crowdsourcing photos?" At Funky Coast the ARTIST will be supported and our unique couples will know they can trust the pros they chose without risking their most important day.
HOW FCWP WAS CONCEIVED:
This started off as a scribble in one of my many little notebooks (now I have a Galaxy Note) back in January 2015. I moved to the Panhandle in 2014 - what a culture shock from my Big City Hustle in DC, no one wanted to hire my freelance Yankee ass, and gay couples were literally in hiding.  NW FL is VERY "concervative," but I was certain that I could find my clients and I knew that I could find other artists like me. So I started a Facebook group (but I only knew 3 creatives in NWFL), and it just sat there.
Now, having moved to the beautiful arts, culture and opportunities mecca: South Florida, SURELY "my clients" would easily find me if I advertised my services like I did in DC.  meh. I've networked for 2 months straight, been to networking events, talked to about 100 people, given out hundreds of cards, shown up to community events and shot, shot everything I could, posted mini-sessions up and down the coast, worn craigslist OUT, lowered my prices for new clients - even allowed myself to consider working for a mainstream company for a few hundred dollars as an assistant, shooting and handing MY work over to be branded with their watermark. I've been shooting for 3 decades, working for myself! I even sent them my portfolio for review. ZERO reply of course.
WHY should I have to do that? WHY should any artist? 
AND WHY should I have to consider giving up my calling and go back to bartending after being sober for over 4 years?
Sometimes we have to create what we want to be a part of.  And I'm doing it. I hope you will support my endeavor - I've already started on the site because it needs to exist. You would be supporting Art, Love and the creative Human spirit.
But here are the specifics (what your money will go to):
1. Domain purchase/ownership
2. Site creation & maintenance (as you can see, I've already started, but it's going to be a long road, and there's no way I'm putting my trust in anyone else to do it, made that mistake already)
3. Advertising/promotion (flyers, paid ads)
       a. Phase I: to get the good word out & build a creatives collective
        b. Phase II: once I have a satisfactory creatives collective base I will then advertise to attract the right couples
4. Travel (to distribute said flyers, interview/vet potential Funky Coast Wedding Pros)
YEP, I'M DOING EVERYTHING. I'M 1000% FOCUSED ON DOING IT RIGHT.
HOW GRATEFUL WILL I BE?
How does a free photo shoot sound? Or a feature on the site? How about a partnership with authentic returns on your investment?
Check out the Reward Levels!
BUT HONESTLY, THE ARTISTS & CREATIVES & COUPLES WILL BE EVEN MORE GRATEFUL THAT THEY CAN CONNECT.
THANKS IN ADVANCE FOR YOUR SUPPORT.
+ Read More
Be the first to leave a comment on this campaign.