East Harlem Pride Football
$8,151
of $15,000 goal
Raised by
73
people in 28 months
The East Harlem Pride football program, consisting of 5 small schools in the area, is entering its fifth season as a full varsity and junior varsity program in New York City, one of just four such programs in all of Manhattan. We are working hard to provide as many young men as possible with a positive athletic experience and an opportunity to learn about themselves through hard work, teamwork, and competition. Last year, we were able to service over 70 student-athletes. With the number of student-athletes increasing each year, the demand for resources and equipment continues to grow. The program has raised quite a bit of traction and our numbers are better than ever.  Unfortunately, it has been difficult to keep pace with the growing number of student athletes. Last season we actually ran out of helmets and shoulder pads and so could not accomodate everyone who wanted to participate.  This was very disappointing for us and our students.  

Our goal for this upcoming season is to raise $15,000 in order to successfully operate all aspects of a football program such as equipment, buses, uniforms, and staffing. Our primary needs are buses for transportation, additional helmets and shoulder pads to match increased participation, and new equipment that's been designed to teach tackling in a much safer way.  Each bus to away games costs $500.  We have 5 varsity away games and 3 JV away games.  We are also hoping to order at least 15 new helmets (approximately $200 each) and 15 new shoulder pads (approximately $120 each).  One different area in particular that we are looking to raise money for this year is new equipment to make teaching tackling safer.  A lot has been made by many people about limiting contact in football practice, but doing so costs money.  The NY Times ran a story (NY Times Article) about the Dartmouth football program and their use of a moving robotic dummy that can run a 4.7 40-yard dash, a great piece of innovative equipment but certainly out of reach for nearly every high school football program.  We are looking to purchase a new piece of equipemt called the Shadowman (Shadowman Information), which is a very safe and realistic way of teaching tackling.  The cost of a Shadowman is $950(Shadowman Pricing).  Additionally, companies have also designed what are called tackling rings or wheels(Tackling Wheels) which are another great tool for teaching tackling and reducing player contact in practice.  We are looking to purchase 2 - 48" wheels ($300 each),  1 - 36" wheel ($270 each), and 1 - 24" wheel ($160 each).  Check out the tackling wheel in action (Tackling Wheel in Action).  Most of the players in our program have never played organized football before and so teaching tackling in a safe manner is one of the most challenging and important tasks that we as a program face.  


We are creating an environment where our students can feel good about themselves, proud, accomplished, and positive so that they can walk around with their chest out and chin held high. We have a tremendous group of young men that have worked extremely hard and are eager for the season to begin.  Each year we are asked to to do more with less. We ask you to support our program in any way possible. Any and all support is greatly appreciated by our athletes and the entire school community.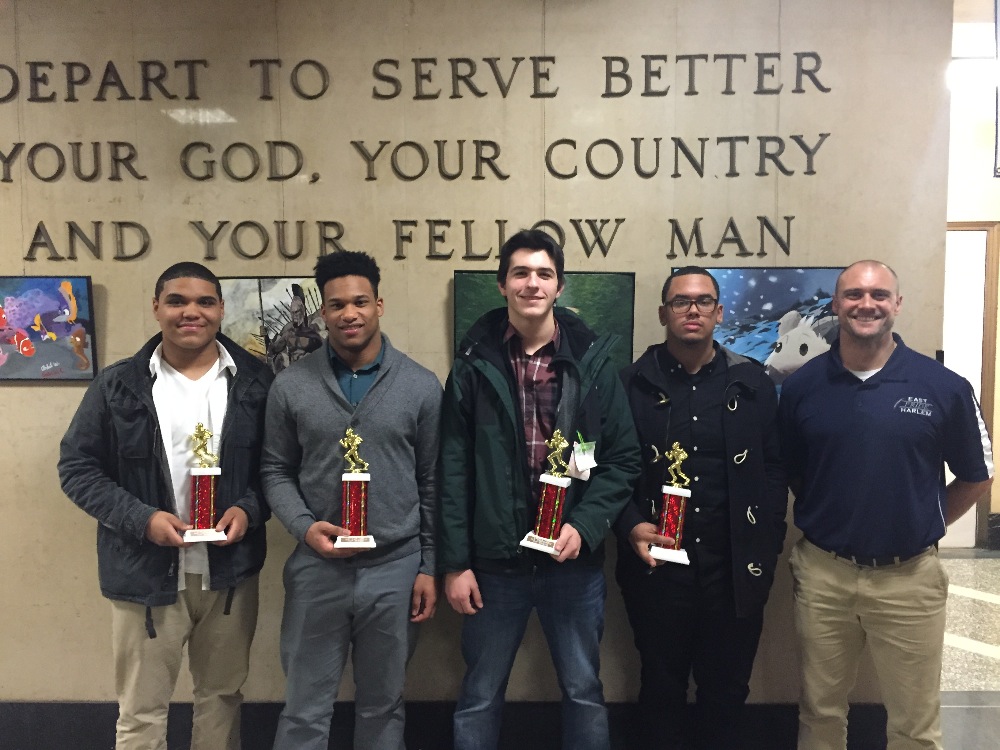 + Read More
Be the first to leave a comment on this campaign.