Keep Denver Rolling
$5,620
of $5,000 goal
Raised by
65
people in 52 months
Denver is looking to raise $5,000 by the end of October. And, thanks to the generosity of an anonymous donor, if we meet our goal, they will match our donation. That means every dollar you give goes twice as far! Plus, you can get some sweet prizes including a special edition shirt designed by ArtBy Dez.

Read below about Mile High Club Captain Lauren Salvador's roller derby journey and please consider donating to help keep Denver rolling!
"Four years ago I couldn't move. I was lying in my bed in a crummy little apartment on the outskirts of the University of Colorado campus in Boulder. It was a quarter to four. If I didn't leave now I would be late to my honor's class. 4:00 pm. Class had started. 4:15 pm. I wasn't going. I couldn't move. I was afraid to move. I was afraid that if I got up from bed it wouldn't be to go to the academically rigorous course that I obviously needed to attend, but to do something that would hurt myself in an irrecoverable way. So I lay there, and watched the late afternoon sunlight filter through the window shade and make patterns on the wall.
"For the entire fall semester I'd been slipping, sinking into a deep depression that left me unable to care about much of anything, myself included. I quit college in the spring feeling weak, feeling like a failure, and uncertain that I would ever be strong enough to go back. That I would ever be strong again.
"In the midst of trying to put myself back together I went to a Denver Roller Doll's bout at the 1STBANK Center. I felt a lot of things, but the overpowering feeling was awe. Here were women. They cavorted around the track with strength, confidence, and an infectious joy. They were pummeling each other one minute and then dancing unabashedly between jams. And while I understood very little about the actual game, I knew that I wanted to play it. I wanted the strength and self-acceptance I saw in them.
"I won't say derby saved me. Therapy and medication and the support of my family and friends saved me. But derby helped me redefine myself. It gave me a dream to work towards and a way to believe in myself again. It reminded me that I was strong and gave me a community. I belonged now to this Island of Misfit Toys, and they took me in, broken parts and all.
"Supporting roller derby does so much more than just helping a team pay for travel expenses. It creates a space where women can reclaim their voice. It develops a community where men view women as equals and even as role models. And it raises a generation of junior derby skaters who grow up believing in the potency of their own power.
" 'The flat track revolution' isn't just a catchphrase; it's a reality. At least it has been for me, even long after I graduated from college and stopped making terrible art therapy paintings. Your generosity keeps the revolution rolling. We have a lot of great plans for the league – completing construction at our facility, sending MHC to playoffs and beyond- but your donation goes farther than that. It helps people get up when they've been knocked down, on the track and in life. And it even comes with some sweet prizes! We're grateful to everyone that has contributed in the past – to our fans, friends, family, sponsors, volunteers, and alumni's. Derby is built on the backs of the ones who have gone before, and we know we could not be where we are today without your support. We ask that you donate to help us keep rolling."
Lauren
"Shadow"
Salvador #129|
Mile High Club Co-Captain 2014
Special Edition T-Shirt.
(Regular DRD or MHC shirts available on request.)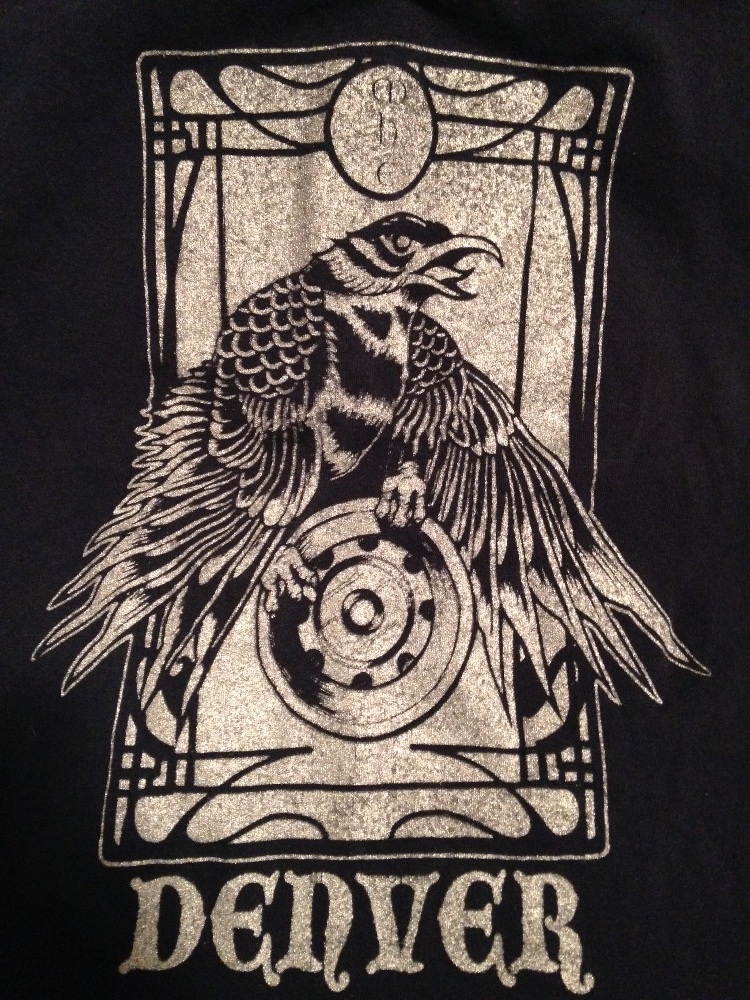 Design by ArtBy Dez. What's with the crow? A certain okay team might believe in hive mind, but crows can think for themselves. Crows are strong, smart, and have terrifying communication skills. You know what a pack of crows is called? A Murder.
+ Read More
Update 2
50 months ago
Share
AH!!! Our goal has not only been reached but also been exceeded! Words cannot express the love and support we feel from all of you. Thank you for keeping Denver rolling!
+ Read More
Update 1
50 months ago
Share
Thank you SO much to everyone who has donated thus far and continues to support the Denver Roller Dolls. We only have one more week to reach our $5,000 goal. For anyone who donates $250, you will receive a signed jersey from Midge Mayhem (Wilhelm) in addition to the other rewards listed. Spread the word and help us reach our goal!
+ Read More
Read a Previous Update
It's amazing how you're reaching your goal! Do you have any advice on how we can reach and exceed our goal?
+ Read More