Brendan's fight for a better life
$3,627
of $5,500 goal
Raised by
38
people in 50 months


The Decision:

After 8 long years I have finally decided I can handle Selective Dorsal Rhizotomy for my son, Brendan. After a ton of research, pouring over success stories and trying to find people who regretted it who no luck I am ready. I have to be emotionally ready in order for him to gain the most out of this incredibly difficult surgery.  I have to be ready to commit to 6 months of intense therapy. I have to want this for him in order to get through it. I had to realize my son needs this in order to live a better life.  I also realized that I wanted him to be able to make the decision along  with me and he is ready too. His father has wanted this since Brendan was 3 years old so we are all finally on the same page. It is time.
What is Selective Dorsal Rhizotomy (SDR):

Basically during SDR, a surgeon cuts the skin over the lower part of the spinal cord. The surgeon then finds and cuts the nerves in the cord that are causing muscle tightness in the legs. If you want to know more detail click on the link:
http://www.stlouischildrens.org/our-services/center-cerebral-palsy-spasticity/about-selective-dorsal-rhizotomy-sdr
Brendan's Background: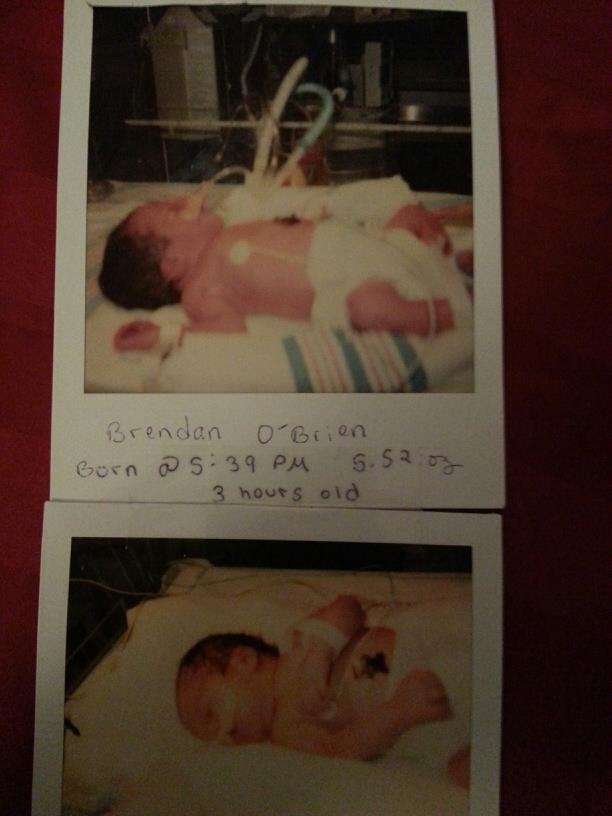 Brendan was born prematurely at 33 weeks gestation. My preterm labor was not taken seriously and the Dr. never tried to stop my labor. I was sent home and suffered a partial placental abruption which was not detected. Brendan lost oxygen at some point during delivery. He was born blue and had to be resuscitated.  He had weight on his side and was a wopping 5 pounds 5 ounces. He actually did very well in the NICU and came home just 11 days later. Over the first few months of his life it became apparent that he wasn't like a typical baby. After many months, doctor's appointments and the dreaded MRI we found out that Brendan's loss of oxgyen caused periventricular leukomalacia which is when white matter in the brain is damaged. He has moderate brain damage and this led to him having spastic quadriplegia cerebral palsy.  He is moderately effected but is very fortunate becuase he can speak to us, use a walker, and is hardly ever hospitalized due to illness. He has come a very very long way in his 11 years of life. He couldn't use a walker until he was 3 years old, he couldn't speak until he was 4 years old and is still progressing in this area, and he couldn't see very well until he was over 7 years old due to having cortical visual impairment caused by his brain injury. 
Brendan is currently in the 5th grade and globally delayed. He has severe ADHD also due to his brain injury and struggles with learning. His visual impairment has made it very difficult to read and his lack of fine motor skills restrict his ability to write. 
We have all adjusted and accepted this life but we want to make him more comfortable. We do not want him to become completely dependant to his wheelchair which is expected as he ages. He is starting to regress and no longer enjoys walking. He has no stamina and doing anything out of his wheelchair requires a lot of energy. He has been through a total of 7 surgeries already and will have many more especially if he doesn't have SDR. He will no longer need to take daily muscle relaxers nor receive biyearly botox injections in his legs and right arm. He will be more comfortable and hopefully no longer require orthopedic surgeries after his left hip surgery is completed.  
Why are we asking for donations?:

Brendan does have some money set aside for medical needs however it will not cover everything necessary for this surgery.
We need to travel from RI to St. Louis, Missouri because Dr. Park is the only Dr. I trust for this specific surgery. 
Expected Costs:
Flights to St. Louis cost approximately $912 per person. I need my husband by my side for emotional support and Brendan needs him too! Brendan's father is also flying out for the 5 days he is in the hosptial. 
I am staying for an additional 2 weeks in St. Louis with our newest addition, Lily, so that Brendan can receive intense physical therapy. Therefore, I would love for my mom to fly out and stay with me to help me get through a difficult 2 weeks.  
Unexpected Costs/Loss of Income:
I am sure costs will pop up living out of a hotel for 3 weeks in an unkown area. 
We own our own business and will have to close down off and on for a good week while my husband is in St. Louis with us. If we aren't open we don't make money. We will lose between $1000-$3000 duirng one week.
If you would like to help us reach our goal and be a part of this amazing journey we would greatly appreciate it.
Every little bit helps!
+ Read More
Be the first to leave a comment on this campaign.