Alonzo Thomas IV - Reward Fund
$5,385
of $10,000 goal
Raised by
48
people in 64 months
I am a #MommaOnaMission trying to raise money to help increase the reward for any information to capture the person(s) that murdered my only child.
He was murdered on 4/5/2014, someone saw something and they will get rewarded for speaking up about what they know. 
I pray not only for closure so that my HEART can begin to heal, I also pray that no other mother has to go through this kind of pain.
Please call 816-729-2314 or 816-474-TIPS to help put the pieces of the puzzle together.
http://www.gofundme.com/AlonzoThomasIV
https://www.facebook.com/4MommaOnaMission
https://plus.google.com/+MommaOnaMission
http://www.kansascity.com/news/local/crime/article1312746.html
http://www.kansascity.com/news/local/article1313150.html
http://www.kmbc.com/news/mother-maintains-tireless-effort-to-find-slain-sons-killer/30286638
http://fox4kc.com/2014/06/13/group-forges-effort-to-bring-closure-to-unsolved-murders-one-street-corner-at-a-time/
http://fox4kc.com/2014/06/28/group-taking-it-upon-themselves-to-curb-violence-and-get-answers-in-kc-crimes/
http://fox4kc.com/2014/04/05/police-search-for-shooting-suspect-who-fled-scene-on-foot/
https://www.youtube.com/watch?v=w61rwYDnr5U&list=UUlQYEP0mI5xeZkxfyOweC-Q
https://www.youtube.com/watch?v=1N5EfiamRUQ
https://www.youtube.com/watch/?v=P6yTIrxjXck
https://www.pinterest.com/mlwillis73/momma-on-a-mission-inc/
http://www.pinterest.com/mlwillis73/alonzo-thomas-iv/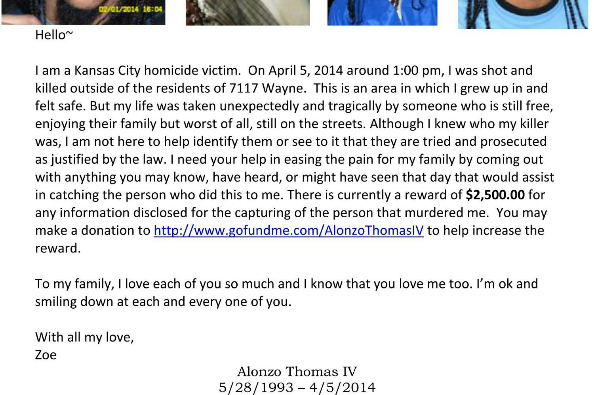 + Read More