20
4
Aid for Aiden
$1,060
of $30,000 goal
Raised by
18
people in 12 months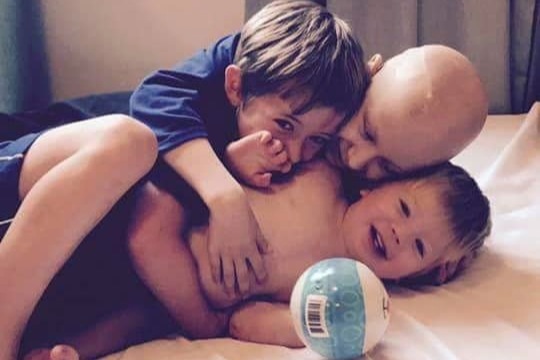 This is for my friend Steph, and her oldest son Aiden. These are her three boys, similarly aged to mine, in a loving twist of wrestling limbs and undoubtedly the sound of giggles echoing in the memory of this picture. Her boys remind me so much of my own, but with one glaring difference… Aiden has been battling brain cancer since September 2016. It still feels shocking to think that, and always so desperately wrong. Surprisingly though, in the research I've done since my friend first told me about this terrible monster that had crept into their lives back when they blissfully believed this could never happen to them, I've discovered that the kind of brain cancer that attacked little Aiden (medulloblastoma) is in fact classified as a childhood cancer. What a horrible reality that childhood cancers, ones that occur most commonly in children, exist at all.
It breaks my heart to say, for those that have followed their story, that despite our best hopes after his harrowing year of aggressive treatment, his remission did not last as long as we all would have hoped and he has had to start back on chemo.
His mom has had to take a leave from work to be home with him while he continues to fight. She belongs with her children right now, and I hope that our community can help her stay home without the huge financial burden she's feeling as a single mom.
Please support her in any way that you can during this difficult time and if you're able to donate, please do so, because every little bit that we can give will help lessen at least one of her many burdens right now, so she can focus on what really matters. 
Thank you!
#ChooseHope 

For more detail please visit the link below for aidens mom's blog. 
https://mamaoutpost.com
+ Read More
Update 2
2 months ago
Share
I have been off work since March 1 at which time it took 4 months for my EI to kick in, first the doctor had filled a date in wrong, so I had to resubmit this went back and forth three times! Thank god for fundraising done for us last year or I would have lost my house waiting for EI payments to kick in. My Caregivers of Critically Ill Children benefits ended November 5th and I reapplied for Compassionate Care Benefits November 11th the exact date the EI office told me I could, I had my medical certificate in hand. Making sure T's where crossed and i's dotted (or what I had thought with help from social worker at Cheo to complete the sheets) I went directly into the office in Carleton Place and had them review, yes everything looked good. I was told to call service Canada in 5 days and plead my case for "Dire Need" in which I did. I was told it would be put through to review to call back in 5 days, which I did. I was told I was not accepted for Dire Need to call back in 10 business days, which I did. I was then told they see the medical certificate has been submitted but they could not find in on their system they would put my case to specialist to call back in 5 days. Which I did. I also went back into EI office in Carleton place with my stamped certificate saying I had dropped it off there November 11th. The lady at the desk looked it over and said I need to fill out another section still for consent for them to look at the medical certificate and she would manually enter the information in and re mail-them back to Service Canada with Mail service taking 10 days. I have tried calling Service Canada for the last two days unable to get through because of "High call volume" finally I get through today and I am told they still can not find the certificate and time has run out so I need to get new ones and submit and they will process right way! I am very patient but this is absolutely ridiculous and I am at a total loss and feel so helpless. The communication and the process time of 10 days every time is ridiculous!

On top of the hours spent dealing with financial stuff, This last week Aiden has hardly kept any food down vomiting 2-3 times a day with faint blood in his vomit yesterday also the chemotherapy attacks his body pretty hard this round causing diarrhea, pain and fatigue. I am trying to hold it together with a smile but everyday just seems to get harder and harder. Little things just seem to be adding up and it is just a lot to handle. MRI date was suppose to be on the 3rd but got pushed to the 21st so scanxiety is once again kicking in. I feel like I am stuck in limbo where Aiden does have many good days but the unwell days are still to many leaving me trapped sitting in my house waiting for call to pick him up.

We have had a great Christmas holiday together and I am trying hard to just be so thankful for all the good times we have had. I am so lucky to have gotten this year with him but it also has made it harder as the future is so uncertain. I am usually pretty good at keeping it together but financial stress, sick child, vehicle problems, working through separation, mourning over loss of a best friend and yet another family who lost their child to cancer has started to take its toll. I have started therapy for the first time in my life to try and help me process this voyage. I just feel tired all the time. I have been getting anxiety when I have to go out and it takes all my energy to push myself to do things in social situations. Even mundane tasks seem exhausting. I can't even find motivation to hardly write anymore, something that I love doing and was a therapy for me, I will start to write but just can't finish anything. I am told that my body/ mind is trying to adjust to being in constant bear mode for the last two year- The fight or flight response. She explained about the chemicals in your body that get produced and are now depleted or something along those lines. When I told the therapist I thought I was going crazy and losing my mind, I was told that I am normal crazy for this situation which I guess is a good thing but still leaves me trying to accept that this is now my life, I really have to accept that I will never have normal and calm again.
+ Read More
Update 1
3 months ago
Share
It is hard to believe it has been 1 year since Aiden relapsed and we were told to prepare for the worst given a timeline of 3 months to a year. Everyday is truly a gift that I am so thankful.

Overall, Aiden is doing pretty well but most importantly happy. I still take him to his weekly visits but they have gotten so much easier, for both of us, as we joke that we have now become experts on needle pokes. Aiden goes to school most mornings and I usually pick him up just after his lunch feed as he is just too tired. I can not thank Aiden's school enough for being so accommodating and compassionate and caring for Aiden. Aiden recently had a neuropsychology assessment done which will hopefully help with where he is at with school. The parent teacher interviews were very emotional for me. Just a reminder of how hard theses last two years have been and how much our whole world has changed. I am very happy to say that Declan is doing so much better at school this year. Last year I lost count of how many times he got suspended or sent to office and I needed to get him as he was having a complete emotional breakdown. It was scary to think he was only in Kindergarten and it was already this hard. This year he gets on the school bus and is generally happy and excited about learning and seeing his friends. Last year Aiden had a one on one EA and needed someone with him at all times for safety issues but this year I drive him to school and he walks right in the front doors. He still naps most days and is probably at a kindergarten level but he wakes up and gets himself dressed every morning and is excited and happy to go. Even if he is there for an hour it makes me happy to see him around his peers.

Aiden is still 95% gtube fed and vomits occasionally, whether it is from the brain tumour or the chemo it is hard to say. He has not gained any weight but also has not lost any which I take as a win. In the new year goal will be to focus on his eating and weight gain with hopefully another swallowing study. He still usually coughs with liquids and generally has difficulty or extreme sensitivity to eating.

Emotionally Aiden is a lot more stable but I see the effect of the brain damage and treatment almost daily. It is very hard navigating between what is behaviour and what is damage. While Aiden was in hospital there was no rules or discipline the whole focus was to get him physically better. Now back at home setting up boundaries and rules has been a huge challenge. When he gets angry that it is bed time and he is asked to do something for example I just want cave, hold him and let him get away with it but I know this is not parenting him for the future and it makes it more difficult on Declan and Lynkon why "Aiden is allowed to do everything or get everything". Again a work in progress which I think all parenting is.

For myself, I have been trying to keep busy and just enjoy this time with my boys but I think the best way to describe my feelings is "Displaced". I had mentally prepared myself for the worst possible outcome, I had gone off work, I started a bucket list but now with Aiden being more stable I just feel like I don't belong anywhere. He is doing well most days but still so unstable that I can't go back to work so I sit in my empty house and wait for call most days. We are not in the emergency fight mode with intensive chemo therapy and rushes to the hospital but still experience the side affects that come with treatment and constant worry over feeding tube and medications and cancer growth and I wonder will we ever return to normal again or is our new normal a life of uncertainty? Aidens next Scan is January 3rd and until then I am just grateful for this second Christmas we get to spend together and for all my friends, family and community who has helped us on this voyage. Thank you!
+ Read More
Read a Previous Update