Help BleedFree Become A Non-profit
$1,138
of $1,500 goal
Raised by
34
people in 54 months
I was four months old when I was diagnosed with hemophilia. What is hemophilia? Hemophilia is a rare bleeding disorder in which blood does not clot normally. Because it is carried on the X chromosome it is called an X-linked genetic disorder. I inherited the factor VIII deficiency form of hemophilia (there are different types of bleeding disorders and they do not all use factor VIII to stop the bleeding) and unlike "clotters," if I get bruised or badly cut, I will not stop bleeding without medical assistance.
In the 1970s and 1980s, medical care was severely lacking and as a result a lot of my generation's hemophiliacs are either severely crippled or have passed away due to HIV and hepatitis contaminated clotting factor. I lost several cousins and numerous friends because of HIV/AIDS. I cannot count the number of hospital stays I endured as a kid or the number of days I missed school, stuck at home with a bleed. Those week-long hospital stays meant eight to ten hours without my mom, bored out of my mind, with the same twelve books to read and mind-numbing reruns on TV.
There is an awesome support system available to the bleeding community. Not only do we have the
World Federation of Hemophilia
,
National Hemophilia Foundation
,
Hemophilia Federation of America
, and state groups, we also have hemophilia camps, support groups, discussion forums and online services galore.
Despite all the wonderful avenues of support available to the bleeding community, one thing I think is missing and was missing when I was a kid is the support bleeders get while bleeding, stuck in the hospital or at home; the chance to still feel like they belong and aren't being hidden away like unwed mothers in the 1950s, to still make friends when they're missing out on school and not becoming a part of this clique or that one.
Since BleedFree first began, we have sponsored or participated in the 2013 NHF Hemophilia Walk, the Idaho Stampede Hemophilia Night, an Xbox One raffle, a benefit concert and a special anniversary showing of the film
The Goonies
movie at the
Overland Park Cinemas
. We have also created and sold over 800 hemophilia and bleeding disorder themed t-shirts which we have sold within the community to raise funds for both the National Hemophilia Foundation as well as BleedFree's own fundraising efforts. These shirts, beyond fundraising, have also become a great source of pride and enjoyment in the bleeding disorders community, with many community members sharing pictures across social media of themselves wearing their bleeder gear. This combination of advocacy, unity and fun perfectly illustrate the mission of BleedFree as an organization dedicated to enriching the lives of people with bleeding disorders by connecting them and providing fun and enriching activities. These efforts have resulted in BleedFree raising over $2,400 to support the bleeding disorders community.
The 501(c)(3) paperwork for BleedFree is in process, and once our non-profit status is finalized, our goal is to bring smiles and comfort to our blood brothers and sisters when they are confined to a hospital bed or their home because of a bleeding episode. We hope to accomplish this through enabling visits from their favorite celebrity, sending them video game consoles and games, or books or movies of their own choice. Providing these distractions during the downtime in which a bleeder must wait out the resolution of their bleed will help to boost spirits, ward off depression and feelings of isolation and provide stimulation during times which otherwise can be stagnating and lonely.
BleedFree's goals also include awarding two separate annual $2,000 scholarships to selected bleeders wishing to attend college or a trade school. The James Glenn Aiken Scholarship
(born in 1918, my uncle Jimmy was the first known hemophiliac born to my great-grandmother. Uncle Jim had 5 sons and one daughter. My cousin Melanie inherited the hemophilia gene from him and subsequently gave birth to two boys who had hemophilia. Both boys were infected with HIV during the 1980s and one died from full-blown AIDS)
will go to a student in any subject while the William Glenn Aiken Scholarship
(my uncle Glenn died in 1954 at the age of 24. He was involved in a car accident and the hospital in Pendleton, Oregon, would not give him medical care until he paid $100 which at that time was an up-front charge. He bled to death in the waiting room)
will be awarded to students enrolled in technology programs. These scholarships will not be exclusive to high school seniors, and any person with a bleeding disorder, regardless of age, will be encouraged to apply.
The bleeding disorders community holds a special place in my heart and in my blood. It is the reason I started BleedFree. BleedFree's goals are ones I believe in and am confident can be reached, but to do so, I need your help. Your generous donation, in whatever amount you are able and comfortable with giving, gets us closer to reaching these goals and making life for those who suffer from bleeding disorders just that much better and easier to manage. Together we can make this happen. Thank you in advance for helping BleedFree become an officially recognized non-profit organization dedicated to directly improving the lives of individual bleeders in modern, creative and enriching ways.
+ Read More
Update 2
53 months ago
Share
Our t-shirt & hoodie designs are very popular in the bleeding community with over 300 sold. Donate today and be eligible for a "Co-Founder T-Shirt."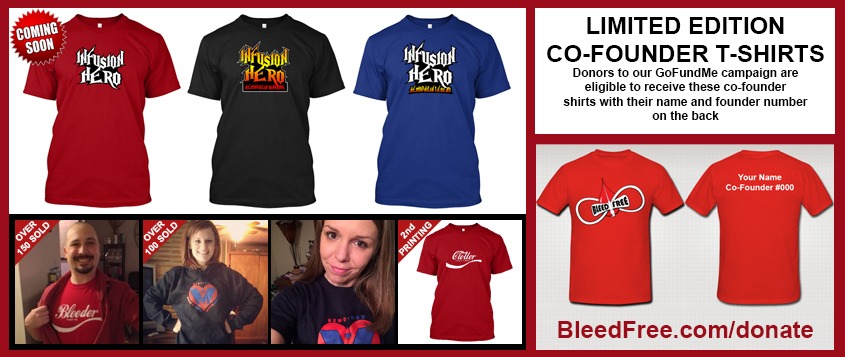 + Read More
Update 1
53 months ago
Share
BleedFree wants to give a huge "Shout out" of thanks to those who have donated!! so. . . . THANK YOU from the bottom of our Bleeder hearts.
+ Read More
Read a Previous Update
Be the first to leave a comment on this campaign.