In Dandelion's Memory
$1,250
of $1,000 goal
Raised by
28
people in 36 months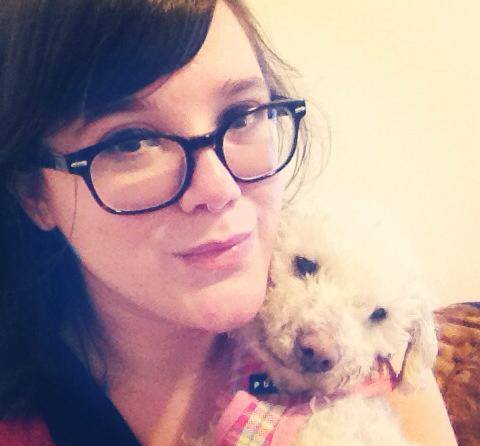 Dandelion, or Valerie as others knew her by, was a ten year old poodle mix. She was soft and curly like a lamb. Dandy didn't have the best luck in life, found as a stray in San Jose, CA, but the wonderful volunteers at Muttville, an organization that specializes in caring for dogs 7 years and older, took her in as one of their own. She was born with a small liver and had survived ten years with it! She was put on three different kinds of medication for her liver shunt, but still, she always greeted me with tons of affection.
I can't begin to tell you the ways she made me happier. Just coming home to her and taking her on her daily hour-long walk, her tiny ears flapping happily down the street, filled me with a joy I cannot descibe. Even though I was just her foster, I loved her like she was my little buddy. 
I came home on Thursday, April 17th to Dandelion not quite acting like herself. She couldn't keep herself upright, and when she did, she swayed back and forth. When I held her in my arms, her head tilted back and I knew something was seriously wrong.

Immedately, I took her to an emergency vet and called my Muttville foster manager, Eva. She talked to the vet and had authorized all charges for Dandy's care. She knew how special that little dog really was. Dandelion stayed at the hospital overnight, and the next morning, I took her to the animal hosipital that knew her and had cared for her since Muttville took her in, the SF SPCA.
On Friday, April 18th, I held Dandelion in my arms as she went to sleep for the final time. Her little liver couldn't take the strain any longer, and the medication wasn't working. I didn't want her to go, I wanted more time with her. I wanted Dandy to be healthy and go for more walks, and have more treats and know that I loved her very much. Unfortunalely, it wasn't meant to be.
Dandelion (Valerie) made everyone, even strangers on public transportation so, so happy. I let everyone who wanted to love on her, pet her, even sweet little children. Dandy made an impact in so many lives, and brought moments of happiness to everyone who met her.
Without Muttville, I wouldn't have ever had the chance to foster Dandelion and spoil her silly. Without Muttville caring so much about this little dog and giving her a chance to live the rest of her life with a full belly and heart, who knows what would have happened to her in San Jose.
All I'm asking for in this fundrasier is to give back to Muttville what they spent on Dandy in her final hours. For an organization who gets their funding through fundrasiers, this is a lot of money to spend on a little dog. I want to honor Dandelion's life by giving back.
Even if you can't give money, if you have dog beds or toys you'd like to donate, please let me know (indandyshonor@gmail.com) and we can work something out.
Thank you so much for your time, and getting to know Dandelion's story.
+ Read More
Update 1
Posted by Jessi Reid
36 months ago
Share
$1,000 is a lofty goal, and while I know that was the cost of Dandy's emergency vet visit, I thought I'd let you know where your money would go, and how much items cost.

I asked Eva, Muttville's manager, how many dogs Muttville has rescued and adopted out in her 8-month span of working there. She told me 1,000! Thats about 125 pups a month! And I can't even image the number of foster mommas and dads they have, which they provide EVERYTHING to (dog beds, medicine, food).

I'm a visual person so I added the Wish-list section so you all can see where your generous donations will go towards.

Thank you for your time!
+ Read More