~Hope & Support for Kim Tucker & Family~
Be the first to like this update
Gage and mommy!
He will hopefully going home to Red Deer Hospital soon!!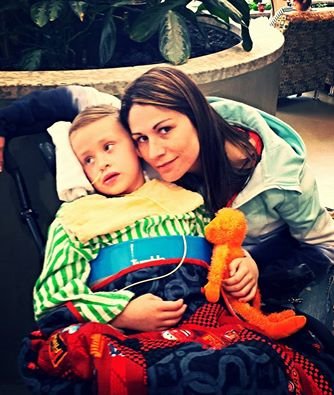 Kim Tucker, A loving mother of 3, is going through life in a way no one should have to experience. Her middle child, Gage Daust - age 6, Is in a Coma fighting for his life.
Here is their story:
         Gage went for surgery April 10th for a tendon release on his leg in hope for him to be able to walk better, this is due to his muscular dystrophy. April 11 he had a Grand Mal Seizure and has yet to wake up. Doctors recetly told Kim that Gage also has Leukodystrophy, finding that out, there is a chance of Gage not waking up at all. He has lost 75% of brain function.
(Leukodystrophy is group of disorders characterized by degeneration of the white matter in the brain. The leukodystrophies are cause by imperfect growth or or development of the fatty covering that acts as an insulator around nerve fibers)
           Kim has been unable to work since April 8, and is trying to support her 2 other children Kylee (5) and Brendan (11).    She has been staying at the hospital in Edmonton where Gage was air lifted by STARS just a few days ago. She is helpless, watching her son knowing there is nothing she can do.
           At this point in life a little bit of hope and support is needed while they head down this scary path of life.

           ** This page has been set up to Help and support Kim and her family, donations will be going towards, bills, food, gas, everything needed to live a life **     

---latest update---
Poor Gages brain is now bleeding - april 16
What is GoFundMe?

Fundraising made easy >>
CONTACT
LINK
POSTER
REPORT
Shauna Olesen
20 months ago
hugs Gage!
Terri Tumack
24 months ago
Funds raised through a Facebook Quilt Auction. My husband Ken and I will make a matching donation of $400 to our Edmonton Walk for Muscular Dystrophy team, Big Ben's Bandits, in Gage's honour. We will keep fighting for a cure for all affected by neuromuscular disorders
Christfitcanada.com
24 months ago
We don't know you, but came across your story. As a mother and father we cannot even begin to imagine what you and your family are going through We are praying for you guys!
Cindy Acton
24 months ago
My heart goes out to you during this difficult time. No one should ever have to say goodbye to a child. I hope this little bit can help.
Lucille Chislett
24 months ago
Kelly Pickering
24 months ago
Keeping you in my thoughts and prayers.
Turcotte Family
24 months ago