Team Alec: Help Alec Kick Cancer AGAIN
$15,905
of $10k goal
Raised by
196
people in 38 months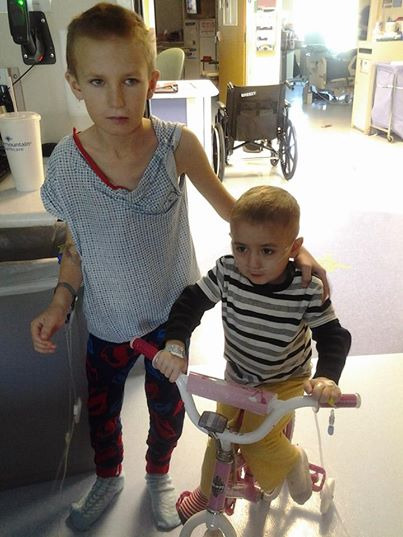 Alec Taber is a 12 year old boy who is
fighting cancer
"" for the
SECOND TIME
in his young life. Six years ago he fought his first battle and won. Sadly, now the cancer has returned but he's ready to fight for his life again.
Alec's cancer is highly aggressive, but treatable and responds well to chemo. He had surgery to remove two tennis ball sized tumors from his belly and he is set to begin chemo treatments the first week in March, which will continue until at least June. He lives in Dove Creek, Colorado, but is treated at Primary Children's Hospital in Salt Lake City, so his family will have lots of travel expenses.
Alec is the oldest of Kerri (Gersch) and Bobby Taber's three boys. His youngest brother, Carson, has been busy fighting his own medical battle with Aplastic Anemia recently. Like his big brother, he had to undergo lengthy treatments at Primary Children's Hospital. While he's responding well to treatment, he's still fighting his battle and was also admitted to the hospital when Alec was there recovering from surgery.
Kerri and Bobby have their hands full taking care of two sick boys and trying to keep life normal for their middle son, Cole. Their journey will be simplified with your generous donation. They will have extensive travel expenses, lost work time, and medical expenses not covered by insurance.
Please donate whatever you can: no amount is too small. If everyone in our extended Dove Creek and SW Colorado family donated just a little, they would have enough to carry them through the next few difficult months.
Anonymous donations are ok, too! GoFundMe.com is a safe/secure site, connected to PayPal. All funds will be directly forwarded to Kerri and Bobby.
This fundraiser is sponsored by
ROCK - Reaching Out To Community and Kids
, a non-profit organization in Dove Creek, CO
https://www.facebook.com/dovecreekrocks
Please share
this information with anyone you know that might be able to help the Taber family.
+ Read More