Rescue Mission's Bathroom
$16,555
of $38,927 goal
Raised by
139
people in 37 months
Dear Friends,
As some of you may know, fifteen years ago I lost my oldest brother James Panos, "Jimmy," to addiction. Jimmy was forty-five when he passed away from a heroin overdose and although he was sober for many years, the addiction won in the end. Jimmy was different from most heroin addicts, he had a loving family that supported him, he went to several great rehabilitation facilities, and he had a good job, nice clothes, a house, a nice car, a beautiful wife, two wonderful stepchildren, and an amazing granddaughter whom he loved dearly. Good friends and loving siblings also surrounded Jimmy, but in the end, the addiction overcame it all. 
 Now imagine you are an addict, but do not have any family, or the family you have has disowned you and you have nowhere to turn. You do not have any material items but the shirt on your back.  You are homeless; you sleep on the streets, behind dumpsters, or in a scary park; you are alone and desperately need help. Where would you turn? Who is going to help you before you die? 
Well, there is an amazing place that helps men and women who have become addicted to drugs and alcohol and have the desire to ask God for help. It is called the Rescue Mission of Salt Lake. 
This is why my beautiful wife Allison and me are writing to you and asking for your help and donations.   
When we first got involved with the Rescue Mission, they gave a tour of their men's facility downtown. When these men turn to God and ask Him for help, they end up in a place that is supposed to be better than the outside elements. But when you have 128 men living under one roof, certain things get worn out quickly, like the bathroom and showers. The Mission has five toilets, four sinks, and three showerheads for 128 men. There is no privacy when a man has to use the facilities; they are wide open for everyone to see. So, based on mine and my wife's personal experiences and past, we have taken on the task to remodel the Rescue Mission's bathroom. We have asked our personal friends Ray Lundberg (contractor) and Glenn Taucher (architect) to help analyze and redesign the space (see attached design). They added two more showerheads, indestructible stainless steel toilets and sinks, and added a urinal and a mop closet.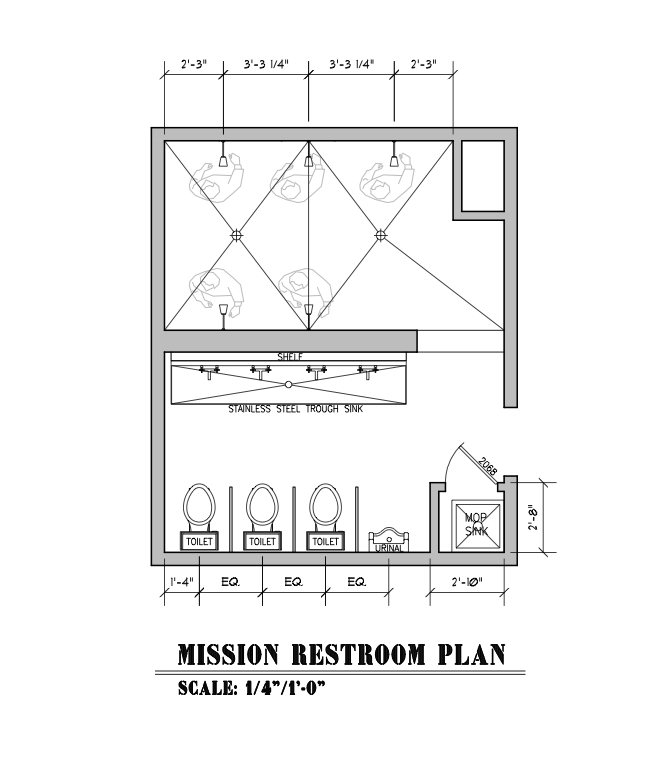 Even though we are getting a lot of help for free, the total price to get everything ordered, torn out, and rebuilt is still going to be $38,927.00.
Any size donation will help, and its tax deductible
(The Rescue Mission of Salt Lake - 501(c)3 - Tax ID: 23-7177264)  
So we are asking all of you to help. Please donate so we can meet our goal and build the Mission and thesemen a new bathroom. Let's build them a place where they can do their business in peace, along with the dignity and respect they deserve as they strive to change their lives.
+ Read More
Be the first to leave a comment on this campaign.