98
3
Baby Kai James
$7,895
of $10,000 goal
Raised by
93
people in 6 months
Dear Friends and Family,
We want to start by saying how immensely grateful we are for all of your love, support and baby gifts that you have sent Claire and Ty! These last couple weeks have been a complete whirlwind for us and our little Kai, and we have thought of nothing but his health and recovery.
Before Kai was born, Doctors noticed that he only was growing one kidney, and also that he was quite small for his age. Later, they realized that Baby Kai was not growing due to the umbilical cord only having one out of the two arteries needed to supply babies with the nutrients that they need. These are actually called
"Hungry Babies"
, and because of this, Doctors decided that Mom needed to be induced as soon as possible.
So, at 37 weeks pregnant, Claire checked in to Providence Hospital in Everett and in a miraculous turn of events, ended up going into labor completely on her own and had a natural birth! Baby Kai was ready!
Baby Kai was born on Wednesday, July 18th at 1:52am at 4lbs and 2.3 oz,  but was immediately rushed away because he was not breathing as well as he should. Doctors determined that he had a defect called
TEF (Tracheal-Esophageal Fistula)
, which essentially means that his esophagus was not connected to his stomach, amongst some other abnormal internal organ connections and misconnections. Apparently this is not an uncommon defect in newborns (1 in 4,000 have some variation), in fact it is the most common gastrointestinal defect among newborns, and surgeons work on 3-4 TEF babies a month! This gave us a lot of hope. Kai was rushed to Seattle Children's hospital and had a 6 hour long surgery just hours after he was born. Late that day, we finally got word that surgery went perfectly and that Baby Kai was doing wonderfully! Although he of course has several milestones to cover before Mom and Dad can take him home.
Since Kai's surgery, he has been in the Seattle Childrens NICU and has been strapped up with pain medication, feeding tubes, a breathing tube and more while his wonderful Nurses (and Parents) watch over him and make sure he is getting as much care and love as they can give.
Baby Kai has made incredible strides and after 9 days they were finally able to take his breathing tube out and start feeding him his mothers milk! Not to mention that we finally got to see his sweet face and hear him cry! We have also finally gotten to hold him and he even just started feeding through a bottle, which is a huge step forward!
Now, we believe we have reached a point with sweet baby Kai where we are getting much closer to taking him home, thank goodness (although no release date has been decided), but this also means that we Kai's sweet Parents will be facing other financial realities after spending these weeks in the NICU.
Again, we are SO grateful for all your gifts and love so far. We ask now that, if you are able, to donate to our fund for baby Kai to help with any hospital bills, living necessities, possible future Doctors visits and the like that their insurance may not cover.
Also, if they are so lucky, they will be giving any extra donations to families we have met here in the NICU that may need it more than we do.
We thank you all for everything you have done. Of course no amount is too small, and we send our love and thanks to you all.
*A Note from Auntie Hanna - Claire, Ty and baby Kai are still learning how to be a new family, and we thank you to respect their privacy and give them some time to acclimate. If you would like to speak in person, I would be happy to answer any questions or send you a note about how they're doing. Also! If you would like to get filled in on Baby Kai's story and updates, you are welcome to visit our Caring Bridge website at
https://www.caringbridge.org/visit/clairemiraburke
Much love and Aloha,
Baby Kai and Family
+ Read More
Update 2
Posted by Hanna Burke
4 months ago
Share
A routine checkup turned into a very scary day for our sweet Kai, but we know that he will come out of this and be back home soon. Please keep him and my sister in your thoughts

"Today Ty, Kai and I returned to Seattle children's after being home for 18 days. We were headed in for a routine check up for his recovery from surgery. Everything went smoothly and he is healing wonderfully. After the surgery and meeting with the surgeon we waited to be reconnected with Kai. We meet with some old friends who are still here and some that were being released today. While seeing our friends we heard a code green (medical emergency) being called over the intercom. Unbeknown to us it was Kai. An hour into his recovery he started to cough and choke resulting in his heartbeat dropping. Chest compressions where needed. He was able to stabilize but he is back on a breathing tube and back in the NICU. Our routine check up has turned into a check in at the hospital. We are unsure when we will be released but hopes are high that it will be this week. For those following Kai's story thank you for all the love and support. If you have a second please pass on his GoFundMe. Since we are now back in the NICU Ty is unable to work and we be needing financial help when we return home. Thanks for reading and checking up on his story, your love and positive thoughts are grateful appreciate. All our love ❤️"
+ Read More
Update 1
Posted by Hanna Burke
5 months ago
Share
We're almost a third of the way to our goal! We are so incredible grateful for all of the donations so far, and are so surprised at how quickly people have come to our aid! We have still got a ways to go, but Claire and Ty send their sincere love and thanks to you all for everything so far!

Please consider helping our fund for sweet baby Kai James, whether you donate and/or share it with someone who might be able to, ANYTHING HELPS!

We are so grateful for everything so far. Much love to you all!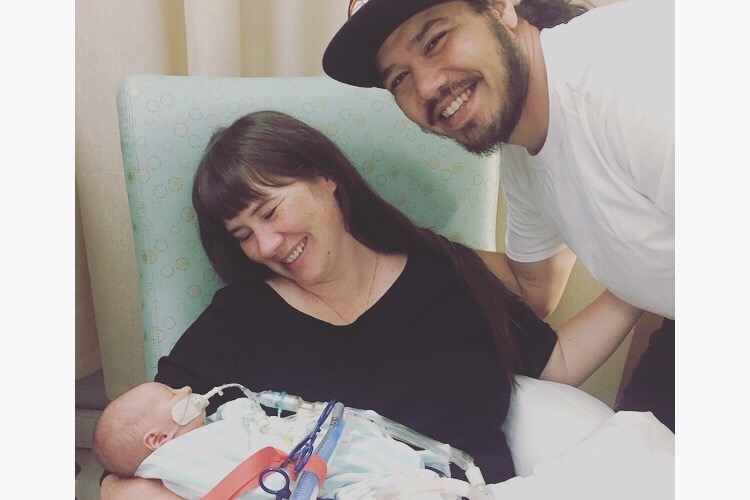 + Read More
Read a Previous Update
A
CaringBridge
campaign