Help Tornado Victims: Abel Family
$1,445
of $5,000 goal
Raised by
25
people in 40 months
On Sunday, November 17, 2013, tornados ripped across southern Knox County Indiana. Sadly, the family home that of Dereck and Angie Abel shared with their three kids was
destroyed.
The family survived - by
*literally* holding on to each other
, as the tornado ripped the walls of the garage off around them.
Here is Angie's account of their survival:
"All 5 of us were in the garage trying to get through our kitchen door into the house to head to basement and it would not open due to the pressure. The garage blew away, the door blew open, all the windows blew out and all 5 of us landed in the doorway on top of each other. We held onto each other tight. At one point Easton was blowing in the air and I had him by the legs hanging on for dear life. I started raising and Dereck had me by the legs. I was on top of Alannea and Lane was holding onto Dereck. It seemed forever but sure it was only seconds. (this is the only time our family being on the chunky side was a good thing lol) The garage we were in is across the road & field. The roof is gone, house destroyed. Vehicles damaged. If we had not got stuck in this doorway I honestly don't think we would have made it! God and special angels were with us. We r all sore, cut up and bruised but alive and that's all that matters. As we were leaving our cat Vito showed up. He's at vet but will make it too:)"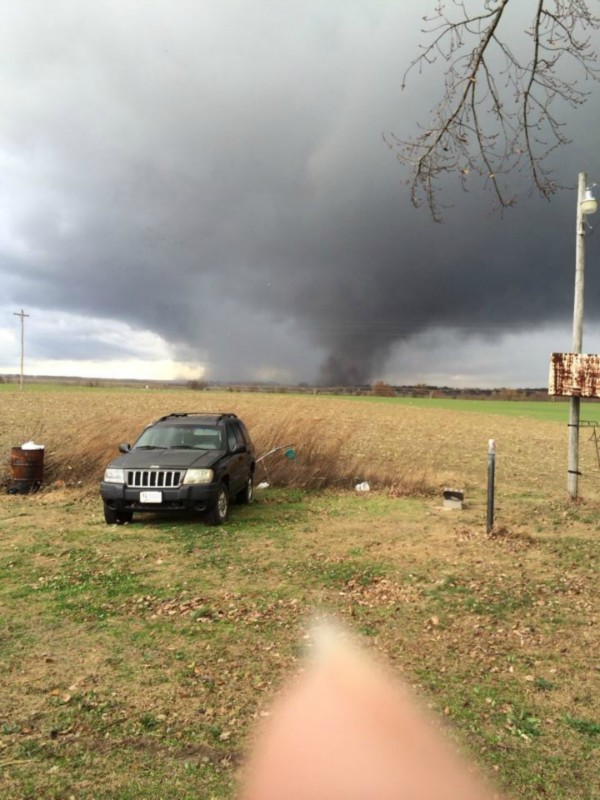 + Read More
Update 2
Posted by Angela Ray
40 months ago
Share
from News 14 blog:
http://blogs.14news.com/14first_alert_blog/November
26, 2013
Knox County family's wild ride inside an EF2 tornado.
As we gather to give thanks for our many blessings on Thursday, I thought you'd like to read about a Tri-State family's up-close encounter with a tornado. The Abels are certainly giving thanks after they found themselves in the path of a 200-yard-wide EF2 tornado. Read Angie Abel's gripping tale from the inside of this monster storm...she emailed me the other day:
"I don't know if you have heard but we were one of the families that were hit by the tornado in Knox County Nov. 17th. We lost pretty much everything. We had previously lost our renters insurance due to roof not passing inspection and were waiting for landlord to repair.
The 5 of us were actually getting ready to leave, me and the kids to town to stay with my disabled mom during the storm and Dereck was getting dressed to head to the mine.
While outside we spotted a funnel cloud across 41s at least 4 miles away and took pictures. We then received the warning on our phones and decided to run inside to the basement. We've now learned the warning was actually about 5+ mins late due to bad cell reception from the storm. Also the tornado sirens that we had heard being tested several times the day before, were not going off. We did not know that the power had went out in Decker and they were not working.
All we had to do was go through the garage/kitchen door and take a few steps to go down into the basement. The garage door would not open. It had cemented shut due to the tornado which was now heading straight for us at 80mph and on the ground over 200 yards wide. Dereck tried to bust the door down and couldn't. He turned and looked at me and I knew by the look on his face we were in trouble. All 5 of us were huddled on the 4 concrete steps when the tornado hit, exploding the garage and throwing all of us into the door, laying entangled in the door frame and steps. At one point Easton our 9 year old was elevated into the air. I had him by the legs holding on for dear life. He slammed to the floor for a split second then was forced into the air with me holding on and now I was raising with him. I was partially laying on Alannea our 18 yr old daughter. Dereck was laying on me holding onto the edge of the concrete steps with his left hand and with his right hand holding onto our 13 yr old son Lane who had been standing to the right of the concrete steps.
It seemed forever but sure it was only seconds as we held on tight to each other. Dereck only had shorts on with no shoes as he had been previously getting dressed. It was a whirlwind of debris and glass along with everything in our garage beating us all and pounding Dereck all over his body as he laid over us protecting us as much as he could.
Our story has not been on the news or tv. (The Sun Commercial may be calling us today). We were one of the first houses hit. The first responders who arrived within minutes, checked us all out and were dumbfounded we had only minor injuries. The garage and everything in it was across the field. There was no roof, windows busted out and trees through every room. Inside the house was a foot of debris along with asbestos insulation. They asked us to get out of there and move to safety as another storm was coming and they were needed elsewhere. All 3 of our vehicles were not drivable. ( they have now been considered totaled). Family members drove through fields to rescue us and what little of our possessions could be pulled from the house and debris.
The next day we had went into the fire station and talked to the head of the weather service in our area. He too had not heard of our story and was shocked that our family was still alive. They were not aware that a family had been home and said by all right we should have not survived that tornado. He showed us the report from the National Service official study of the storm and said the tornado had actually moved through us. When Easton was lifted then fell and then lifted again along with me, the eye of the tornado was actually passing through us. He didn't know how this was possible that we were alive and didn't know if this has ever happened.
We later discovered the interior wall of the basement had been blown out, looking like a bomb had went through it leaving a hole the size of a car. We are lucky we did not make it into the basement and that our family survived in the most unlikely place. Thank God we are here to tell this remarkable story. We will never underestimate the power of Mother Nature and would like this story to be told so that this never happens to anyone else.
Angie & Dereck Abel
+ Read More
Update 1
Posted by Angela Ray
40 months ago
Share
Thanks to many generous donations, we have raised over $500 to help the Abel family so far!! Please share this campaign with others, so we can help this family put all the pieces of their lives back together!
+ Read More
Read a Previous Update