HELP PUMPKIN & JACKIE MEDICAL FUND
$770
of $150k goal
Raised by
6
people in 42 months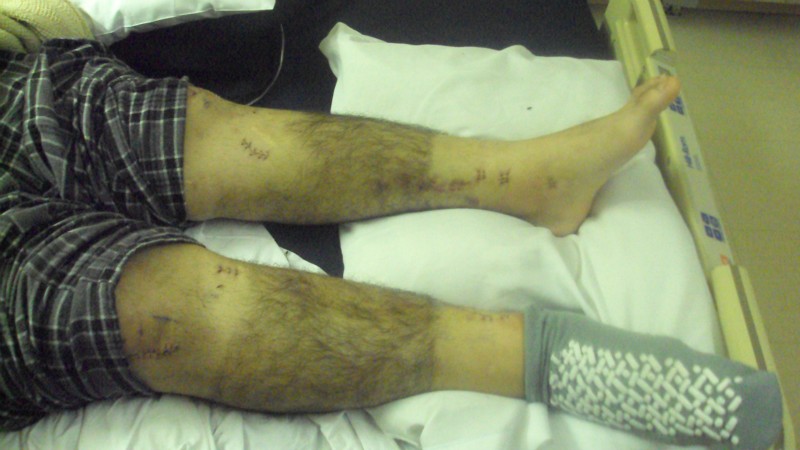 Hello, all. I am starting this fund to help pay overwhelming medical exspenses for my stepson, Wally Sierra Moreno ('pumpkin'), 23, and his girlfriend, Jaclyn Ann Vincent ('jackie'), 28.
On the night of October 18, 2013, approximately 10:03 pm, they were walking home from a corner store and were on the grass, when a car intentionally and purposely hit them from behind. the car kept going, about 30-minutes later the car returned to see what damage had been done. a lone police officer at the scene at that time happened to notice the smashed windshield and made the car stop.
The car had 4 Mexican-American teen males inside. the driver had no driver's license, and no insurance. One of the police officers commented that it could have been a 'possible gang initiation' meaning the 4 in the car had do something like that to get in the gang. ( I might add not 30-minutes later, 2 more people were hit and killed just half a mile away.)
Anyway, Jackie received a broken left arm, in 3-places, and is undergoing surgery as I type this. Pumpkin got the really horrible end of the deal. He was struck right below the knees from behind, the force of the hit brought him off of his feet and into the windshield, up over the car, and landed him on the street 60-feet from the point of impact. When he hit the cement his head was split wide open and he received a severe concussion.
He went through surgery first thing saturday morning. He had what they referred to as a 'nailing' on both legs. where they put steel rods in the tibia bones. his left ankle was shattered and recieved a steel plate and screws. he had multiple stitches on his right hand, and a sprained left hand. at the same time of the leg surgery he recieved facial surgery to repair damaged nerves.
Neither jackie nor pumpkin are currently employed or have insurance. this is the reason for the fundraiser. THEY DID NOT CHOOSE TO BE IN THIS CURRENT POSITION.
Any help at all in these matters will be greatly appreciated. Please keep pumpkin and jackie in your prayers. God bless all of you.
(the pic is of jackie. i will upload 1 of pumpkin later.)
+ Read More