Ehlers Danlos Syndrome Muscle Rehab
$120
of $250 goal
Raised by
6
people in 43 months
"We can treat the symptoms, but there is no cure." It's a bold statement to hear when you look to doctors for help and solutions. Instead, you are told that multiple joint dislocations will cause damage and early-onset arthritis. "Let's give this arthritis medication a try and see how you do." As soon as that one begins to not work or the side effects leave you better off just suffering through the pain, you are blessed with the opportunity to try another. This is the system in which we follow. There is no room for alternative solutions, but be aware that any natural product could interact with a medication and consulting with your physician is recommended.
With each new weakness in the body, the spirit breaks just a bit as hope begins to fade. There are no more late nights with friends. The days of managing a full-time career and family are in the past. The future that one has to look forward to is surrounded by stabilizing surgeries, bedrest, and mobility devices including canes, crutches, and wheelchairs. This is not a joke or a game. It is life with Ehlers Danlos Syndrome.
What is Ehlers Danlos Syndrome (EDS)?
EDS is a connective tissue disorder. The way our bodies produce collagen is broken. It is something we are born with and there is no cure.
What in the body is made of collagen?
Virtually everything in the body has collagen in some form. The most recognized parts of the body comprised of collagen are: tendons, ligaments, skin, eyes, cartilage, bones, blood vessels, organs, discs between vertebrae, intestines. Collagen can even be found in our muscles, nails, hair, and teeth.
Can you give me an analogy that will help me understand?
Ligaments and tendons are the glue that holds our joints together. Think of them as rubber bands. When rubber bands are new, they stretch and return to their normal size without an issue. As the rubber band ages, it doesn't return back to the same size after it has been stretched and eventually it breaks. When our ligaments and tendons break, the joints can no longer stay in place and few options exist for people with Ehlers Danlos Syndrome to repair the damage. Even surgery isn't always a solution.
When you think about that same analogy with our organs or blood vessels, it is easy to see just how difficult life can be with a connective tissue disorder. Early diagnosis and preventative care are essential to living a healthy, pain free life.
How do you plan on rehabilitating your body?
I plan on using a combination of low-impact exercises focusing on specific core muscle groups to retrain my muscles to support my weakest joints while building overall endurance. This means I will bike, walk, swim, practice tai chi, yoga (if an instructor with hypermobility experience can ensure poses are within the correct range of motion), and incorporate light muscle building for tone. The physical aspect is only one side of the equation, however. In order to best fuel my body I will need to stick to a strict diet that is designed to reduce inflammation and pain by incorporating whole foods with those natural properties.
What is your time frame?
I want to begin working on my body as soon as possible. I have watched a steady decline occur over the last year and too much more will leave me needing more support from mobility devices than I'm willing to accept. I intend on chronicling my journey at
www.ehlersdanloslife.com
with extensive reports quarterly to track my progress.
Has anyone tried something like this before?
Yes! There are a few stories of people who were predominantly bedbound returning to mostly normal, active lives through programs similar to this. For many, the focus has been solely on swimming due to the ease on the joints.
What is your motivation to stick with it?
I have two children who are 9 and 5, both have been diagnosed with Ehlers Danlos Syndrome. My motivation is twofold in that running and playing with them has become more of a distant memory than a reality and I never want them to experience the agonizing pain that I live in today. If I can rehabilitate my body, I can teach them how to protect their bodies and gradually strengthen their muscles to prevent repetitive injury and pain.
When you reach your goal, what then?
I don't want another person to be told that they simply must accept that their bodies are going to fail and they will experience more and more pain. There is a way. When I reach my goal, I will take everything I learned and teach as many people as possible about how they, too, can take control of their lives, their bodies, and their health.
How did you reach your financial total?
When I made the commitment to myself and my children that I would turn our lives around and make each day the best I could, I looked specifically at the expense for my initial membership at the gym and the transportation expense to and from for the first two months. My mini-goal at that point is to be able to return to work, at least on a part-time basis to support my family.
Why haven't I heard about this syndrome before?
Ehlers Danlos Syndrome has only been actively researched for about 20 years. Doctors at Cincinnati Children's Medical Center in the connective tissue and pain management departments estimate that 1 out of every 100 people has Ehlers Danlos Syndrome, but because of the lack of research, most medical professionals have no understanding of the syndrome.
I hope to bring greater awareness to Ehlers Danlos Syndrome through rehabilitating my body and teaching others what has worked for me at my website EhlersDanlosLife.com.
Closing thoughts:
I'm not willing to accept that a continuing decline is my fate. I do not want to tell my children we cannot attend this function or that because I am in so much pain. In 15 or 20 years, I want to be able to hold my grandchildren in my arms and not simply view them from a distance.
I need help to reach this goal, but I'm not giving up without a fight.
Will you help me show these two boys they have a bright future ahead instead of one riddled with pain?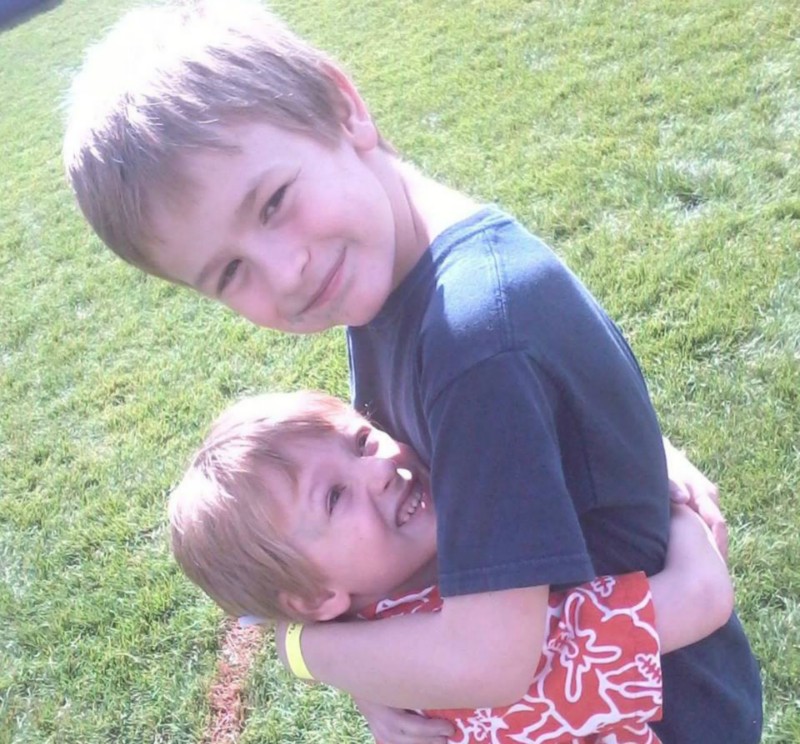 + Read More
I attended a live Q&A with Dr. Kenneth Goldschneider and Dr. Derek Neilson covering pain management in children with Ehlers Danlos Syndrome. They see over 800 Ehlers Danlos Patients between birth through early 20's in the connective tissue department per year. Their pediatric clinic is one of the largest centers for connective tissue disorders in the nation. Their estimate, as discussed during the Q&A, blew me out of the water. I suffered silently for many years before I had a diagnosis and some people I've met who are diagnosed with fibromyalgia actually fit the criteria for Ehlers Danlos Syndrome.
+ Read More
I am very impressed, and more in awe of you than ever! 1 in 100? That would actually make this fairly common, so there must be a lot of undiagnosed sufferers out there.
+ Read More