Neglected Dogs Need Treatment By Vet
$2,290
of $5,000 goal
Raised by
42
people in 23 months
*****GRAPHIC CONTENT***
On April 18.2017 a friend of mine, who is also a owner/landlord of a property alerted me that his tenant had abandoned his property but had left behind his dogs. He explained that he was afraid to go into the house, but was not sure if the dogs were being fed or looked after. I proceeded to go over to the property and what I found was beyond anything I could of ever imagined. Inside the house there were two male dobermans who were intact(not fixed). They were very frightened, but not cross. As I walked through the house, I could not seem to find a surface that was not covered in feces or urine. The smell was overwhelming.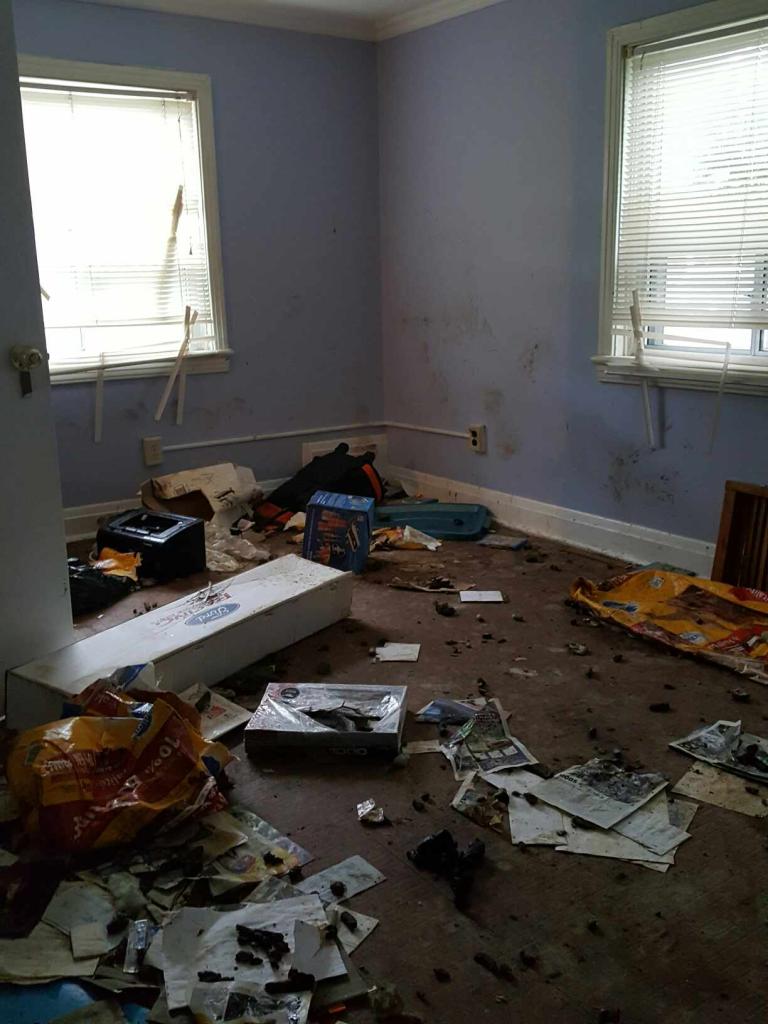 There were empty bags of dog food that had been eaten long ago, that may have been the only reason the dogs were still alive. 

After catching the dogs with some meat, I had a chance to inspect them and see how extensive their injuries were. 
The younger dog (Zeus #1) had punctures from bite wounds covering his head, shoulders, legs and the inside of his mouth. He was malnourished and covered in fleas.
The older dog (Zeus #2) was clearly the "underdog" between to two males and was covered in extremly deep punctures, was missing several teeth, and had a extremly deep laceration to his front leg that was beginning to fester due to the unsanintary conditions the dogs were living in. It was only a matter of time before infection set in or rodents took over.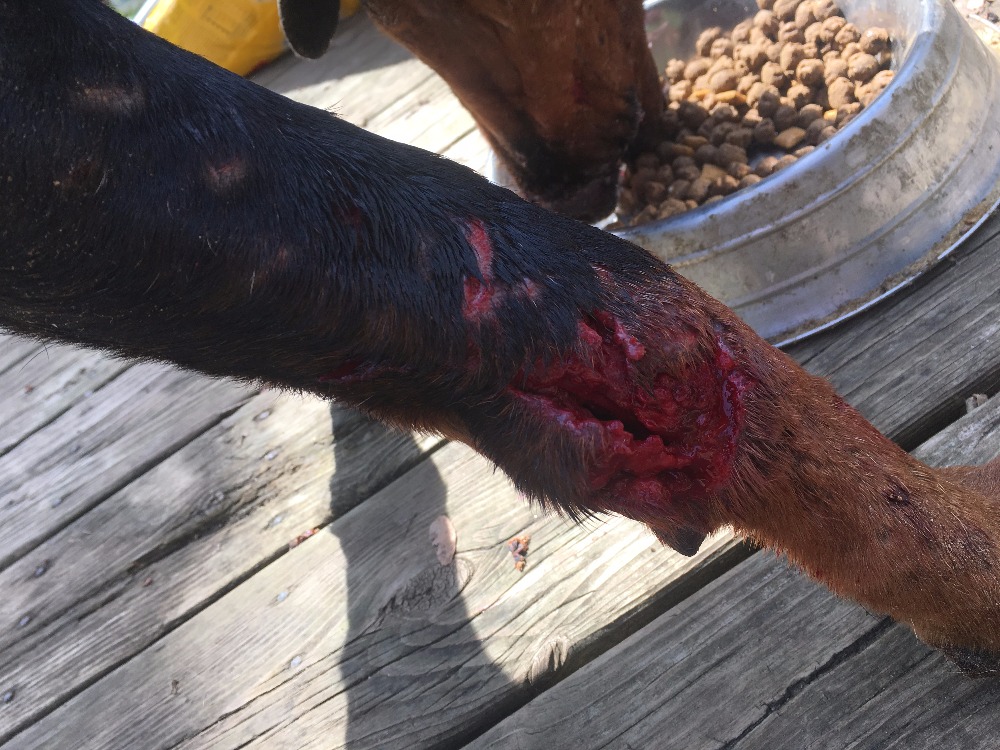 Zeus #2 also had a severe eye injury that looked improperly healed due to lack of veterinary care. His eye it's self is not damaged, but the tissue surrounding the eye had healed into a unnatural position. 
I immedietly called the SPCA and PETA begging for help. They said they were going to open up a case for these dogs and get them help as soon as they could, but advised me to leave the dogs there until they had legal permission to remove the dogs. 
So I left them food and water, and tore myself away from the property, hopeful that someone was helping me. 
Wednesday, Thursday, Friday had passed. After many countless hours on the phone with PETA and the SPCA, the dogs were still at the property. I was going out there every day to check on the dogs and give them food and water. The landlord was meeting me there and granting me access to the house so that I could take care of the dogs. But Zeus #2's leg was becoming more infected and the dogs were fighting and injuring themselves more and more everyday, because now there was food involved. This was making them more agressive towards eachother. The sound of my car pulling into the laneway would spark fights as they knew that food was coming and they were quite literally starving to death. 
I was hoping I would run into the owner as the SPCA had left notices on the doors prior to me finding these dogs, and told me that the owner said he was going to the house everyday to feed the dogs. However, I had not seen him nor was there any evidence that this was the case. 
On Saturday morning, the dogs had gotten into a huge flight and the injury on Zeus #2's leg was torn open and bone and tendons were exposed. The situation was now an emergency. This dog needed veternary attention immediatly. I called the landlord and told him to try to get ahold of his tenant ASAP as I was rushing this dog to the vet clinic that I work at. On the way I called the SPCA and PETA but was not able to get ahold of anyone. 
Zeus #2 was taken into the clinic and treated for the leg injury. While he was there we did bloodwork on him, did a fecal test on him and found out that he was positive for tapeworms.



 The veterinarian told us that he needed surgery on the leg, but the SPCA advised us that we could not do the surgery as we did not have "legal consent" to medically treat the dog. So the waiting continued. The clock ticked on. 
On Saturday evening, the landlord got in touch with the owner of the dogs, who gave us verbal and written consent to remove the dogs from the property and take them to the clinic. So we rushed to the property to get the younger dog. After a short detour to KFC we were on our way to complete the rescue mission and get the second dog. 
The battle was easily won with some tasty chicken and we had both dogs in our possession.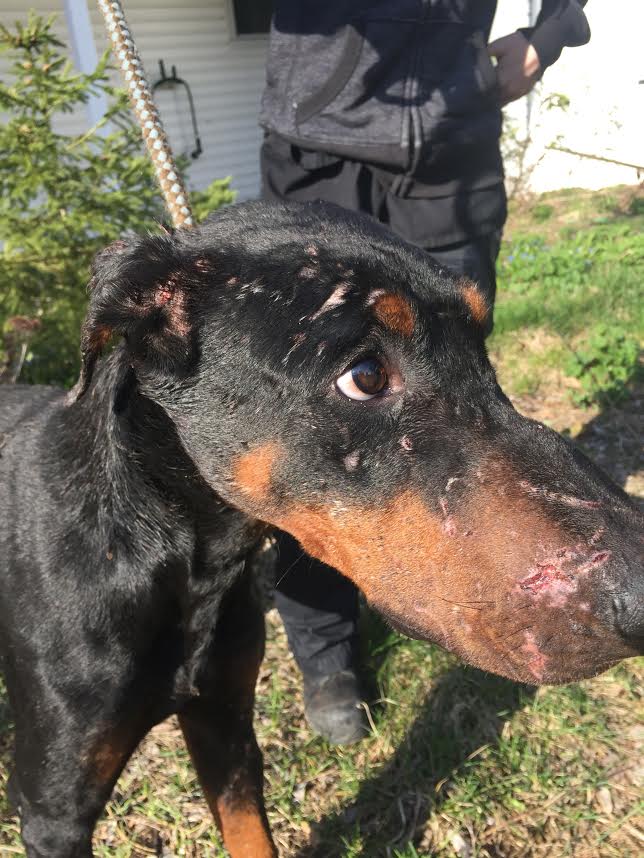 After documenting all the injuries on the dogs, we tucked them into bed in the clinic, fed them a nice big supper - of dog food, no more chicken! And said goodnight. 
On Sunday morning we contacted the SPCA and York Region Police to see what our rights were with these animals. We were basically told that we had none. The owner was able to come and pick up these dogs and there was nothing we could do about it. 
We contacted the owner and he agreed to come to the clinic and speak to us. We basically informed him of the conditions his dogs were in, informed him of the costs to treat the dogs and informed him that if he surrendered the dogs to me, there would be no cost to him. 
By the grace of God, he agreed to surrender the dogs to my care and finally the dogs were safe. 
But now the real work started. 
The following care took place over the next few days: 
The Younger Dog got neutered, a full dental cleaning, and a large laceration on the top of his mouth was fixed. 

Poor young Zeus recovering from his dentistry and neuter. 

The older dog injuries were much more extensive. He is infact still in hospital at the clinic. 
His medical procedures were as follows:
he got neutered, got a full dental cleaning and had to get extensive surgery done on his leg were the flesh was badly injured. 
The surgery took place in a sterile setting as the wound was very infected and lots of tissue had to be removed, so I could not take any photos while he was in surgery. 
We have been tracking the process of his leg healing. 
This is 2 days after the surgery, his first bandage change. 

This picture was taken 5 days post surgery - 2nd bandage change. 

In the middle of all this going on, my funding for this was pulled, leaving me with a hefty vet bill in the amount of $4185. This older dog may need a second surgery to help his leg repair and the skin to close, which is not included in this bill. Only time will tell if a second surgery is going to be needed.

This is why I am asking for the publics help. 
We have a wonderful rescue helping us with this situation and they are going to find these dogs homes after some rehabilitation. 
We would like to make a nice donation to the rescue that is helping us with these dogs. Ontario Doberman Rescue in Caledon is an amazing organization that has agreed to take these dogs and rehabilitate them and find them amazing homes. The owners of this rescue are amazing people that are truly dedicated to helping this amazing breed and love what they do. They have an amazing facility which I had the pleasure of touring when I brought young Zeus into their care. 
Any extra funds made by this gofundme will be donated to DRO on behalf of myself and everyone that donated. 
This experience has truly opened my eyes to how hard animals have it. 
This world is a scary place for those with four legs. 
"The animals of this world exist for their own reason. They were not made for humans anymore than black people were made for white or women were created for men" -Alice Walker
+ Read More
Be the first to leave a comment on this campaign.