The Reveal Mission - James D
$365
of $1,000 goal
Raised by
9
people in 47 months
You don't plan to have a whole hemisphere of your son's brain disconnected or possibly removed. At least I would have never thought so. And then my grade-school friend Stephanie told me that is exactly what she is faced doing with her 10-year old son James.

You can read the whole story that this desperate, loving mother writes about her and her son's journey as James started having seizures a year ago. Unfortunately he did not respond to epilepsy treatments. And unfortunately the scans the doctors have made of his brain are showing that the right hemisphere of his brain is deteriorating.

Can you imagine having a group of doctors from UCLA tell you that your son has Rasmussen's Encephalitis (a rare, inflammatory, neurological disease)?

How would you feel when you were told that there was no cure - that the only way to stop the deterioration is to disconnect and/or remove the affected hemisphere?

How would you feel explaining this to your son? - knowing that when he wakes up from surgery his dominant hand won't' work the same way ever again, he might not be able to say exactly what he is thinking for a while, that he will probably have to learn to walk again - in fact James might not even be able to smile at his family for a while.

Stephanie has asked me to come spend a couple of days in their home and take some pre-surgery photos of James. I'm going to do the best I can to blend into the woodwork, or the family when it is appropriate, and capture a couple days of this young man's life. Come this July his life is going to drastically change. Hopefully (prayerfully) it will no longer consist of seizures and any future deterioration, yet it will require a lot of courage, determination, hard work, patience and faith. It may be that these photos we capture are stones of remembrance for him, images of connection, or something even more significant that we don't even know yet.

I was to fly out on the this last month. Stephanie already sent me the $400 for the ticket. She asked how much I would charge for the time and the photos but Reveal Mission work isn't something that we request finances for. She has only begun to see the start of bills for James' surgery and recovery and I'm not going to add to that.

Unfortunately James had a bad week. He fell twice. The first time he didn't get his arm up to block his fall. He face took the brunt force of the fall and he has some significant bruising and road rash. The second time he did get his arm up in time to protect his face, yet now he is sporting a cast on his broken arm. Stephanie decided to cancel the photos as James looks like he has gone a couple of losing rounds with Vin Diesel. We are wanting to take some good and memorable photos of James and his family. Thankfully Expedia and Alaska gave me some grace for the tickets (I really should have purchased the insurance) and we rescheduled for the end of June.

Once James has the surgery he is expected to have at least a six week recovery time at UCLA before he returns home. Stephanie will be with him the whole time and various friends and family members may travel to California to help support her during this time. I would like to be a part of this team and spend a couple of days at UCLA with James and Stephanie in August to follow up with him on his story, his recovery, and take a new set of photos.

I'd like to raise enough funding to fly to UCLA to capture this part of James' journey, and also return the $400 that Stephanie sent me for the first flight so we could take the before photos.

Projects like this certainly make realize that I need to get working on turning The Reveal Mission to a non-profit organization as soon as possible. I think funding is out there for projects like this, but we have some work to do to make it happen.

I have a "Go Fund Me" page for The Reveal Mission. I think we need around $1000 to cover these two trips and expenses. If you have a heart for seeing this happen I appreciate your support.



+ Read More
Update 2
Posted by Chad Estes
46 months ago
Share
I had the privilege of spending the weekend with James and his family in Eugene. Unfortunately some of it was spent in the hospital. While already in a cast on his left foot James had a seizure while balancing all his weight on his right foot. When he fell he twisted sharply and severely sprained his right ankle. His mobility went to zero and now he needs to be carried from place to place.

I was impressed to see James' heart and his desire to heal. He worked hard the rest of the weekend to take his medicine, keep his foot raised, ice the swelling, and not put any pressure on it.

While I had hoped to connect with James without having to see his pain I was put right in the middle of the drama that is his and his family's life right now. I walk away a better person because of my connection with them.

I know that the upcoming surgery and recovery is daunting, yet James is going to make it!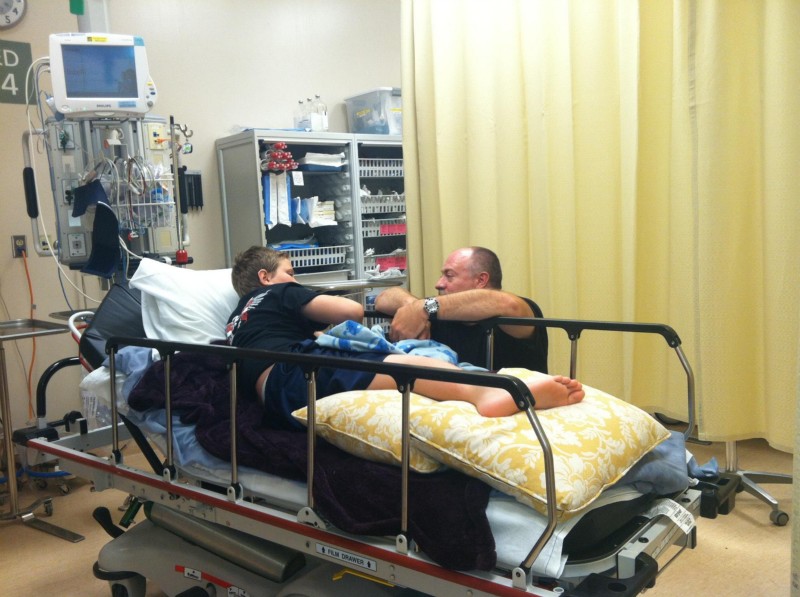 + Read More
Update 1
Posted by Chad Estes
47 months ago
Share
James spent the last week at UCLA getting tests done before his upcoming surgery. His mom Stephanie wrote the following blog entry about his time there and his interaction with his doctor.

"As we drove around in Los Angeles last week, Sheryl Crow's song "Soak Up the Sun" kept repeating in my head, probably because we kept encountering Santa Monica Boulevard. James was along for the ride because we had several appointments for tests at UCLA. He was generally cheerful, although the neuropsych testing was a real drag and he was tearful at one point because it was taking so long and it was like a School Test. We sure weren't there for the beach or any other "fun" reasons. There were only a few points during this trip where James got to kick back and relax.

He was a trooper through the fMRI, which took an hour where he was all hooked up with headphones and a visor and some kind of plastic cage over his head. He was pretty agreeable about walking all over the UCLA campus to get from one place to the next, and only complained about the strain on the last day as we visited L.A. Children's hospital and walked outdoors when it was a bit muggy. Mom was sad to notice how weak his left-handed grip has become as she held his hand walking all around. He had three seizures on Monday, just because of having to get up early to fly the day before. He had a seizure on the plane ride home too, it was short but he was awfully glad to get off that little plane and just get back to his own space.

James met Dr. Mathern, the neurosurgeon, on Monday. After giving James an exam, Dr. Mathern answered some of James' questions. "How long will it take?" "As long as it takes to do it right." "Will it hurt?" "No, just the part where the poke you with an I.V. and after that you won't feel anything because of the medicine they will give you."

Dr. Mathern talked to Mom. He expressed his heartfelt wish that the research would soon find a way to take the Rasmussen's Encephalitis patients off of his caseload by discovering a cure. When James heard Dr. Mathern telling Mom about the risk of death from the surgery (out of 200 hemispherectomies Dr. Mathern has performed, he did lose one child who was under the age of one) James began to gesture a bit wildly. "I don't want to die!" he burst out. Everyone in the room gave him their full attention and helped him talk about that, and understand that he very most likely would NOT.

At the end of the discussion, Dr. Mathern gave James the opportunity to decide for himself whether he wants this surgery. "Will it stop these seizures?" James asked, again. "I am surely hoping that it will." Dr. Mathern said. "Yes. Alright, I want the surgery" said James, and came over and shook Dr. Mathern's hand solemnly. We all said goodbye and turned for the door.

James turned suddenly back, and took Dr. Mathern's hand a second time. He stared him in the eye as he shook his hand again. Dr. Mathern returned James' handshake with a sad and serious face. Satisfied, James took a deep breath and turned back to the door.

"All I wanna do is have some fun

I got a feeling I'm not the only one

All I wanna do is have some fun

I've got a feeling the party has just begun."

Sing it, Sheryl. Sing it.
+ Read More
Read a Previous Update