The Wake County Cowboys non-profit organization was founded in 2010, with a mission of offering an affordable and constructive family-friendly outlet for children in western Wake County.
We are a Pop Warner football and cheer association,
entirely run by volunteers
, committed to teaching the fundamentals of football and cheer, as well as the values of discipline and diligence.
As a family-run organization, we depend fully on registration fees, fundraisers, sponsorship, and donations to meet the season's costs for our 4 football teams and 3 cheer teams.
With your donation, we can continue to offer an affordable registration fee, while still providing a quality program in which even the youngest children can be successful.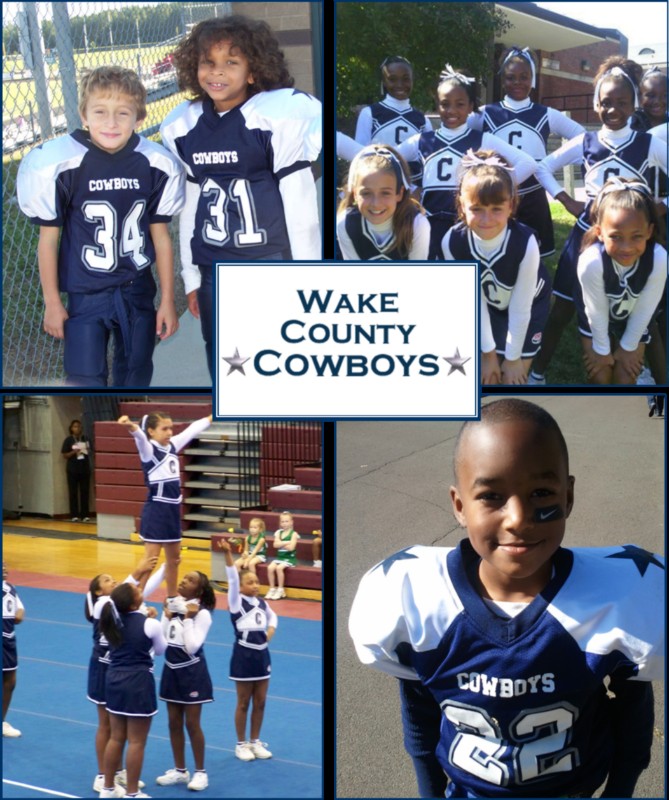 Our 2013 season budget of
$30,000
includes association dues, insurance, administrative supplies, recurring utility and field/stadium rental fees, as well new uniform and equipment costs. We have been able to acquire most of our goal through registration fees, fundraisers, and donations to date.
Now we need your help to raise the rest!
These are an AMAZING group of talented children, and your donation will help us remain in a position to provide the very best for them.
Thank you in advance for your support!
Sincerely,
Karen Blue
Board Secretary (Communications)
www.wakecountycowboys.com
P.S. If you would like further documentation of your donation for tax-deductible purposes, please send me a message via the "contact" button above, after making your donation. Thank you!