Be the first to like this update
Feb 2016:
Kadence's front adult teeth have come in, all but one on the left beside her front tooth. This is the only access we have to get a toothbrush in. There is not much room to move the brush, and we are unable to reach the new molars at the back. Her gums are bleeding as we cannot clean her teeth properly. She is getting sick monthly and we don't know where to turn.
If anyone knows where we can get help for a jaw on an 8 year old that has not been able to open past 8mm since birth, we would appreciate you forwarding this information. I know there is a medical professional somewhere out there who has seen this and knows how to help!
Thank you for sharing...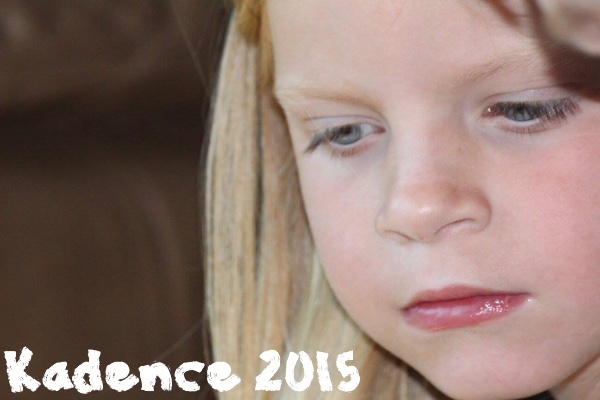 Hi there...thanks for taking the time to read our story! Without going into the past here, (there will be a website up shortly that tells the WHOLE story), we are making a request, publicly, for funds to help us continue to help our *5 yr old daughter. Kadence is now 8 and we are still looking for someone who can help her.

Her greatest challenge at the moment, is the fact that her jaw does not open more than 1 finger width...considered to be in medical terms, severe. The risks are:

(1) lack of dental care as we are unable to brush inside or on top of her teeth. We recently got in to see a Pediatric Dental Specialist, and there are cavities on the tops of every molar. Due to the lack of ability to open, under general anesthetics, all her molars are going to be extracted. This will be done in a hospital some distance from where we live, necessitating not only several drives for pre-op and anesthetists planning but hotel, meals and a $3000 retainer. There is a waitlist, but as she is considered Special Needs, she will be at the top, so it may be in as little as 3 months.

UPDATE: we have found a Pediatric Dentist in Alberta who will fix 2 large & 2 small cavities, clean, xray, fluoridate and seal her molars!! Cost is $2000, plus our travel and accommodations.
The work was completed in August 2013, with all 8 molars being capped so we don't have to worry about abscesses while searching for help to get her jaw to open! Thank you to the amazing team at the Stollery Children's Hospital in Edmonton, and Gateway Pediatric Dentistry...you are the best!

UPDATE 2016: The dentist is unable to clean her teeth or reach the new molars in the back that have come in.  We are dealing with bleeding gums as we cannot thoroughly clean her teeth.

(2) the choking hazard...everyday is a workout for our adrenal glands. Every meal and snack has to be carefully planned with regards to texture, size, composition and seating arrangements. We have used the Heimlich too many times to count, called EMS to our home, restaurants, even on the side of the road when she was choking on her own secretions as an infant (thankfully this episode resulted in us receiving the loan of a portable battery operated suction device!)

(3) adult teeth eruption...once her baby teeth starting coming out, and the larger adults one grow in, her jaw will be locked shut. Limited nutrition, increased choking (stomach flu, secretions, liquids) hazard, and possible pain from the pressure.

UPDATE 2016: Her adult front teeth have come in and we have an opening of 7mm

What have we done? Well, since about 18 months, when her teeth started coming in, we noticed then that the opening was not of normal size....She has been seen by many, many specialists from the moment of birth on...no one noticed this. We started asking questions from everyone involved in her care, no one thought anything of it really...We were given some suggestions to try such as:
-Give her cold things orally to stimulate the muscles
-Try a vibrating spoon...which we bought ourselves and faithfully used
-Gently massage outside and inside to stimulate the nerves
-Try to get her to open wide, then stretch
We then took her to a TMJ RMT specialist, who said it was developmental. We took her to a MyoFacial Release RMT, with no success. We tried Bowen Therapy with no joy. All these attempts we paid for, with no coverage.
We have seen a Plastic Surgeon, who's only suggestion was to "try" to fix the jaw by severing the tendons, starting with 2, then if it didn't fall, cutting the other 2.
We met with a Myofacial Surgeon, who in his over 30 years, was stumped as to what to do or how to proceed. This is just a short list...a summary... to help you see that we are working hard to find answers and help.

We are at a point where we have not only used up all our savings & exhausted all credit, but we are now having to close down our business as we are unable to run it effectively while searching for help. We are left with a very large business debt to pay off, living on one income, while one of us is going to town advocating for our child. We need to find someone, somewhere in this world that has seen this before...or who is willing to take a very close look, with forward thinking and the ability to analyze to make the most noninvasive plan to help.

UPDATE 2016: We closed our business and added the debt to our mortgage. We were unable to sell our remaining stock after 18 months of trying, so we donated it all to a charity that helps bring music to those who cannot afford it.

We know it is worth it, and are not complaining at all..we just realize that we can not carry on financially and are humbly requesting help.
Thank you so much for considering us for your donations!
God Bless,
Gary & April
What is GoFundMe?

Fundraising made easy >>
CONTACT
LINK
POSTER
REPORT