Faith for Johnny
$7,423
of $25,000 goal
Raised by
139
people in 33 months
Hey friends and family! First off, I'd like to start by thanking everyone who has been following Johnny & my family's journey through this all. I remember two years ago I started this go fund me because we were contemplating sending Johnny off to UCLA or Standford because we didn't have the financial means to do so.  However, with the grace of God,  and the support from friends and family we were able to do so.  We have endured through so much as a family these past two years, but without the sacrifices we've made and the prayers from you all we wouldn't be seeing the miracles in Johnny manifesting.  Johnny was initially told by doctors he would never eat, talk, breathe on his own, or be able to tolerate sitting in a wheelchair.  They also said he'd be lucky if he ever got to go home because of the level of care he would need.  For those of you who don't know, Johnny suffered a stroke in his spine that left him paralyzed from the neck down.Let me tell you something... God is able!! I'd be lying if I said my faith wasn't tested. There have been many times where I'm holding on to my faith the size of a mustard seed, but God sees my heart and he provides.  We are so thankful to be loved and supported by so many and my prayer is that one day very soon we can repay you all in some shape or form. Your works never go unseen.  


With that being said, I would like to extend a hand for help once again. We didn't intend on making another Gofund me, but several friends encouraged us to do so.  So here we are again asking for your help.  I Daisy( Johnny's sister) am pouring my heart out.  Johnny didn't want me to make this go fund me because he wants to find another way to pay for his physical therapy but at the time we don't have a way to do so this is what we have to do for now. There's no one more than me that wants to see my brother rise out of that chair, and breathe on his own. I want to see him get up to be an even better version of himself.  I cry at night at times because I look at how far we have come, and how much more we have to go. & I just want it SOO BAD.  I want my little brother to live the life he's always dreamed of having. I haven't left his side since this happend to him.  I'd be failing him, failing his promise if I gave up now. I promised him I would do what ever it takes to help him recover and get back on his feet.  That's exactly what I'm tryinf to do.  I want to keep fighting keep. In order to do so we need resources, so if there's any way you can help through prayer or monetary donation we appreciate it SO much! We love you all so very much! God bless you all, and let's keep the faith for Johnny, help me see him rise. 
The rise up...
+ Read More
Update 2
5 months ago
Share
Johnny with some of his brothers & on a standing frame!
+ Read More
Update 1
30 months ago
Share
Hello family and friends we just wanted to thank everyone for all the support we have recieved along this journey. Although this is just the beginning of our journey, we have faith that God will continue to strengthen my brother through this situation and work on his healing. Please continue to keep us in your thoughts and prayers! We send all our love to you all.
Also an update on Johnny, when this whole situation occurred we were told by doctors they suspected of Guillan Barré syndrome. However, when we got transferred to UCLA MRI results displayed an infrarct. Doctors diagnosed my brother with a spinal stroke starting from the upper C1 area down to T2. They told us he would no longer eat, talk, and be bed ridden. By the grace of God he is talking, eating, and is up in a wheel chair. Finger flexion on his right hand, more neck control, and movement in his right toes. He is a miracle who is fighting this good battle in hopes of inspiring others along the way. He is now at rancho Los amigos where he has been getting rehabilitated for a month now, but the next step is to go to totally kids sub acute for more family training and rehab. Then follow onto going home.

So all we ask is for donations. My mom and I are still unemployed and will be out with Johnny at totally kids for possibly another month. If you have anything To give we would appreciate it from the bottom of our hearts, and if not just bless us with your thoughts and prayers! God bless you all!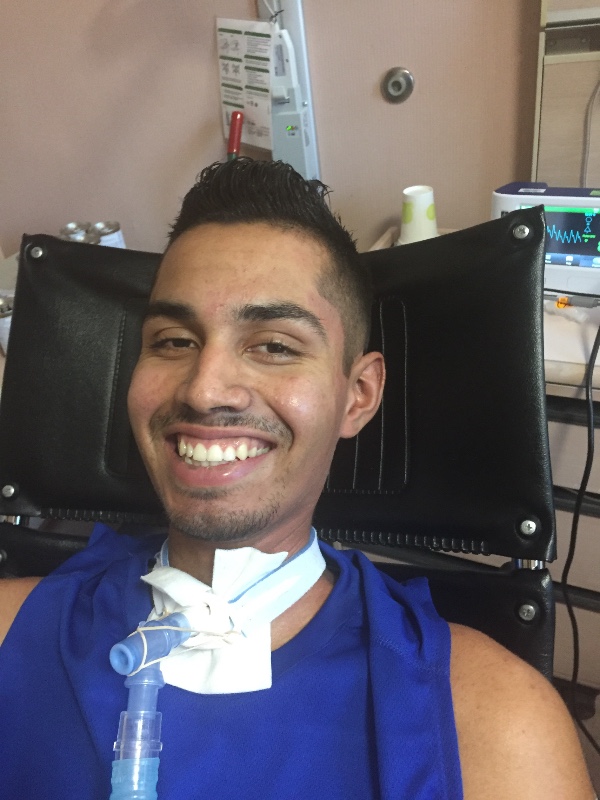 + Read More
Read a Previous Update