A Voice for Hannah
€15,961
of €12,000 goal
Raised by
212
people in 34 months
#1 UPDATE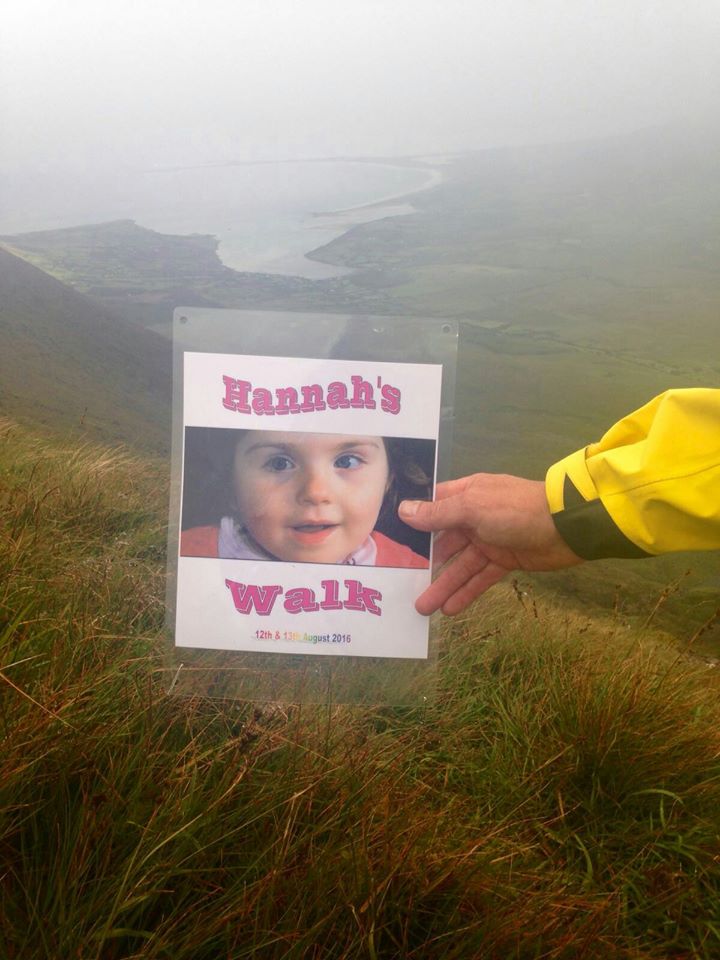 A big Thank You to John and Sean who have undertaken the challenging mountain walk for Hannah on Friday 12th August. Due to horrendous weather conditions their route had to be changed which added 12km to their journey. What an achievement!
We can't thank the two of them enough for braving the elements in aid of Hannah's fund. The generosity of people has proven that their effort was worth it.
Brendan, Nancy, Lily & Hannah
……………………………………………………………
Ein grosses Dankeschön an John und Sean, dafuer dass sie fϋr Hannah die ueberaus anspruchsvolle Bergwanderung am Freitag den 12. August unternommen haben. Aufgrund der schwierigen Wetterverhältnisse mussten die beiden Ihre Route ändern, was die Wanderung um etwa 12km verlängert hat.
Wir können den beiden Männern nicht genug fϋr ihren aussergewöhnlichen Spendenaufruf danken. Die Grosszϋgigkeit von so vielen lieben Menschen hat gezeigt, dass sich ihre Mϋhe tatsächlich gelohnt hat.
Brendan, Nancy, Lily & Hannah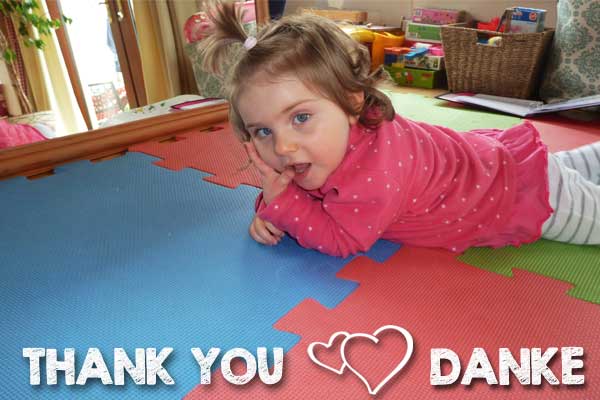 Thank you very much to everyone for getting us over the €12.000 mark. We are overwhelmed with all the generous donations and warm words we received from family, friends and people that have been touched by Hannah's story.
We are going to let this page open till mid August 2016 after the 70km sponsored walk. Any extra funds raised will go towards Hannah's future needs.
The Falvey Family
------------------------------------------------------------------
Wir möchten uns recht herzlich bei allen fϋr die grosszϋgigen Spenden und lieben Worte bedanken. Die €12.000 Grenze ist nun geschafft, und wir sind ϋberwältigt von der schnellen Hilfe die wir von Freunden, Familie sowie von Menschen, die Hannah's Geschichte berϋhrt, bekommen haben.
Die Gofundme – Seite bleibt noch bis Mitte August offen, und alle weiteren Spenden werden fϋr Hannah's zukϋnftige Therapien und Ausstattungen verwendet.
Herzlichen Dank fϋr Eure fantastische Hilfe.
Die Falvey's
--------------------------------------------------------------------
Fϋr Deutsche Übersetzung bitte nach unten scrollen. 
Hello, my name is
Hannah Falvey
. I am 2 ½ years old and I live with my parents Nancy & Brendan and my sister Lily in Annascaul, Co.Kerry / Ireland.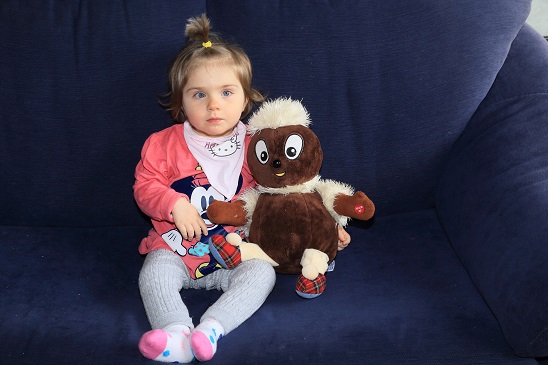 I have a very rare condition called
Rett Syndrome
, which is a complex genetic disorder that affects mainly girls. Some of the syndromes most common features are non-verbal communication, scoliosis, epilepsy, motor function difficulties, stereotypical hand movement as well as difficulties with swallowing and chewing. For more information please visit
www.rettsyndrome.ie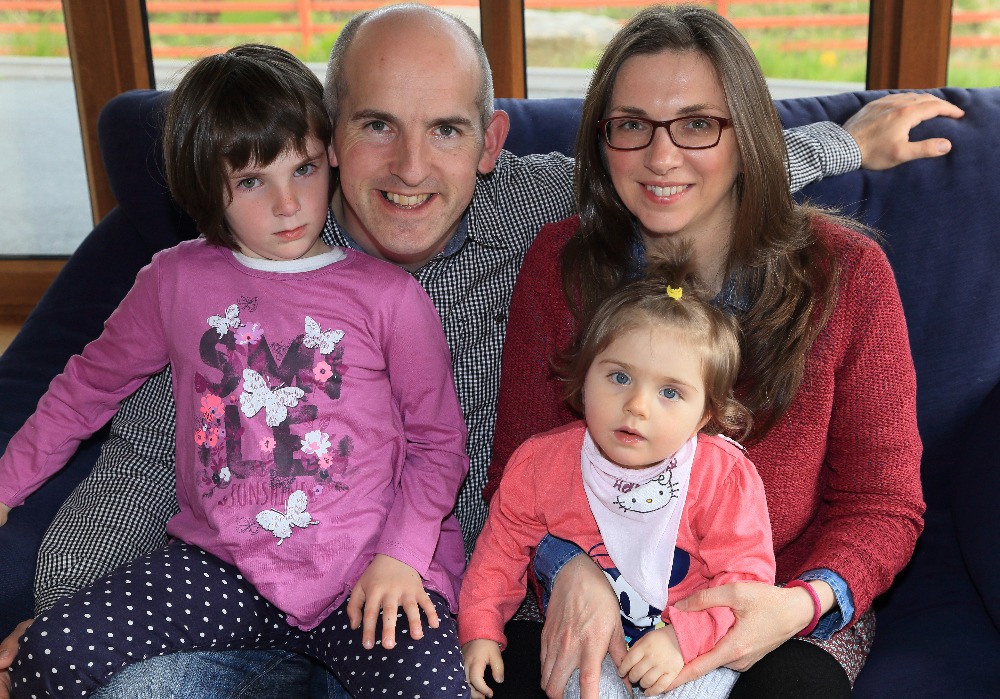 My family
My dream is to
communicate
with my family with the help of an eye gaze computer called Tobii. But like most things it costs a lot of money.
As I will never be able to talk or use my hands for sign language this type of communication will be my future language. In order to master the eye gazing skill, it is necessary to start from a young age.
This is me at an eye gaze trial
 So two good
friends
of my family are preparing to walk 70km from Castlemaine to Brandon Point, Co.Kerry / Ireland in under 20 hours, on Friday 12th of August 2016 in order to
fundraise
for me.
They will walk the length of the Slieve Mish mountains range which runs along the middle of the Dingle Peninsula climbing all the mountains along their path including Mount Brandon, one of the highest mountains in Ireland.
This is the route my friends will take
Please
sponsor
these two friends of mine who are very brave and kind to do this challenge so I can get a
voice
in this world.   
Your donation is very much appreciated.
Thank you.
Hannah Falvey & Family
……………………………………………………….......
Hallo, mein Name ist
Hannah Falvey
. Ich bin 2 ½ Jahre alt und lebe mit meinen Eltern Nancy & Brendan und meiner Schwester Lily in Annascaul, Co. Kerry/Irland. 
Ich bin am
Rett Syndrom
erkrankt, einer seltenen genetischen Erkrankung, die hauptsächlich Mädchen betrifft. Die Hauptkriterien des Syndromes sind der Verlust von Sprache, Skoliose, Epilepsie, Gangstörungen oder Gehunfähigkeit, stereotypische Handbewegungen sowie Schluck- und Kauschwierigkeiten.  Weitere Informationen findet Ihr unter
www.rett.de
Mein Traum ist es, mit Hilfe eines Augensensor-Computers (Tobii) mit meiner Familie
kommunizieren
zu können. 
Da ich leider nicht in der Lage sein werde jemals zu sprechen und ich auch nicht die Zeichensprache erlernen kann, soll diese Form der Kommunikation meine zukϋnftige Sprache werden. Um diese Fähigkeit gut meistern zu können, ist es wichtig, schon im jungen Alter damit anzufangen.
Leider kosten der Augensensor (Tobii) sowie die Sprachtherapie sehr viel Geld.
Deshalb werden zwei
Freunde
meiner Familie am 12. August 2016, eine 70 km lange Bergwanderung von Castlemaine bis Brandon Point, Co.Kerry / Irland, in unter 20 Stunden unternehmen, um so auf meine Spendenaktion aufmerksam zu machen.
Gespendet
kann hier auf dieser Seite werden. Alle Spenden kommen direkt zu mir.
Bitte helft, damit auch ich eine
Stimme
in dieser Welt bekomme.
Herzlichen Dank fϋr Eure Spende.
Hannah Falvey & Familie
+ Read More
Update 1
33 months ago
Share
Thank you very much to everyone for getting us over the €12.000 mark. We are overwhelmed with all the generous donations and warm words we received from family, friends and people that have been touched by Hannah's story.

We are going to let this page open till mid August 2016 after the 70km sponsored walk. Any extra funds raised will go towards Hannah's future needs.

The Falvey Family

--------------------------------------------------------------------

Wir möchten uns recht herzlich bei allen fϋr die grosszϋgigen Spenden und lieben Worte bedanken. Die €12.000 Grenze ist nun geschafft, und wir sind ϋberwältigt von der schnellen Hilfe die wir von Freunden, Familie sowie von Menschen, die Hannah's Geschichte berϋhrt, bekommen haben.

Die Gofundme – Seite bleibt noch bis Mitte August offen, und alle weiteren Spenden werden fϋr Hannah's zukϋnftige Therapien und Ausstattungen verwendet.

Herzlichen Dank fϋr Eure fantastische Hilfe.

Die Falvey's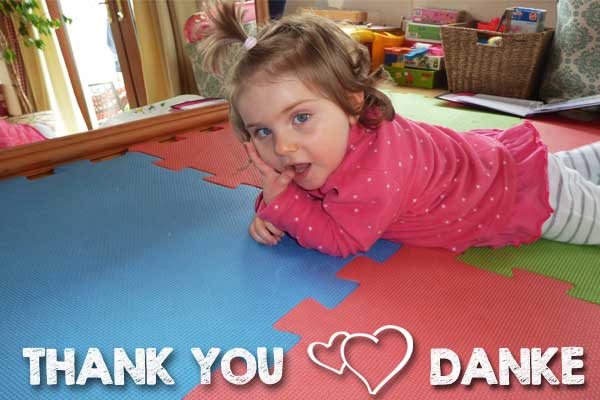 + Read More