Killian and Brandy's Recovery Fund
$32,678
of $100,000 goal
Raised by
754
people in 33 months
Brandy and Killian were in a high speed head on collision on her way home from Idaho. There was a really bad hail storm that hit at the top of a hill that had a turn in it and when she got to the top the road turned and her car didn't and she ended up in the wrong lane. Both her and the other driver were pinned in the cars. The other driver is ok and it took them an hour and a half to get brandy out... of the car. They are both in hospitals in Boise and doing as good as can be expected what we know is that Brandy. has an open left lower leg fracture both bones, a right upper leg fracture and a left lower arm fracture both bones.
Killian has a right upper arm fracture, several broken ribs a fracture at the base of his skull where the brain stem connects to the spinal cord. He has a spleenic fracture that is no longer bleeding. He bruised both lungs but is holding his own
Killian has been sent to Saint Luke's as they have a better pediatric wing then Saint Als does
Here is her update
Update: Brandy is pretty broken left knee was tore off and sewed back on. Left ankle is pinned with a cage around it. Right leg femur set concerned about right knee and concerned about lower right. Left arm is not set yet. On blood thinners for injury to artery on neck Killian is doing good and we were told if they can keep him calm he won't need a halo just a brace
Brandy also got her brace off and they need to get the swelling down in her arm before they can operate on it. Killian is doing good and is just ready for the Drs to fix him so he can sit up and have lemonade
5-24-16
Brandy is doing good they elevated her left arm changed the brace on Her right leg and have changed the dressing on her left leg the rn here today is not nice
she has two surgeries tomorrow one on her arm and one on her right leg
Killians
Neurosurgeon is pushing for just trying the collars. They have a couple of different ones and for now they will switch them out every 24 hours to change the pressure points. They work by a committee here and are waiting for the other surgeons to weigh in. By not fusing the spine they are working outside the box so to speak. Anything you read will say to fuse. But his neurosurgeon has been 3 for 3 in just wearing the collar. They retain full range of motion and better quality of life. He got to sit up for little bit this afternoon and that took it out of him this evening if everything is still going good he can finally have his lemonade
Killian got to pull the NG tube out his nose!
I want to thank you all for prayers and thoughts!!! We have been in contact with their guardian Angel Leah Kaupanger-Woodward who was first on scene with her husband and held Killian's cspine the entire time!! She is the reason Killian is doing soo amazing!!! 
So we are hoping to raise funds to help with the medical expenses that are coming and to help with all the recovery that will be needed. We appreciate all the thoughts prayers and anything that can be donated to help while these two are recovering.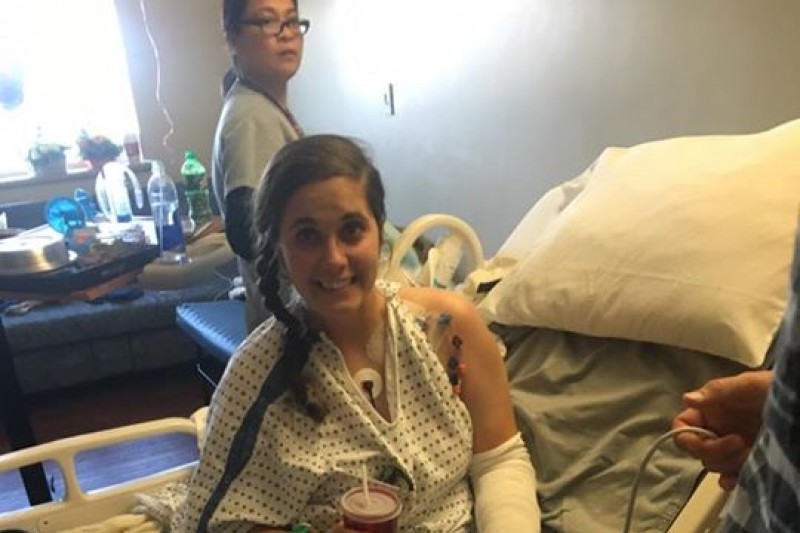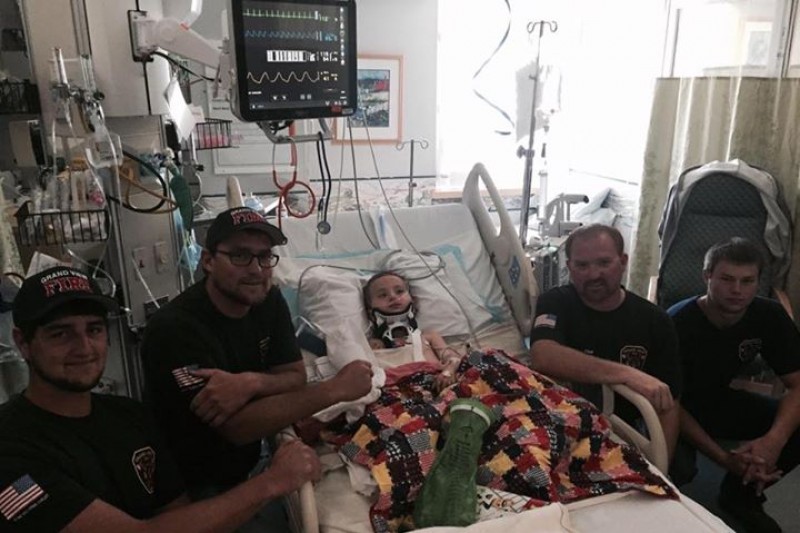 + Read More