Shirley's Tales of Fundraising!
$35,464
of $41,764 goal
Raised by
90
people in 62 months
Lions Tigers and Bears, OH MY! Here's Our  End of the Year 2017 UPDATE.. 
We finished out 2017 requesting donations to install a new heating and air unit system for the upstairs apartment.
Today, 1/16/18 a new heat pump system was installed in the apartment!


His Ministries' mission is to build healthier lives to see youth, families, and individuals living their lives drug free.  We carry out this mission by providing free programs and services for youth, young adults, families and individuals.
His Ministries, is a 501(c)3 non-for-profit organization, founded to combat the ever-growing problem of substance abuse addictions.

His Ministries buildings. Photo taken 2015. In the rear is the Thrift Store and the little shed that was replaced by the student training building.

In 2012, I began this GoFundMe sight to repair His Ministries'
main roof and through amazing
Supporting Partners,
the roof was replaced with a rubber roof.


Soon after, I began raising funds for the ceilings that were damaged from the once leaky roof,
but we had to stop this project to upgrade one building's Electrical to a 200amp service.


It's been one expense after another since 2013.
2014
arrived with a blast of cold doubling our utility bills with maintenance repairs to our heating/air units. Then 2015 brought in 3ft of snow. 
In which, we lost the use of our SHED that stored incoming donations for the thrift store. 

 After the snow, our minivan had to be replaced taking priority!
Wonderful supporting partners came through again, and we paid our large Utility Experiences, insulated and repaired Ceilings in three rooms in the apartment.
This apartment has 11-rooms. Then we repaired Heating/air units, sent out an appeal mail-out newsletter, received $5,000 in donations and paid off our buildings, and purchased a minivan.
His Ministries' is debt free!

We've still yet to get back to those ceiling, but I know we will.

OK.. We seriously live a chronicle of events.

Losing our shed that housed our donations was a great loss.
This prompted mission groups to come in 2015 and they began building the training center.

This had to 'take' priority.
Mission groups came again in 2016 and raised the walls and now, 1/16/ 2018, the building is wired, and we wait for spring to insulate and hang the walls.
Next, we plan to build an entrance ramp into the Student Training building, then build the breezeway to join the Student Training Center to the Thrift Store building. Here is the Student Training building at rear of the thrift store.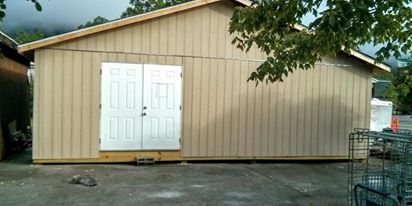 In the meantime, we work to raise $10,000 to complete the Student Training Building, join the two buildings together, repair the ceilings in the apartment, and remodel the apartment and the corner building of His Ministries' buildings.


The apartment that received the roof, needing the ceiling repaired, and received the heat pump today will become
the Women's Housing Program, assisting women with addictions. We plan to begin this program in two years,
once all building projects are complete and the Student Training Program is in full operation


WOW.. let me catch my breath..

–We Give THANKS to all those who have come along side us.  We could not have gotten this far without Amazing Supporting Partners.  

The first title for this Fundraising site was Shirley's Tales of Raising a Roof, after which it became my Tales in Raising a Student Training Center vs Ceiling Tales vs Everything else that comes our way as having to change our priority to purchase a minivan and now we just installed a new heating/air unit system!

I'm Shirley and I live on the bright side of what 'once was' a leaky roof to raising funds to repair the 79 year old plaster ceilings damaged by a once leaky roof.' -AND then... having to stop that project to do other needed repairs.

Supporting Partners, two mission groups, along with a few local contractors came to our rescue in June and October of 2015 and completed the first two phases of the student training center. 
Second phase was complete summer of 2016. In 2017, the Student Training Center building was wired. We wait now for spring to insulate and hang the walls.
Next will be to purchase a Heating/Air Unit for this building ($1,100), then build the Breezeway connecting the two buildings.

I have learned when it comes to building, or repairing old buildings, something always seems to show up that needs to be done.  That's when we learn to wait, work through and see all the opportunities before us.

We live in times that we all may need to smile through the adversities. I know I do. I encourage you to have hope in what you need and remember that Faith is made of those things we hope for.

–AND when other problems arise, have Faith, Hope that others will come along side and assist.

Dear friends, when problems continue to come your way, look up with hope. Nothing is impossible. The solution is there.

His Ministries' mission is to build healthier lives to see youth, families, and individuals living their lives drug free.  To be successful, every part of the ministry must be taken care of in a 'Priority Order' and in good working order and repair, as all our buildings.

The expenses and problems we experience represents the limitations that loom over us all in the fight against this Opioid crisis and the damage its causing our community and families.

All of what appears to be set backs begs that we work together to increase our ability to fight the devastation that the Opioid crisis is doing to our community and country.

Your gift toward our goal to putting our major repairs behind us is greatly appreciated. Also, you can help with our cause by sharing this page with your friends, families and colleagues.

You can mail your gift "˜of any size' in, or you can pay right here on this GoFundMe site.
If you mail your gift, make a check or money order to His Ministries and mail to His Ministries, 407 Wood Ave E., Big Stone Gap, VA 24219.
Once I receive the gift, I can log your gift in on the GoFundMe site so others can see the actual giving amount.
We "Raise the Roof" --  against the Opioid Crisis. 
Your gift assists us with our building campaign that strengthens our ability to provide better programs and services to youth and adults in our community in the following programs:
-- The Edge Music Venue, a Teen Center and Student Training Program for Youth
-- Substance Abuse Counseling and Support
-- Substance Abuse Education Program for Incarcerated
-- Community Service Workplace & Volunteer Opportunities
-- Speaking & Educating Groups on Substance Abuse
-- Assist Needy Families with Available Supplies
-- Community Thrift Store which Provides Training for Youth and Adults in the operation of the Store and in a Music Venue for Job Readiness
FYI:
Our end program is to open a Women's Rehab Center housing 7-8 women in the upstairs apartment of His Ministries. This is the apartment that received the roof, our first building campaign in which we 'Raised the Roof' Against the Opioid Crisis.

We Work, We Hope, and We Pray that we will begin housing women in two years.  We certainly can do this with your help!Our work never stops here at His Ministries, as the Opioid addiction continues to be a problem in all communities, which is the addiction to prescription medications. 
All Gifts are Greatly Appreciated! His Ministries is a nonprofit corporation and All Gifts Are Tax-Exempt. Thank you! Shirley Smith, BS, CSAC Founder His Ministries
'Setting Live Free'
Building healthier lives to see youth, families, and individuals living their lives drug free.



+ Read More
Be the first to leave a comment on this campaign.