Giving the last 5 homeless cats a home.
$4,000
of $6,000 goal
Raised by
43
people in 74 months
We have three weeks to save the last of Ann-Maries babies. We have found a for-ever home on a property, but it is bare. We need to provide fencing and shelter and full vet treatment and then they will be safe for the rest of their lives. Otherwise, they will need to be put down. Your donation will help save them. Read Ann-Maries story below and dig deep. 
Three years ago a colony of 22 cats was found in Ashfield by an amazing, selfless woman "" Ann-Marie. She set about trying to save them all. And now, there are 5 cats left who, were are going to be hunted, trapped and put down in a matter of weeks without our help.

Ann-Marie has found a for-ever home on a farm for the remaining members of the colony but we need your help in setting it up to be cat-friendly and safe. This means putting in appropriate shelter and fencing to keep other predators out and these babies safe.
We are trying to raise $6000 in our first campaign to build shelter and fencing, and will be running a second campaign for $4000 to contribute to Vet bills, food, transportation and rehabilitation costs.
Even $5 can help to get these cats to a safe, warm environment where they will be safe for the rest of their lives.
The Amazing story of this Woman and the cat colony is told below in her own words. You can see this has been a labour of love and has cost her significant time and money. This is the final step in a project that has been a part of Ann-Marie for 3 years.
Please help her to finish this, and provide a loving and safe home for Diva, Hissy, Mamma, Sam and Swipey.
Ann-Maries Story
One late night while I was driving home I saw a moving shadow out of the corner of my eye. I pulled over to find 5 scared, starving kittens, and a dead mother cat. I was horrified, I followed the kittens which lead me to the back of a homeless shelter, and there I discovered 22 starving, sick and pregnant little cats. After several meetings and extensive conversations with the local council they stopped trapping and destroying the little cats as I gave them my word I would take action to be their carer.
Over the last three years I have had them all desexed, micro chipped and vaccinated. They are fed twice a day, every day. With the previous support of the management at the shelter I have had the time to rehabilitate and socialise most of the cats into special care homes with experienced owners. All but 5 remain.
Now their ongoing safety and existence is under threat due to a change in management at the shelter.
I have been a direct notice that they must be gone within 3 weeks because they are not wanted anymore. This callous act makes me feel so helpless. I'm desperate to find homes for these special cats who I have helped survive over the last three years.
With no help from any animal welfare organisations as they are not fully socialized, private homes are the only option. These beautiful cats are fragile, shy and have only had minimum physical contact with humans, but are used to being around people. They need to be re-homed in pairs or more into quiet loving, forever homes. Socialising starts in your lounge room with me as a daily support for as long as the cats and you need my assistance. Or if you have a cat proofed backyard they will easily adapt living outdoors.
The other cats I have found homes for have integrated well into their new families. Being cats from a colony naturally they love being around other cats, so if there are other cats in your home don't think that harmony can't be achieved.
On a personal note, the task of being their permanent cat carer has been an enormous one, but it has been an incredibly rewarding experience at the same time.
These cats are a joy to me and the friends who have helped me along the way.
I am overwhelmed that we have an offer to re-home the remaining babies, but we cannot do this without your help. Please donate to help our little cat family live their lives.
See  http://www.facebook.com/12homelesscats for more of the journey and story.
+ Read More
Update 2
Posted by Steph Sands
69 months ago
Share
Hello supporters,
Below is an update from Ann-Marie regarding her project for the Homeless cats. The funds raised to date have remained locked in this funding site to date however we plan on using the raised funds soon as we find the last remaining homes for the cats. Ann-Marie details how below. We realise this is a little different to the original project you donated to, so please do not hesitate to contact me or Ann-Marie if you have any questions. We are more than happy to fill you in on all the details.
Thank you for your support once again.
Steph
MESSAGE FROM ANN-MARIE Follows:
Hi everyone,
I have an update with my aim to relocate the four homeless cats
As many of you know, I have been looking after these cats for the last 3 years. I originally started with 22 cats and have been able to find homes for most of them. After such a long process, only having four to go, I had hoped it would be an easy task to find homes for them. However, after years of trying I still haven't been able to find them forever homes.
Which is why I felt the only alternative I had left was to relocate them to a farm near Canberra.
We were very generously offered this opportunity, but it required building a totally enclosed environment, due to the nature of the farm and other animals also using the property. Also, due to the extreme weather conditions in that area, we also needed to build an insulated shed for them to live in.
The quotes we received to do this ended up being way out of our reach. The donations we received through the Go Fund Me campaign unfortunately didn't reach the necessary target.
This means we can't go ahead with the relocation. The farm wasn't somewhere we could send them without having all the necessary measures in place.
Therefore, we are back to finding suitable homes for the remaining 4 cats.
I need to find two committed people to take two cats each (or all four) as they need to go in pairs. They need to be indoors at first, and if required, we may be able to use some of the money raised to help install a suitable type of cat enclosure to keep them safe.
The new owner needs to be willing to follow a strict socialization process - they are half way there - with my 100% support and guidance to ensure that they get the best start possible in their new home. I would prefer they go to a home without children.
I want to thank you for your generosity to allow us to raise the money we did. It still is essential to assure their future.
After paying the Go Fund Me commission, the money left over will still be used for the homeless cats, as we are still incurring ongoing food and medical expenses.
We also want to be in the position to help prospective new owners create safe environment for the cats, with a full medical check and a cat enclosure if required.
We will keep you updated on how the search for a home is going for the cats. However, We need your help in finding them new homes, so please get in contact if you can help out.
Swipey and Mama are looking for their forever home.
"¢ Swipey has beautiful markings of tortoise shell colour and mama is deep and medium grey patterned tabby.
"¢ Both females are approx 4-5yrs and desexed.
"¢ Swipey is happy to be close to you, but is still scared of being handled and therefore needs extra gentleness.
"¢ Mama is quite vocal and enjoys lots of pats, is used to being picked up and is getting used to cuddles.
"¢ Together, Mama should bring Swipey out of her shell more. They both love showing off by rolling on their backs in the sunshine.
Sam and Hissy are looking for their forever home.
"¢ Approx 6-7 yrs Sam is a ginger male and Hissy is female, tortoise shell with beautiful markings, both desexed.
"¢ Sam is quite an affectionate, clingy cat happy to be in human company enjoying lots of pats. He has some scar tissue on his eye and his vision is partially impaired due to neglect when he was a kitten.
"¢ He loves his food and is a large size cat, like a tiger.
"¢ Hissy has a strong personality and likes to be the boss of the cats, however doesn't like being handled yet.
"¢ She has the softest fur and likes to run fast for short distances.
"¢ Sam and Hissy are lovebugs, they smooch and sleep together all the time.
Finally, for the last remaining cats their living conditions are no longer safe, with constant threat of poisoning, rocks thrown at them and their bedding stolen every time I replace it. Their lives are so precious and all they want is to feel safe and cared for.
If you can help please help spread the word.
You can share the images on our facebook page (
http://www.facebook.com/12homelesscats
) and also send this onto friends.
Thanks again, for all your help.
Ann - Marie Calilhanna 0416 123 466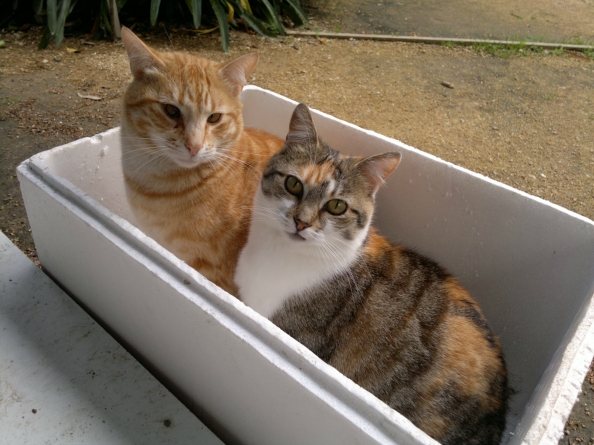 + Read More
Update 1
Posted by Steph Sands
72 months ago
Share
Hi All,

Just a quick note to let everyone know that we are still raising the necessary funds to help Ann-Marie finalise a home for the remaining cats. Unfortunately we had to put one of the babies down a few weeks ago due to illness, and we have only 4 remaining to re-home. they have been given a stay at the place they are in now until the end of March, but after that we will be moving them to another home with your generous support.

In the meantime please feel assured that the money raised stays in escrow through this site until such a time we raise enough to build the enclosure and final expenses for the move.

Ann-Marie wanted me to send you her sincerest thanks and we will keep you updated on progress as it occurs. (which will be in the next six weeks).

Thanks again for your support and generosity.

Stay tuned for progress.

Steph and Ann-Marie

+ Read More
Read a Previous Update
Be the first to leave a comment on this campaign.