1108 Gallery: We Need To Stay Open!
$545
of $20k goal
Raised by
10
people in 14 months
Our space is one that provides a venue for the exposure of the mental health community through the arts. We are part of the San Rafael Downtown Art Walk.
The 1108 Gallery is a part of Enterprise Resource Center, a division of Community Action Marin's mental health programs. Our artists come from all walks of life and get to participate in our gallery themed shows frequently. Participants also have a place to do art work at the Enterprise Resource Center Saturday Art Group. 
The art gallery is the perfect place for artists to show off their creativity. We are in
dire need
of funding to continue and staff this amazing venue.
Your donations would go towards rent,volunteer staff and a potential curator in the future depending on reaching our goal. Your donation is tax deductible as we are a 501(c)(3). 

Check out our video and testimonials below to see what we are all about :-)

Like us on Facebook!
Testimonials:
KATE CALVANO 
Aka, Kathy Kildea
Artist
"I've always had a camera within my reach because you never know when the 'perfect shot' will present itself. My father is a professional artist and photographer so I guess I was born  with his artistic eye. My venue has always been photography, now it's digital imagery. I hike weekly through Marin County and other places in California taking photos. I then take my very best and try to create pieces that will be fantastic to the eye and memorable to the viewer. So, instead of starting with a blank canvas as most painters do, I start with an original digital image and create my art. I am grateful to the 1108 Gallery for the opportunity to share my art with the public."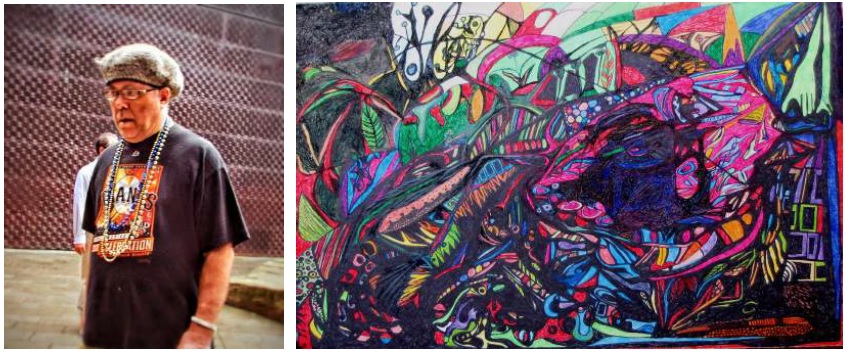 LARRY WILLIAM KNITTEL
Artist, Enterprise Resource Center
"I am an artist. The gallery has been good to me. If they present art as a beneficial act for all, which I believe they do, I'm sure it will be a positive factor in many artists' lives. Having sold a painting for a sufficient amount I would love to endorse in my own way the thrill of doing so for the very first time. Again I'm leading none astray in saying that it is a good thing they do by the business the present to the community. We are happy to agree here the Enterprise Resource Center with it's own and my own fervent wishes for an excelling and abundant future for all. My wishes especially are there for any
special artists waiting to be discovered in their own right."

MATT TASLEY
Artist
"1108 Gallery in San Rafael offers the mentally ill, or clients with a cooccuring disorder, a perfect opportunity to show their work when they may not otherwise be able to do so. Two of my favorite artists, Van Gogh and Francis Bacon, were both extremely mentally ill and I
believe that they both used their creative genius to give back to the world the beauty which lay deeply inside of them. 1108 Gallery offered me that experience. I was able to share my gift to a large number of people
in downtown San Rafael for one month. I sold some work and was able to make a generous contribution to the Galley in order to keep the space open and offer the same opportunity to other artists with a mental illness to share their gift also. Thank you to CAM and all who have contributed to operation of 1108 Gallery, especially Barbara Coley, for such a wonderful experience."
+ Read More
Be the first to leave a comment on this campaign.