99
2
1000 Islands River Santa Festival
$5,993
of $9,000 goal
Raised by
101
people in 6 months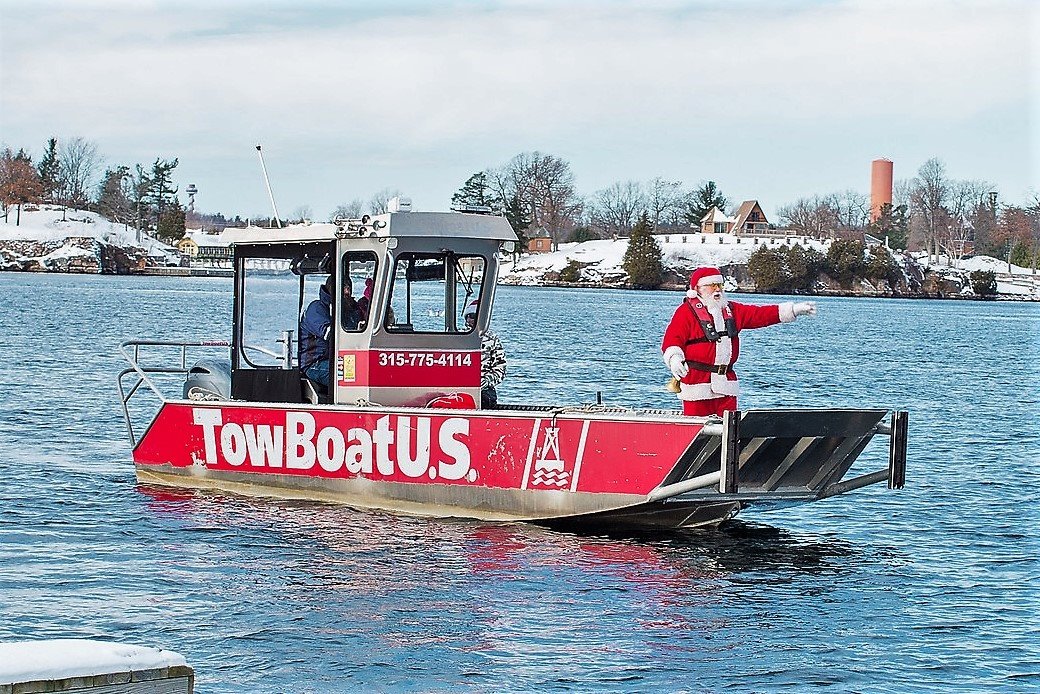 This is the 4th annual 1000 Islands River Santa Festival!! It's ALL about the KIDS! ALL Kids, any kids, any believers! Santa, River Santa for River kids. 12 and under all get a gift. A real gift, a good gift, delivered by the real deal. The Santa they know and love and believe in... River Santa. There is no social structure in Santa's world. Santa wants to see all his believers. Please bring ALL the kids out to witness the arrival of Santa by boat along our beautiful St Lawrence river. River Santa arrives in the Village of Alexandria Bay, NY by boat with a USCG escort on Saturday morning December 15th bringing gifts for all children 12 and under along the St Lawrence River Valley from Ogdensburg to Cape Vincent and inland.There will be hay wagon rides and face painting as well as hot chocolate and cookies. Animated creatures will roam the streets making the children smile. There will be warming stations and tents. 

Fun for the whole family. Stores will be open for eating and shopping in the village.The event is growing each year and the smiles that we are able to bring are both priceless and necessary!                                    Christmas is more than just toys and River Santa knows thatRiver Santa also donates monies that are collected in excess of what is spent on gifts to the 5 area school districts for their 'backpack programs'.  These programs assure that when needed children are sent home with food in a discrete backpack so they are not going hungry while away from school.  This part of the River Santa program is the part that shows that Christmas is so much more than shiny paper and toys. Your donations last year provided plenty of gifts, yes. Your donations last year also allowed River Santa to donate $1700 to each of 5 school districts for the purchase of food to go directly into these backpacks and to go home with those children who most needed to be fed. You did a tremendous amount of good with your donations. Thank you. Let's do it again!.


Please donate. If we all  do a little, it will assure that this new tradition of caring and giving will continue. 

          "We make a living by what we get. We make a life by what we give" - River Santa

+ Read More
Update 2
5 months ago
Share
Note: personal Thank you notes have been sent to all who donated here. We became aware that some were not receiving them so we asked GoFundMe why. Here's the answer.

Some servers are causing our emails to bounce. They will need to try and add messages@gofundme.com to their email contacts to try and allow our emails to come through or remove any blocks for GoFundMe messages.

We want everyone to know how much we appreciate your support! Thank you.
+ Read More
Update 1
5 months ago
Share
Things have been a bit slow as far as donations have gone. We have lowered our goal to what we achieved last year.

All it would take to hit the goal would be a small donation from a lot of people. Seems so simple. A $10 donation buys at least 1 child their present. The fact that River Santa shops smart and can stretch a dollar helps.

We are asking for so little. The event site is being absolutely crushed on Facebook and we know that the number of children will be increased this year.

The event is being shared everywhere and has received so much great press that it is certain to be bigger.

Even though this event is considered a Chamber of Commerce event, not a single dime comes from the Chamber. This event is 100% donation funded.

Please consider making a donation today as part of your spirit of Christmas. Then come and see the smiles on the kids faces when they see River Santa arrive and when they sit on his lap and get a good gift. Thank you.
+ Read More
Read a Previous Update