FUNDRAISING FOR LOSING JOY: BLACK BRIT SHORT FILM
A young woman is forced to acknowledge the 1st anniversary of her sister's death.

SYNOPSIS


Losing Joy 
is a story about the aftermath of Faith losing her sister, and how that experience has shaped her life. The short film explores avoidance as a coping mechanism of dealing with such a great loss, and how it's led to Faith withdrawing from everything in her life including her estranged girlfriend.
BUDGET

Camera Department - £10,000
Art Department - £500
Wardrobe - £200
Makeup - £150
Other Costs - £2,000
Post Production - £5,000
PR & Marketing - £3,000


For the next two months, we are trying to raise £20,000 to cover all of the above costs. We aim to begin shooting at the end of June, we will provide you with updates as we go on.
If you would like to be a part of this project please contact us.


WRITER'S STATEMENT

As a black British queer womxn, I know that we have so many unique and nuanced stories to tell. As a lover of TV & Film, the industry as we know it does not reflect the multitude of black voices I know to exist. Whiles stories about the black struggle are important, stories about black superheroes are equally important, stories about black people falling in love are equally important, stories about black queer womxn falling in love are equally important. 
Growing up, I didn't see anyone that looked like me on TV; which is dark skin and  masculine, I craved representation because I craved validity. I did not realise how important visibility was until I got older, realising it factored in my fear of coming out. I believe that seeing yourself is critical in the journey of self love and film is arguably one of the biggest impacts on society and therefore needs to be representative of society. In the last 10 years, we have seen a progressive shift in the kind of stories that are being told, we are seeing more black characters and black queer characters, however the focus is usually their blackness or their queerness. 
For me, it was important to write a story about a black queer woman, where the focus isn't her queerness or her blackness. It's a story about a young woman who struggles to deal with her grief and she just so happens to be black. It's isn't necessarily black pain, or black trauma, it's a universal pain from the perspective of a black queer woman. That is my goal; to highlight an array of nuanced black voices, to show audiences that we are not a monolith and we exist in all different forms and we have different experiences and that there is room for all of our voices.
Image:  "Aminu" © Juliana Kasumu
THE TEAM
DIRECTOR/PRODUCER: JULIANA KASUMU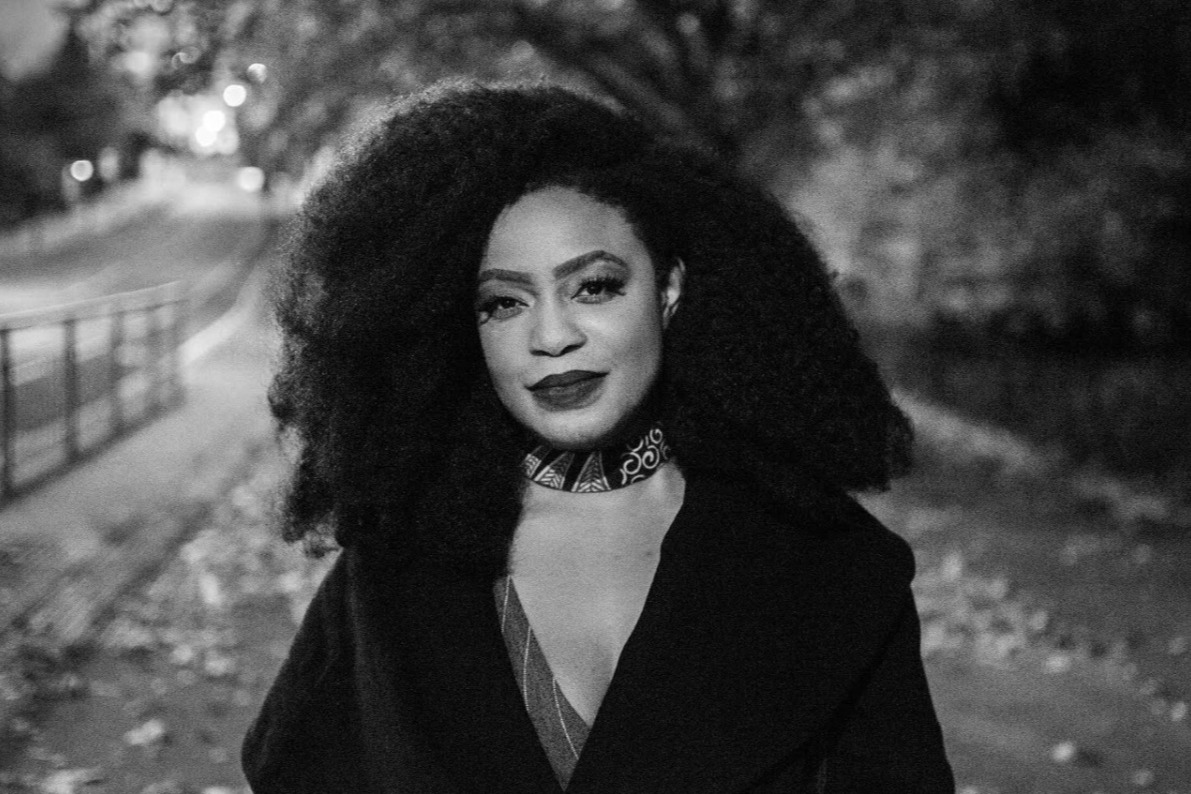 Juliana Kasumu
is a British-Nigerian artist and filmmaker based in London. Kasumu utilises film and photography to highlight the interconnectivity of women, culture and the production of identity. Kasumu is an Andrew W. Mellon Fellow in Community Engaged Scholarship, enrolled onto the London Creative Network career development programme with Four Corners, and holds an M.F.A. in Studio Art from Tulane University, New Orleans.
Kasumu 's work has been exhibited at the Contemporary Arts Centre, Mckenna Museum of African American Art, Antenna Gallery, Getty Images Gallery, Victoria, Albert Museum, and most recently Images Film Festival, Rencontres de Bamako Biennale Africaine de la Photographie, Patois Film Festival, Aesthetica Film Festival, Fracto Film Berlin, New Orleans Film Festival, Alchemy Film and Moving Image Festival and is shortlisted for the Aesthetica Art Prize.
Website
WRITER/PRODUCER: NANA DUNCAN



Nana Duncan
is a screenwriter, producer and podcaster who is passionate about bringing queer black stories to light. She is a visual writer who has the ability to plant you in the centre of the world she creates. 
She earned a bachelor's degree in Film Studies from Kingston University and is currently based in London where she works as a Assistant Producer in advertising.
Her work includes poetry and short plays showcased in The National Theatre Studio and Afrobeats Musical; Oliva Tweest, produced in several theatres across London. In 2019 she wrote, produced and directed her first short film '
Loved by You
' which explores black queer love. She also co-hosts the
Two Two's Podcast
with her best friend and
Rose Frimpong
, where they speak about everything black and LGBT, including relationships and navigating queer spaces.
In 2020, Nana quit her job in IT to pursue a career in Film & TV.  Since then she has worked as Production Assistant on a series of productions. 
Loved By You
Image:
LyraPhotoLab


PRODUCER: MARTHA NAKINTU



Martha Nakintu
is a producer and specialises in the marketing of Film & TV for titles such as Insecure, Game of Thrones, Watchmen, Rocks and Queen and Slim. She is a marketer/producer who has the ability to deliver campaigns, content  and films that represent and resonate with a wider audience.
Her work includes being the executive producer for Nana Duncan's short film debut,
'Loved By You'
and now has partnered up once again to deliver 'Losing Joy'.
She also is a founder of,
Black Femme Film
where black and mixed womxn come together to enjoy film and tv together. The club has facilitated workshops in script writing, QA's with BAFTA award winning directors and provided jobs for Black womxn from photography, event coordination, video editing and website building.
CINEMATOGRAPHER: MORGAN K. SPENCER



Morgan K. Spencer
works as a DOP on Art, Fashion, Documentary and Drama. Most recently he has been shooting Yussef Dayes for Louis Vuitton, Mykki Blanco for Dazed & Gucci, The Nigerian Colonial Film Archive for artist and Director Onyeka Igwe, The Feature 'Keyboard fantasies, the beverly Glen Copeland story,' The short film 'Solidago' and documentary short 'I am Rebecca' looking at refugee and women's rights in the U.S.
He has worked on features in camera department for over 10 years on productions like Star Wars Episode VIII, Spectre and Mission Impossible.
Spencer's commercial clients include; Gucci, Dazed, Mark Jacobs, Tate Modern, KW Gallery, Jerwood Gallery, Self service magazine, Louis Vutton, Virgil Abloh, Vice, Adidas, Lucozade, FIFA, Moncler, Perfect Magazine, & Other Stories.
Website
PRODUCTION DESIGNER: SANDRA ABODE
Sandra Abode
explores individualism influenced by her Nigerian & Togolese heritage and its diaspora, with her conscious brand Sabodé as the conduit. As a multidisciplinary artist she uses colour as the foundation to talk about culture & tradition through fashion, textiles, film, music, movement & food.
Her design journey started at St.Angela's from the age of 13. After completing A-Levels in Textiles Design & Psychology she then progressed to Ravensbourne for a diploma in Art & Design. Since completing a BA (Hons) in Textile Design & Retail Management at BCU she has continued to further her career in fashion as a sales & design assistant for high street brands such as River Island, Warehouse & TOPSHOP, suppliers such as Alison & independent brands such as FELDER FELDER, SOBOYE & LOWIE.
Presently she is the Founder & Designer at Sabodé - a service specialised in the production of bespoke fashion & textile at a slow rate. 
Website
Barbara De Graft Ahenkorah 
Organizer and beneficiary