It's no secret that not all superheroes wear capes.
But few of us expect them to take the form of 12-year-old schoolgirls from north London.
Three years ago, when Astrid Aurell was nine, her parents told her that not all children are as lucky as she is. Determined to take action, she set up Kits for Kids, an annual project that raises money to buy Christmas presents for children living in temporary accommodation.
"It's always shocking when I research child homelessness because I realise how horrible it really is," she says. "Opening presents is one of the most fun things about Christmas, so I hope the gifts we buy will bring joy. I can't change the world but I can change some little things to make it better."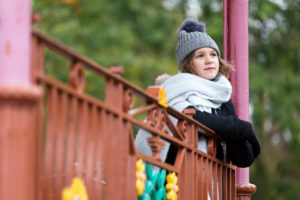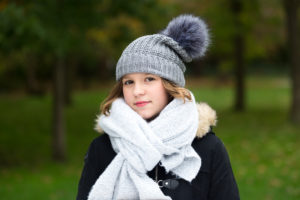 Last Christmas, the housing charity Shelter estimated that over 130,000 children would be waking up on Christmas morning without a permanent home – the highest figure in over a decade. High rents, benefits cuts and the dire shortage of affordable housing are among the contributing factors.
"People hear the terms 'child poverty' and 'homelessness' but they don't really know what they mean," says Astrid. "Nobody should have to live in these upsetting conditions. I hate it!"
Initially, Astrid filled 25 shoeboxes with toys and sweets and handed them into her local family hostel.
This year, her goal is much more ambitious. She has set up a GoFundMe page in a bid to raise £5,000 to buy presents for 250 children. So far, Astrid is smashing her fundraising. But there is still a long way to go if she wants to reach her target.
Is she worried? "It's always possible to reach your goal," she says. "Mine was £500 for the beginning of October and we tripled it. People are generous and GoFundMe is so easy to use. They can make anonymous donations and the fee is low, so we can spend almost every penny on the presents."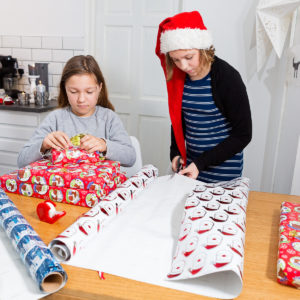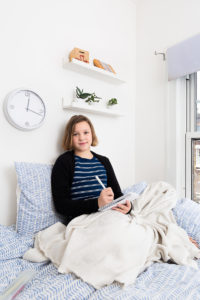 To help her wrap them all, Astrid's former primary school has recruited volunteers from the older years. The gifts will then be taken to the same hostel she has worked with before, as well as the Shepherd's Bush Families Project.
"Nobody lives there but it offers schooling for young children, hot meals and stuff like that," Astrid says. "It's a fantastic place, so we're super excited! They're hosting a Christmas party and I'll be helping with the under-fives, so I'll get to see how happy the toys make them."
Astrid's parents, Brontë and Jonas, own a Scandinavian cafe in Fitzrovia. They help their determined daughter by telling regulars about Kits for Kids and sharing her GoFundMe page on social media. But it's Astrid who's the boss.
"It's cute that a nine-year-old wanted to do this but it's her tenacity that's most impressive," says Jonas. "We're all good at doing worthwhile things as one-offs but hats off to Astrid for doing this year after year. Of course we're on hand to assist her, but she's the one running this project. I don't know where she gets it from, but we're extremely proud of her!"
Astrid's ultimate goal is to keep putting a smile on children's faces. "Whether we remain as a small charity that helps 250 kids or grow into a bigger one that helps 25,000, so long as we're bringing happiness to kids in need, I'll be happy too," she says. "Being kind is always a good thing."
---
Inspired by Astrid? Here are her top fundraising tips:
1) Get busy networking.
"If you get the chance to meet someone who might be able to help, do it!" she says. "I recently met Sadiq Khan, the Mayor of London, at an event my mum was invited to. I told him all about Kits for Kids and he promised to do more to help children living in poverty."
2) Make sure you give yourself enough time.
"Coming up to a deadline and not being ready is stressful," she says. "During the summer holidays, I planned out what I wanted to post on my GoFundMe page and how much I wanted to raise by certain dates."
3) If it ain't broke, don't fix it.
"We're trying to do the same thing as last year, only on a bigger scale, as that's what worked for us."
4) Know and use your strengths.
"My age has helped," she says. "When people hear about a 12-year-old raising lots of money for kids, they feel like they have to donate. It's great!"
5) Don't give up!