When footballer Marcus Rashford called on the government to provide school meals to children during the October half term, the nation was reminded of how many pupils face food poverty every day in the UK. The government rejected Rashford's plea, but fortunately many people in the UK took matters into their own hands to feed those in need. Matt McClymont was one of these people. He owns The Schoolhouse, a restaurant located in Clapham, London.
Around the same time that Rashford was shining a light on food poverty up and down the country, Matt was dealing with the issue of surplus stock as a result of being thrown into a second lockdown.
"We had a lot of big week sales at the start of October. When the tier 2 lockdown restrictions were announced our sales halved overnight," he said.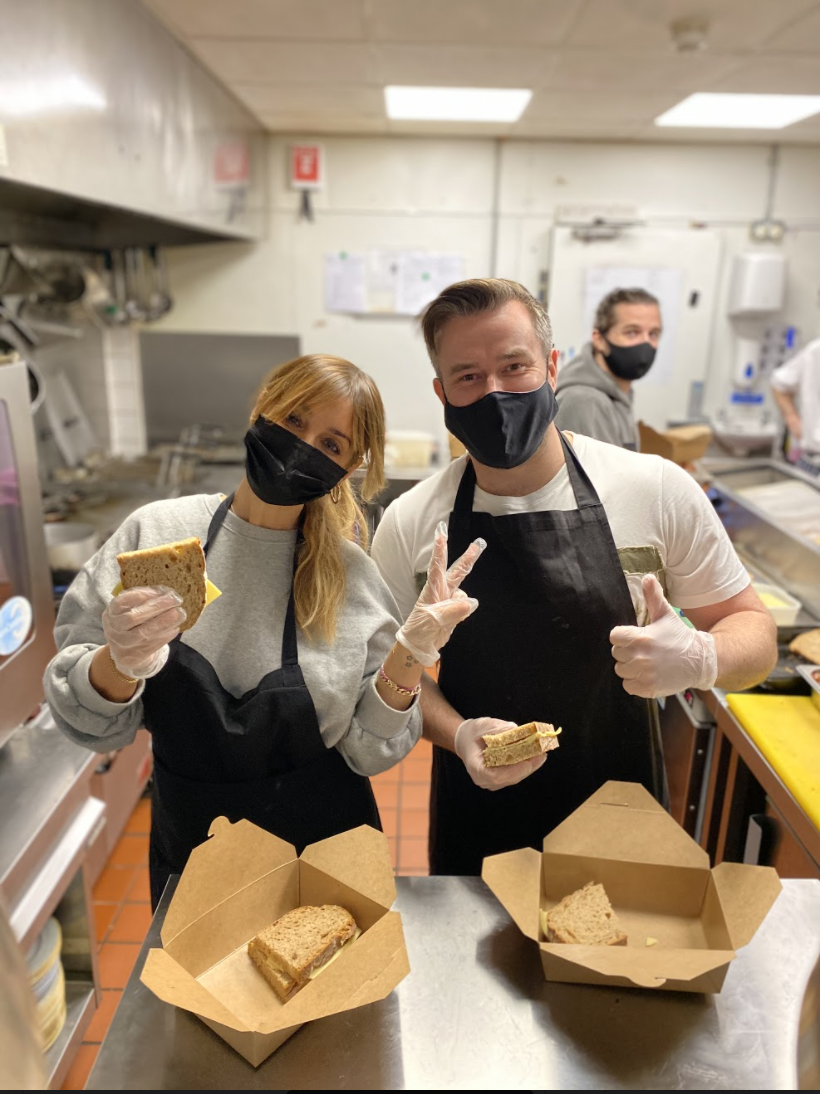 After learning that many kids would need feeding over the half term period, Matt decided to put his food to good use.
"We had all this spare food. When we saw what Marcus Rashford was doing we decided to combine it," he said.
Matt decided to put together lunch parcels for any kids who might need it in the local area using the surplus ingredients he had to hand.
The next step was to let people know that he was happy to help.
"We reached out to people we knew would be able to get the word out. I contacted my friend Tom Van-Wesseldine who helped tie everything together on the PR side of things and we were able to call on Josh Denzel from Love Island, Louise Redknapp and some social media influencers who were happy to share it on their social media and that really helped," Matt explained.
The restaurant  also reached out to churches and community centres.
"We wanted to let people know that we were there for them and we didn't want to waste all the food," Matt said.
Fortunately for him, there was an abundance of people who wanted to help after they heard about his project.
"The response was amazing. So many people in the community wanted to get involved. They offered to bake and so many volunteered to deliver the food parcels.
"A lot of people were embarrassed to ask for help, so people offering to deliver to them meant that they could avoid coming to the restaurant," said Matt.
The response was so huge, Matt ended up setting up a GoFundMe page for people who wanted to donate to the cause.
"We had so many people offering to help that eventually I decided to raise some cash so they had somewhere to put their money! We ended up raising more than  £4,000!"
The money raised allowed Matt to continue to provide meals to people in need. In the end, The Schoolhouse delivered more than 650 meals to people in the local area.
"Initially it was all about school kids, but in the end we were delivering to anyone in need who asked, we weren't about to turn away people who were in need of food," Matt said.
"As time went on, more people heard about what we were doing. A lot of people who received deliveries from estates had heard about it through their neighbours.
"Some people came everyday."
Matt said he found the experience humbling.
"I knew there were people who needed help, but I didn't realise how bad some of the conditions were that people were living in right on my doorstep.
"There is a lot of stigma attached to people who need a bit of help, but when you go and actually meet them you realise that for a lot of these people their situation was out of their control. I think people are too quick to judge.
"Doing the campaign made me think that there is actually a lot more that we can do and I am so glad we did it."
Matt said he plans to launch another campaign to help the homeless this winter.
Here are Matt's top fundraising tips:
Use social media
"Utilise social media as much as possible to let people know what you are doing. We found the stories feature on Instagram particularly useful to show the work that was going on. When people can see this in action it really inspires them to want to do something to help!"
Don't be afraid to ask for help
"Don't be shy to ask for a donation! Sometimes the natural reaction is to thank people for offering to help but you have all the volunteers that you need etc. Setting up a donation page and pushing people towards it is a great way to accept the help offered and also continue to help those in need."
Reach out to other fundraising groups
"Reach out to groups that are often fundraising and are looking for worthy causes to back. We had a number of donations from a trade union that was looking to support initiatives such as ours and they had a number of members ready and willing to donate to causes that they backed."