Ebonae-Rose and Summer are sisters from Rossendale who have made it their mission to spread a little love across the UK amid the worry and fear of the pandemic.
With a fireman for a dad, a nurse for a grandma and a paramedic for an auntie, the girls were no strangers to key workers and saw first hand how hard they were working during the pandemic. 
Ebonae-Rose and Summer decided they wanted to help. It all started as a craft activity. The sisters found a pair of wings and decided to make a guardian angel keepsake for their dad. After that they ordered more supplies and gave one to each of their family members working on the front line to keep them safe.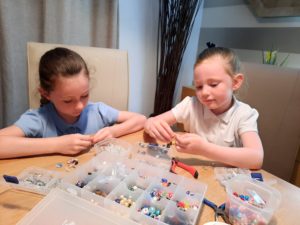 "Initially the girls started it for the family, but then word got out." Ebonae-Rose and Summer's mum Tracey said. 
After Tracey posted some images of what the girls were up to on Facebook, the sisters started getting requests from other key workers so they made more.
"We decided to start sending them out. It went viral , everyone wanted them. We were googling addresses and sending them to frontline workers.The girls couldn't keep up with the demand!" Tracey said.
The guardian angels were a big hit amongst key workers.
"Everyone was sending pictures of them wearing the angels in full PPE, so we just kept buying more supplies." Tracey said.
After a while, Tracey and her husband realised they couldn't keep sending out angels for as the price of production was beginning to add up.
"We were funding it ourselves. We were buying more and more and it was costing quite a lot. I couldn't believe how much stamps cost!" Tracey said.
"We thought we would have had to stop as we wouldn't have been able to afford it, but then my friend suggested that we set up a GoFundMe page."
The Guardian Angels GoFundMe page was set up and donations started to pour in, it even caught the attention of the media.
"The local newspaper got in touch. I set up the facebook page and people started private messaging me and asking to donate so then people started sharing the link. The BBC asked to interviewed the girls for the Everyday Hero Award, it's been amazing." Tracey said.
The girls have also been nominated for a Pride of Britain award by several complete strangers.
"To even be thought of as that category was so  amazing as I know there are so many people doing incredible things." Tracey said.
But the success of the campaign didn't stop there. The sister's work caught the eye of none other than the Prime Minister Boris Johnson who has given them a Points of Light award.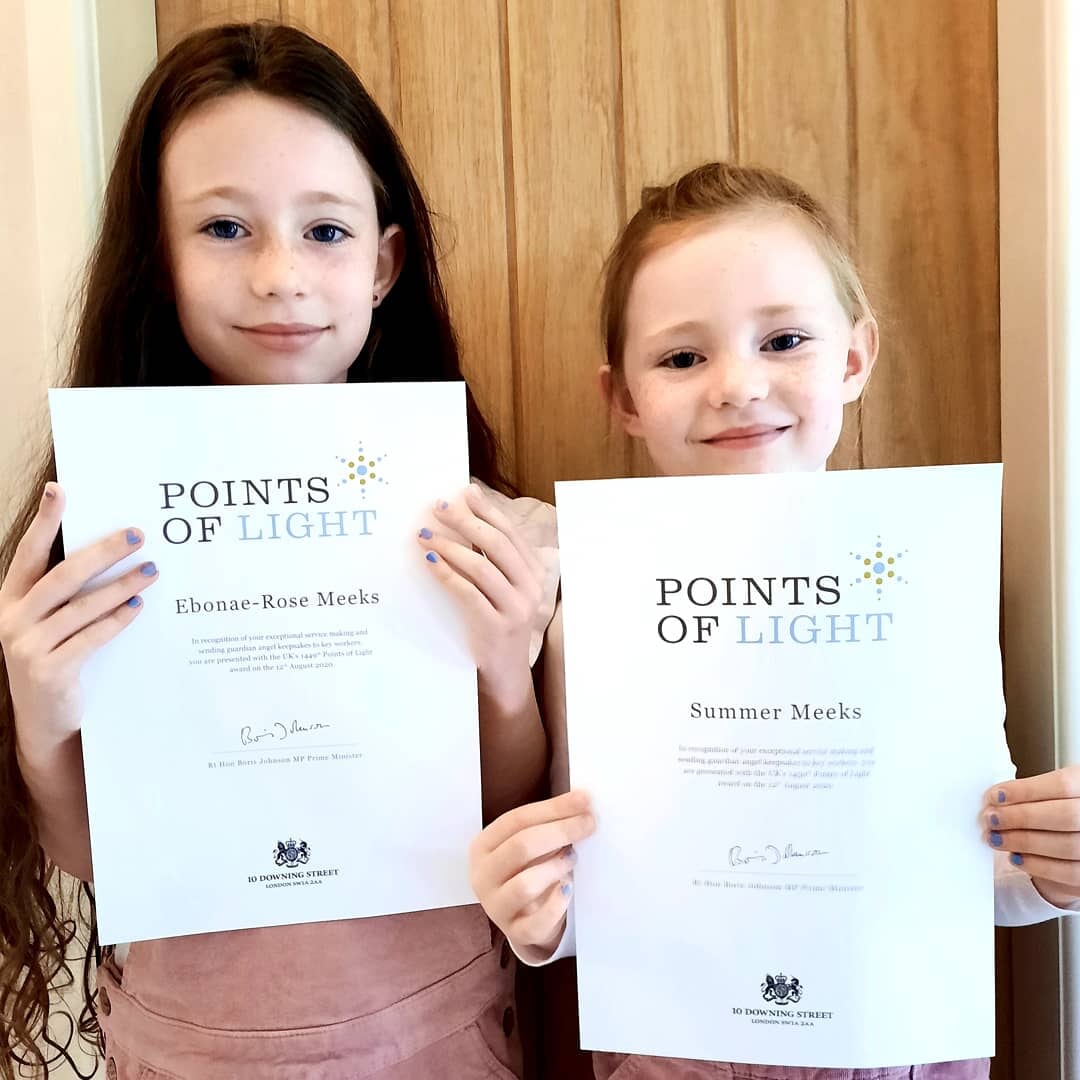 "We got a letter from Boris Johnson! It was so out of the blue . I got an email from a representative saying Boris had heard about what we were doing and they wanted to offer us a Points of Light award.
"I couldn't believe it!" Said Tracey.
With all the success of the campaign Tracey said it can be difficult for the girls to manage their time.
"The girls are thrilled that they can keep sending them.They have been trying to balance crafting with school work."
Tracey and her husband even tried to shut their page down a few times but were met by cries of outrage.
"I've tried shutting it twice but every time people ask to keep it open." Said Tracey.
The couple have decided to give any excess funds that they raise to charity.
"After such an amazing response we decided to donate to local charities . The girls asked if we could share the money."
At the moment they have donated funds to NHS Charities Together, a local animal sanctuary and Pendle Hospice.
They are also hoping to be able to donate to Friends of Serenity, a charity that supports bereaved parents.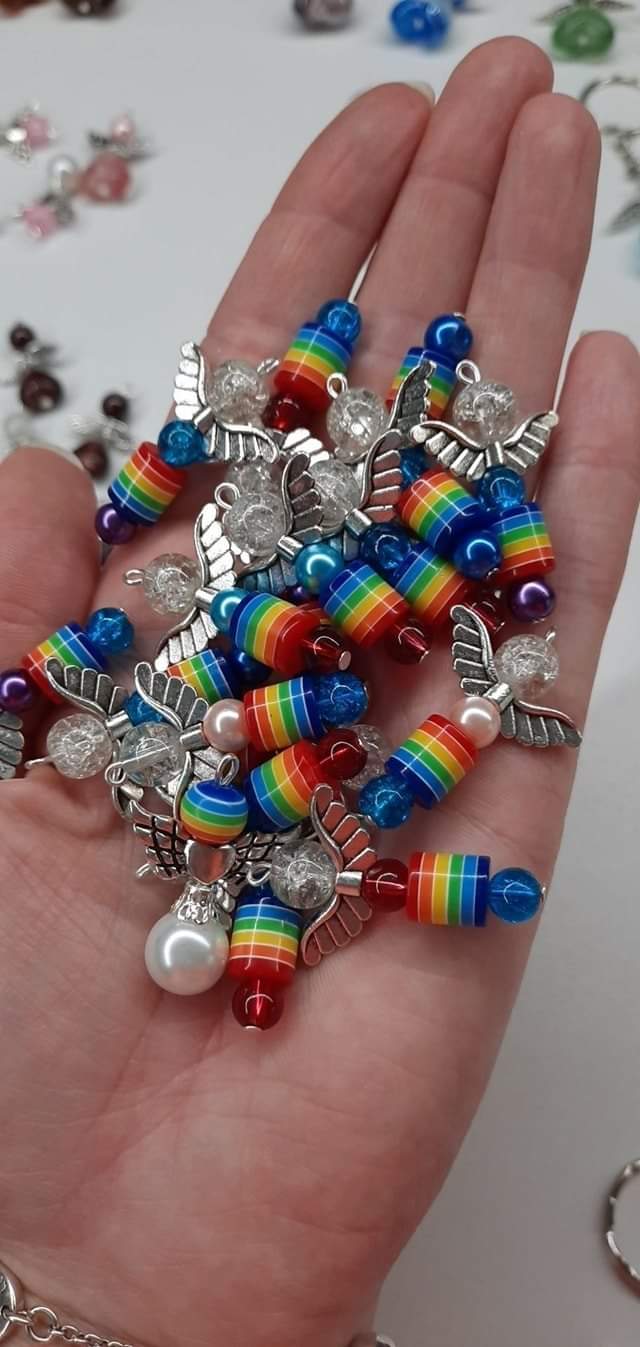 "We've been through it ourselves. They give rainbow boxes. We've been making rainbow guardian angels for the boxes so we want to support them too." Said Tracey.
The family said they plan to keep the campaign going for as long as it is needed.
"We want to provide love, hope and positivity in times of worry. It lets people know that we are thinking of them."
We asked Ebonae-Rose and Summer what their top fundraising tips were:
Don't be afraid to ask for help if you need it
Have a focus, a target that's achievable and be clear what you are asking for help with. 
Make it personal
"Make your campaign personal, fun and exciting. Keep things interesting for others to read."
Keep your supporters updated
"Always keep your donors and supporters updated with regular updates, pictures links or press releases so that they can follow and become part of your journey too. We found social media particularly good for this because we could share as much as possible with our influencers particularly our wonderful stories and just how much the girls have achieved throughout and how they have made a difference to the lives of individuals. 
"By sharing our journey, it also gave others the chance to feel a part of what we were doing too as they could post their pictures and give their feedback on how it has impacted them."
Thank your supporters
"Always thank all of your supporters whether they have donated or not because without them you wouldn't have been able to achieve what you set out to do. Remember to also post updates to your campaign, keep your audience updated regarding your funds and plans."
Share your campaign
"Last but not least share, share, share!! Just Keep sharing and let everyone know what you are doing. Let family and friends share with their supporters and so on. Make it public. Tell everyone! Tell the world, the more people know what you are doing, the more your story will be heard and the more support you will receive.
"When raising those essential funds you really do need all of the support you can get."