The arrival of the coronavirus epidemic to the UK has seen the mass closure of restaurants around the country. Redundancies have been widespread across the industry with many hospitality staff concerned about how to survive in the absence of regular pay boosted by tips.
Enter Lina Stores. This stylish Italian delicatessen has been making fresh pasta in Soho since 1944 and is something of a London institution. Co-owner, Chris Miller had begun to worry about how hospitality staff across the industry would cope with the closures, many of whom earn just the minimum wage.
Although the government has agreed to give furloughed staff 80% of their base salary, staff are used to getting top-ups through tips and many will still be made redundant, says Chris.
"You might just be able to cover your rent, but how do you afford to eat after that?" he says. "With the drop in income, there are a lot of people who are at risk of becoming homeless or hungry. They cannot afford to pay their rent and they cannot afford to eat." 
Chris began to think creatively about how Lina Stores could support its staff across the industry.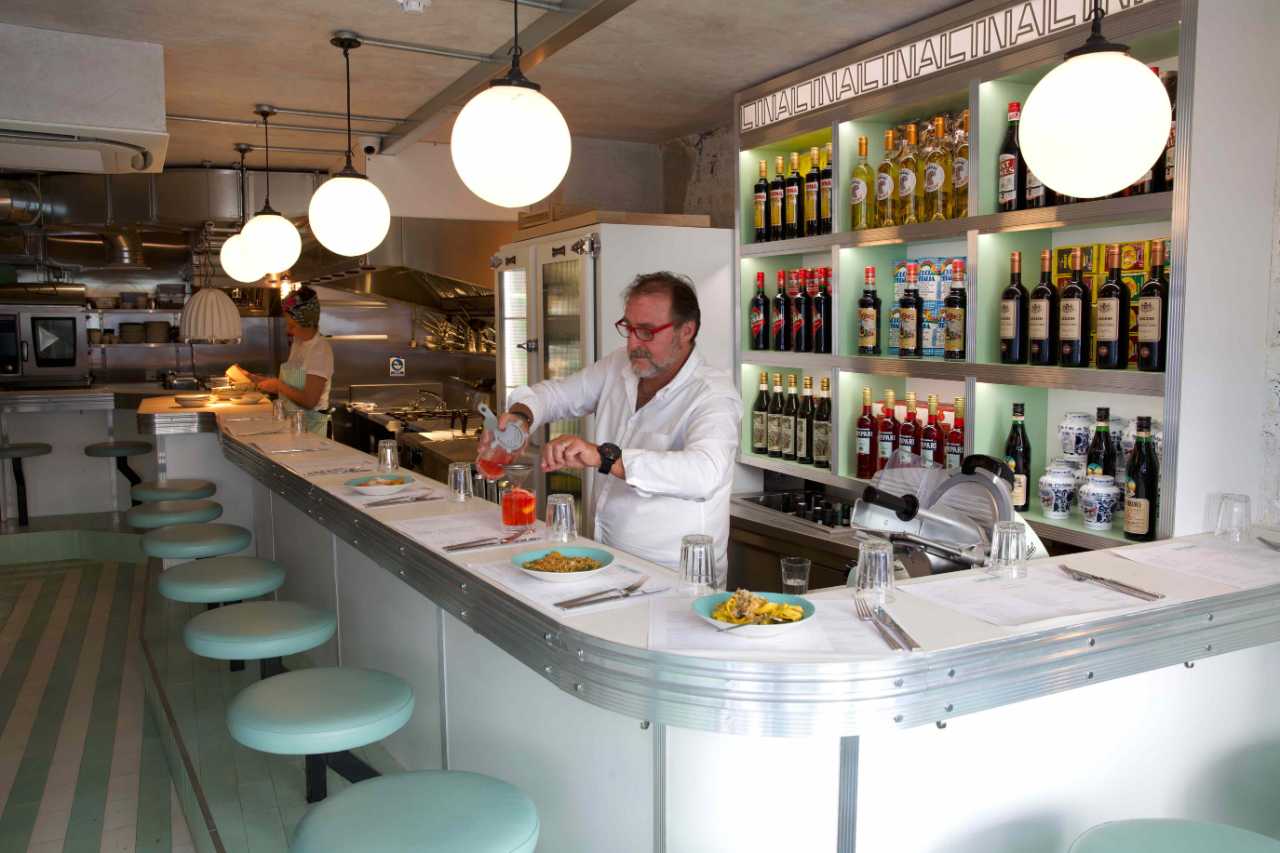 Using GoFundMe as a fundraising model, Chris realised that with a fresh pasta factory and plenty of stock, they might just be able to help.
"Lina Stores has been making fresh pasta in London since 1944, we can create tonnes of pasta and the main ingredients are simply flour and water".
Chris and his team calculated that they could create care packages comprised of 10 fresh pasta dishes to distribute to hospitality workers around the city. Included in a care pack will be 1kg of pappardelle and 1kg of pici pastas with arrabiata and Bolognese sauce with cheese. Both pasta and sauce can be frozen, meaning they'll last for longer.
For every £10,000 raised, it's estimated that around 4,000 meals could be produced.
Contact with the biggest restaurant operators across the capital means the team has established a portal for them to request support packages on behalf of employees. Rather than asking people for 'evidence' of hardship, the team plans to ask staff in need to produce a payslip as proof that they used to work for one of the restaurants.
In a testing climate of social distancing, safety is a major priority for the team.
"It's really about timing," says Chris. "We don't want to encourage people to leave their homes and stand in big queues for food, and the safety of staff producing the pasta is vital."
Although staff at Lina Stores have been sent home, Chris has been overwhelmed by employees offering to lend a hand.
"If we raise £50,000, that's 20,000 meals," he says. "We have refrigerated vans that deliver across our group and could easily drop them off at old people's homes or food banks," he says.
"We can already widen this support from hospitality staff who have been made redundant to people in need more broadly. We've got delivery people, we've got closed sites that can be used as hubs for this, and we've got people willing to put their time in".
While the team iron out logistics, Chris aims to have the first care packages reach people within the next fortnight.
"We're doing something for the community, which is a big part of the ethos of the stores. It's a little bit of light amidst a lot of disaster right now," he says. "It's just been an incredible response."
Inspired by Lina Stores? Here are Chris's top fundraising tips
Have a genuine cause
"Think carefully about the purpose of your fundraiser. What are you trying to achieve and who are you achieving it for?"
Be creative in publicising your cause
"Social media is a great way to publicise your campaign, but also think about connecting with local and national press to make more people aware of what you're trying to achieve. We got involved with some of the biggest influencers in food blogging to promote our cause through Instagram."
Keep donors in the loop
"Communicating with the people who have funded your project is really important. Provide regular updates on your progress and thank people for their contribution. We've sent a personal thank you to everyone who has donated anything from £5 to £5,000."
Use visuals to tell your story
"We posted a video of the 75-year-old Lina Store to let people know who we are. We also shared photographs of our staff so that donors know more about us and who we were going to be helping. Sharing pictures of the people who will ultimately benefit from your fundraising can be powerful."
Ensure people know who you are
"Letting donors know who the people behind the campaign are is vital in developing confidence. You're asking complete strangers to give you money, which requires a level of trust. Make sure this can be communicated effectively."
Donations to this campaign remain open and the team are working hard to help more people affected by the coronavirus.