Top Five Tips to Make Money as an Artist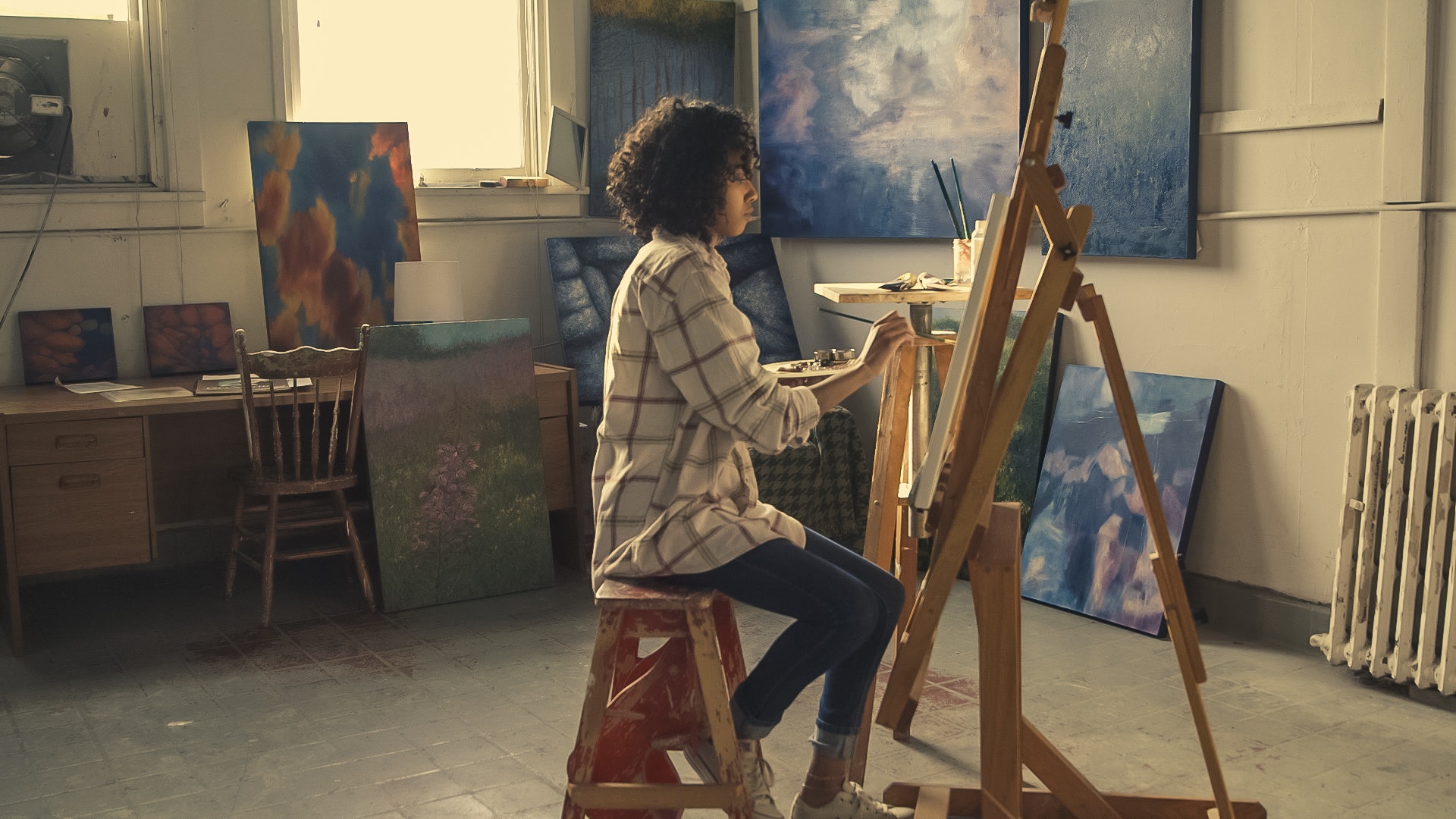 You've got passion and grit, a burgeoning portfolio, and you're more than willing to put in some elbow grease. Now you just need a way to stretch those dollars so there's food in your belly, and you aren't falling victim to that old stereotype.
Thanks to the hundreds of ways to market yourself on the web and sell your artwork, it's never been easier to get your name out there and make money doing what you love. You may just have to get a little crafty.
Take a look at five of our favourite tips to make money as an artist that will help remove the financial barrier standing between you and creating art full-time.
1. Test unique revenue streams
Keeping all of your brushes in the same pot of paint can be a risky move, and it rarely works in the long term unless you've already found large commercial success. In other words, relying on art as your primary source of income requires some serious hustle.
Bringing in cash through a few different avenues also allows you to discover what you love most while also sowing seeds in the art community. Start by making a list of all possible revenue streams relevant to your skill set, and then zero in on the ones best suited to you. Here are a few ideas to make money as an artist:
Teaching
This is a fantastic way to brush up on your own skills while helping others. Consider private tutoring, or teaching and substitute teaching for K-12 and even college classes.
Web sales
Selling your artwork online is a low-risk way to dip your toe into the waters of small business ownership. Once you're registered and set up to sell on websites like Etsy, you can focus on promoting your artwork and bringing in money without even having to leave your house (except to ship out products, of course).
Creating online tutorials
Can you operate a camera and use basic video editing software? If so, you can try your hand creating video tutorials for sites like Skillshare or Udemy. Others can sign up to take your courses, and you get to keep a certain percentage of the course fee. The exact amount depends on the particular site.
Print on demand
If you've ever wanted to see your art on anything from coffee cups to shower curtains and make cash from those products, then print on demand, or "POD," may be for you. Sites like Society6 and RedBubble allow you to upload your artwork, then they print it on various products—and even take care of the purchasing and shipping for you.
2. Find your niche, then share your story
As an artist, standing apart from the pack is key. If you can differentiate yourself from the rest and find your own aesthetic, you'll turn heads. When you're creating things that are unique or weird, you'll be able to develop your brand and land all kinds of opportunities.
Translating your brand to the web and creating a strong online presence, however, requires a bit of finesse and know-how. Here are some ideas to get you started:
Start a professional website
A professional website is the cornerstone of any blossoming career. Sites like SquareSpace allow you easily create a sharp website by using a template, or you can insert code to customize to your heart's delight. You'll then be able to showcase your work in one easy-to-reach place so you can share it with potential clients.
Get in on Instagram
There are 8 million registered businesses using Instagram, according to Wordstream, and it's no surprise why. It's completely free to create an account and share your photos, and you can get thousands of eyes on your images and videos with a few smart hashtags (just don't go overboard, as two hashtags are the magic number). Plenty of artists have gained hundreds of thousands of followers by uploading images of their art or short videos of themselves creating it.
Take watercolor artist Jenna Rainey, for example. The California-based artist has 115K Instagram followers and uses the app to give tips on watercolor painting and show off her botanical illustrations.
Explore Pinterest
A site bursting with nothing but perfectly curated photos, Pinterest is the ideal photo sharing spot to direct people back to your website or Etsy store. Users can upload photos, tag them with the correct search terms, and link them to whatever website they choose. The home decor and art categories feature many watercolour artists and photographers.
3. Start a fundraiser to showcase your art
Sometimes you just need a little financial boost to start pursuing your passion, and crowdfunding is a fantastic jumping-off point. There's no better way to show your network of friends and family members how much your art means to you than by posting images of it on your fundraiser.
Attend international exhibits
The fundraiser created by glassblowing artist Sean O'Neill, for example, features photos of his gorgeous glass blown dishes and jewelry. He launched his fundraiser to raise funds after he was invited to attend an international exhibition of glass artists held in Denmark. O'Neill's fundraiser even offers some of his art as rewards for those who donate over a certain amount. He surpassed his goal of $2,000 in just two days and was able to attend the exhibition.
Fund art education costs
Starting a GoFundMe fundraiser for art education costs is just what sculptor and installation artist Briona Hendren did when she found out she was accepted into two prestigious art residencies. Hendren knew she had to get a few stellar residencies under her belt in order to be accepted into the MFA program of her choice down the road, but the residencies were pricey—and one was even out of the country. Her fundraiser Briona's Art Residency Fund raised $5,000 more than its goal, and Briona was able to attend both residency programs.
4. Make sure to file as a business at tax time
If you're an artist who teaches, hosts art shows or makes the majority of your money through other artistic endeavors, then you should definitely consider filing taxes as a business instead of as an individual. Doing this means that you'll be able to write off art supplies, travel expenses for long-distance art shows, and a slew of other things directly related to art.
You'll want to fill out a Schedule C at tax time (Form 1040), and likely a Schedule SE to report self-employment taxes. Turbo Tax does an excellent job of explaining these forms more in-depth. Please be sure to consult a tax professional before filing your taxes to ensure that you can, in fact, file as a business and are doing so correctly.
5. Consider having an emergency fund
A medical emergency or auto repair can set you back thousands of dollars and severely detract from your artistic pursuits. If a large unexpected expense is a torrential downpour, then an artist emergency fund is the trusty umbrella to help you weather the storm.
It's crucial to have at least $1,000 in your savings account at all times, but sometimes no matter how prepared we are, unfortunate events can happen. Starting a fundraiser on GoFundMe makes it easy for your friends and family members to rally around you during tough times.
For in-depth help, read Tips for Building a Healthy Emergency Fund.
Photographer Christian McLeod's world was turned topsy-turvy when over $6,000 in photography gear was stolen from his car. He felt that had been taken away from him when his camera gear was stolen, so he created a fundraiser on GoFundMe to recoup the costs and continue doing what he loves. His fundraiser raised nearly $500 more than his goal, allowing McLeod to get back to spreading creativity.
Ready to start creating?
Don't already have revenue streams flowing? Make a list of actionable steps that will help you achieve your goals, which is crucial to overcoming limiting factors. Start somewhere—anywhere—and keep going. If you need a solid starting point, create an art fundraiser and tell your story. Share your art. Inspire others with your passion. Start your fundraiser today and begin receiving donations.