How to Help a Friend With Cancer: Fifteen Encouraging Ideas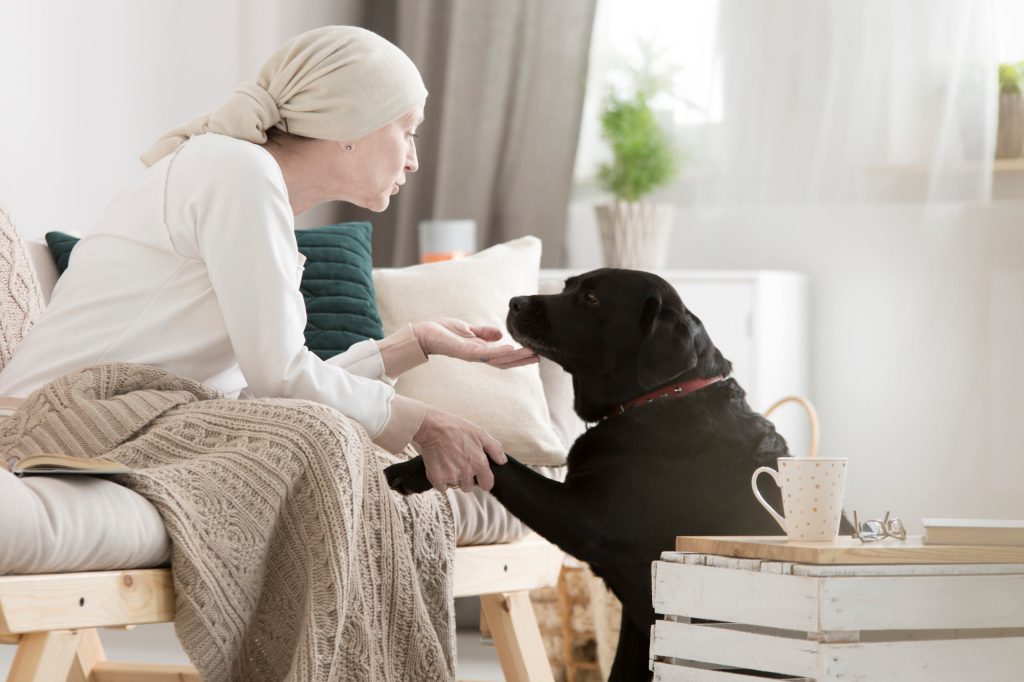 It's hard to know how to help a friend with cancer or what to say when someone has cancer. Even when your heart's in the right place, it's a challenge to find the right words and steer clear of the wrong ones. In this guide, people who have either had cancer or helped family members who had cancer share the best ways to support an ill friend.
What to say to a friend with cancer
Sky Khan had plenty of difficult conversations with friends and family when she told them that her four-year-old daughter had been diagnosed with leukemia. Sky thought about what people did or said that gave her the most comfort and reassurance during this difficult time, then wrote down the ideas. Sky's list shows us that supporting a friend with cancer can take many forms.
1. "You are constantly in my thoughts."
When a friend offers positive, healing thoughts, it is a caring, supportive act that can transcend spiritual affiliation. I've had friends put my daughter's name on Tibetan prayer wheels, lift our family up through Christian prayer groups, speak of her health in both Jewish and Muslim religious ceremonies, and even send Reiki distant energy healing. At my lowest points, whenever I received a spontaneous text or email that informed me we were in a friend's thoughts at that very moment, it was incredibly moving.
2. "Thank you for sharing that with me."
A simple thank you was one of the most surprisingly sweet reactions I received when I told people that my daughter was fighting cancer. It meant so much when a friend felt that it was a privilege to receive my news. A 'thank you' along with an attentive, calm presence provided real comfort. Sometimes all that's required in a difficult situation is being a witness to someone else's anxiety or sorrow. If you only have a few words to offer, saying thank you is a nice alternative to the overused "I'm sorry."
3. "I'm coming over once a week with a home-cooked meal."
During life's difficult moments, the importance of food is often overlooked. Not only is it very hard to find the time or energy to eat, cooking is usually the last thing to receive attention. When a friend committed to delivering a weekly meal, it became a true lifeline for our family.
4. "This really puts things into perspective."
When I was able to provide a friend with the opportunity to reflect on his or her own health and well-being, it brought optimism to the conversation. It also provided space to take the focus off of my daughter's situation, which was often a welcome relief for me. When a friend was able to express both compassion and a sense of gratitude, the conversation turned hopeful. It is not always easy to appreciate good health while you have it.
5. "I've found a support group for you that might be helpful."
In the midst of tragedy, there's little time to locate helpful resources, which can lead to feeling overwhelmed or isolated. One friend suggested I join a cancer support group on Facebook that focused on the very specific kind of childhood cancer my daughter had been diagnosed with. The group has led to new friendships and a sense of shared humanity. Connecting with others who are going through the same thing has provided insight and relief from suffering.
6. "I'm organizing a meal drop off this month with a group of friends."
Another good friend asked if she could organize our friends to drop off home-cooked meals every Tuesday and Thursday for a month. Sharing the cooking as a group fostered a sense of community, and my family felt so uplifted by our friend's goodwill. Because our daughter's chemotherapy treatment spanned a long period of time, friends let us decide if the meal plan was still helpful at the end of every month.
7. "I'm coming to visit."
There is nothing like the physical presence of a good friend in a crisis. A close friend can be a witness, hold your hand, dry tears, and ask how you're feeling in the moment, all of which helps on the journey toward healing. When an offer to visit at the hospital or at home came up, I never turned it down. It was especially helpful if friends offered a specific window of availability, such as two hours in the afternoon on Saturday or Sunday—the more specific the better.
8. "I'd like to help fundraise for you."
Illness, death, and other tragedies often incur unanticipated expenses. When a friend offered to help set up a fundraiser for my daughter, the tender messages and generous donations that came in through the site moved us tremendously. They were so practical in helping us face the mounting travel expenses and medical bills.
9. "Is there an opportunity to celebrate?"
When some time has passed and bad news is not so fresh, there may be an opportunity to recall a positive memory or mark an occasion related to the situation. I received a small handmade book of photo memories from birth through year four on the occasion of my daughter's 4th birthday. Receiving this thoughtful collection of photos amid her health crisis reminded us of happy times.
10. "You are amazing, you are so strong, and you will get through this."
Don't hesitate to remind your friend how resilient they are, because words of encouragement for cancer patients can be especially important. Frequently repeat a sentiment that you sincerely believe, and soon your friend will also believe those words. Remind them that while it may be a difficult year ahead, they will get through it because they are strong. They are amazing. And they will be even stronger after persevering through the experience.
How to support someone with cancer
Two-time cancer survivor Elise Silverfield says that she received wonderful support from friends during both battles with cancer. If you're not sure how to support a friend with cancer, Elise offers the most impactful ways friends helped and encouraged her through her own journey.
1. Give your time
One of the most valuable things you can offer a friend battling cancer is your friendship. Simply being present can be an extraordinary gift and provide those facing the illness a newfound comfort. From the day a cancer patient is diagnosed, they become a SURVIVOR. Remind them of this on the tough days and celebrate with them on the good days. Your friendship, love, and support will truly be a blessing.
2. Offer to do a specific task
Lots of people say, 'Just let me know what I can do.' While they mean well, most of us (myself included) have a hard time asking for help. There are dinners to organize, carpools to arrange, and shopping to do, so it's helpful if friends take charge of a specific task.
3. Provide a bit of pampering
While in the hospital, my girlfriends brought me a gift bag filled with scented lotion, fluffy socks, disposable toothbrushes, lip balm, and more. While one friend brushed my hair, another massaged my hands and feet with the lotion and painted my nails. It really is true that when you look good, you feel better. Bringing that little bit of comfort and femininity to the hospital really raised my spirits.
4. Lend a hand financially
Probably the most amazing thing my friends did for me was to start a fundraiser. Even though I have insurance, the out of pocket expenses were staggering. Knowing I would never ask, my friends took it upon themselves to help with my medical bills through crowdfunding.
My friends sent out mass emails and posted on social media to educate people about their goal. I was beyond touched by the outpouring of support I received. GoFundMe is a great way of helping a friend with cancer because it lessens the financial and emotional burden the disease often causes. I am grateful beyond words for the generosity I was shown, and I hope I can one day return the favor.
5. Get creative with how you rally support
My friends made the effort creative by doing things like asking people to skip their daily cup of Starbucks and donate that money to my GoFundMe instead. Every dollar adds up. Even if friends or family can't donate money, people can log on, give a "hug," and share supporting thoughts. Whether you provide comfort in the hospital, monetary support, or something else, the main thing is to support your friend.
Looking for more ways to support a friend with cancer?
Helping a friend with cancer can mean anything from words of encouragement to organizing a meal train. If you'd like to go one step further and help your friend offset the medical costs of a cancer diagnosis, GoFundMe is here to make fundraising easy. Our free fundraising platform means you can keep more of your donations, and our blog has countless cancer fundraising tips and fundraising ideas for cancer patients. Sign up today and start cancer fundraising for your loved ones.