Disaster Relief Guide: Top Resources for Rebuilding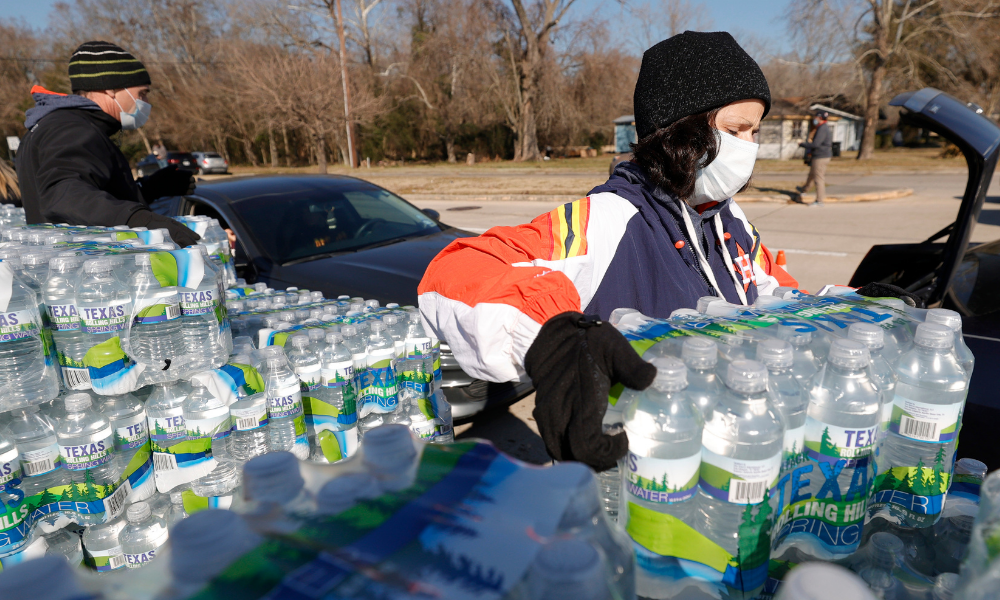 Every year, thousands of people are faced with the daunting task of putting their lives back together after a hurricane, flood, tornado, fire or other natural disasters. It's an overwhelming experience that can leave most lost and confused about what to do next— but there are lifelines to reach out to when you're confronted with such a devastating tragedy.
Organizations, programs, and other resources like crowdfunding are available to anyone who has lived through a natural disaster. Even if you, or someone you know, has not been directly impacted, there are still ways you can help. Use our disaster relief guide to help find support fast.
How to get financial assistance after a disaster
1. Find a natural disaster relief organization
There are a number of relief organizations that provide assistance before, during, and after a natural disaster. Some have an application process, while others typically provide immediate relief in the areas affected by a natural disaster.
For those directly impacted by a natural disaster, the Canadian Red Cross can offer shelter, food, water, and many other services that are needed in a crisis. If there's a local office in your area, you can reach out to that office directly and inquire about getting relief after a disaster. You can also check their website for open shelters near you or for other help. To contact them or get help, you can visit the Red Cross site and take a look at services offered near you.
If you're just looking to help, the organization takes donations, or you can even give blood. Giving blood is a great way to help if you're not able to contribute with a donation to the charity.
The organization is well known for building new homes for those left homeless after a natural disaster, but it's a common misconception that they only build new housing. If your home was only partially damaged in a natural disaster, Habitat for Humanity has services that will help with repairs and supplies for the rebuilding effort.
Additionally, the organization is there for entire communities that are faced with the clean-up of their neighbourhoods, and some of their international locations offer microloans for home improvements or new developments. To contact the organization or apply for aid, you can check out the Habitat for Humanity application page and take a look at what requirements are needed and how to get started.
In addition to the year-round help the Salvation Army provides to veterans, the homeless, and others in need, they are also a lifeline when it comes to emergency relief during a crisis. The Salvation Army provides food, shelter, medical care, and even counselling services.
For information about where the Salvation Army will be helping, you can visit their news page. The organization updates its site regularly as events occur and services become available. Through their site, you can also contact a regional office and the disaster director for the region affected by a natural disaster.
2. Reach out to federal natural disaster programs
Emergency management is handled by Public Safety Canada, instituted in 2003 to protect Canadians from emergencies and disasters related to all kinds of hazards. According to their site, "The Department maintains a network of partnerships with other federal government institutions, provincial and territorial emergency management organizations, first responders and voluntary organizations, and other stakeholders and communities, supporting a whole-of-society approach to emergency management that leverages resources and capacities at all levels across the country."
Disaster Financial Assistance Arrangements (DFAA)
The DFAA is administered by Public Safety Canada and provides financial assistance to provincial and territorial governments after a natural disaster.
3. Consider crowdfunding
At GoFundMe, we've seen families, friends and communities come together to help others in the wake of a fire, flood, hurricane or storm. Starting a fundraiser is easy and fast, and you can start receiving donations immediately after launching a fundraiser.
Start a natural disaster fundraiser for yourself
If you've been directly impacted by a natural disaster, you can start a fundraiser for yourself and ask for help from your network. You can include pictures and outline what you'll need help with as you start to recover. The process to start a fundraiser only takes a few minutes, and as soon as you're done, you can share on Facebook, via email, or even text messages with friends and family. Read our tips on disaster fundraising before you start.
Example: The One Man Gang's Flood Relief Fund
When the 2016 Louisiana flood waters receded, it left George's family home damaged and nearly all their possessions ruined. The family was dealt with another blow when their insurance did not cover any of the damages. George took action and started a GoFundMe fundraiser that raised over $15,000.
Start a disaster relief fundraiser for someone you know
If someone you know is facing the aftermath of a natural disaster, you can create a crowdfunding fundraiser for them. Ask them what they need most and provide donors with a list of what the person may need. Include as much information as you can about their circumstances, how they were affected, and how important it is to support them. To add more transparency, be sure to include your connection to the beneficiary of the fundraiser and how you plan to get the funds to them.
Example: Erich Timko and his family
When the family lost their home in a wildfire, their friend and fundraiser organizer started a fundraiser to help the family rebuild their lives and cover short-term expenses as they navigated through the weeks and months following the tragedy. The fundraiser started with a goal of $5,000 but they exceeded this initial amount and it raised over $25,000 by the time it closed.
Start a fundraiser to help a disaster relief organization
If you're not directly affected by a natural disaster or know anyone that was directly impacted, you can still support people who may be across the country or world.  GoFundMe allows you to select non-profit organizations as the direct recipients of the funds so you never have to handle the money. The organization can then use the funds to buy supplies or other items for victims or fund recovery efforts. You also don't have to limit yourself to organizations that help in the Canada—if there's a natural disaster outside of the Canada, you can count on different organizations to help and you can start Certified Charity fundraisers to help them in their efforts to support people abroad.
To create a Certified Charity fundraiser, all you'll need is the organization's name or CRA. To search for an organization and start a fundraiser, you can visit GoFundMe's Certified Charity directory and enter the name or tax ID for the organization.
For in-depth help, read Six Steps for Running a Successful Disaster Relief Fund.
Example: Transport/Supplies for tornado relief
Dave raised $3,000 to go directly to Hands of Light, a disaster relief non-profit organization that was in the midst of supplying key resources and medical treatment to residents of the area.
Get help with disaster damage costs
A flood, hurricane, tornado, or any other natural disaster can strike without any warning and leave immense tragedy in its wake, but recovering and rebuilding after such a disaster can be accomplished through a communal effort. If you are faced with such a tragedy, remember there are disaster recovery resources and lifelines for you. And for those of us who are lucky enough to avoid a natural disaster, there's still some way to help others that may have been less fortunate. The key thing to remember is to act quickly and ask for help from all networks available to you.
Rebuild your community using our disaster relief guide
You can launch a GoFundMe emergency fundraiser now and start working towards recovery and relief efforts.