kickflips for matt hankey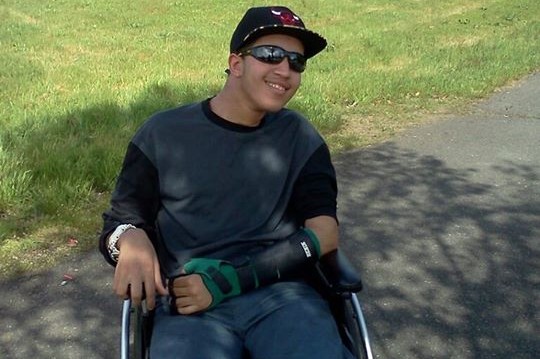 We are getting closer to our goal of 10,000 needed for Ability Camp in Ontario!!!! never give up or give in!!! thank you everyone for your continued support!!!
15On April 06, 2012 our lives were turned upside down. My son Matt age 16, has been plagued by headaches and migraines since the age of 10. It started as a migraine that night and when I checked on him at 9:06 p.m I found my son stiff as a board and in a seizure. That was the night I found out what an AVM was. He had a massive brain bleed, the AVM had ruptured, sending blood throughout his brain. Emergency surgery was performed to relieve the pressure and the next day we were life flighted to OHSU hospital,where we spent the next 5 weeks wondering what was to come. 3 brain surgeries later and what seemed like an eternity, my son was finally waking up. Mentally my son is the same, what has been affected the most is the physical aspect of things. Left side paralysis and he only has use of the right arm for now.
We are asking for donations to go to "Ability" camp in Ontario Canada. They use hyperbaric therapy as well as conductive therapy started in Hungary. They have shown alot of results working with stroke and TBI patients, even after years of not progressing. We are willing to try just about anything at this point!! Thank you all for donating and visiting our page, all the love to you all!
What is GoFundMe?

Fundraising made easy >>
CONTACT
LINK
POSTER
REPORT
Megan Heuberger
12 months ago
Hopefully knowing people support your efforts will help you to keep at it strong. All the best.
Elijah Jones
13 months ago
Hey Matt, hope this little bit helps bro. Praying for you and stay strong! God bless, Elijah Jones
Aldy Flores
14 months ago
Not much. Broke college student. But just wanted to make some kind of contribution. Stay strong man!
Jeannette Ruiz
15 months ago
God Bless You
Kaiti Gorgol
15 months ago
Meme,Lesa, and Tyler
15 months ago
We Love you Bud ❤️
Michelle Obereigner
15 months ago
My best wishes go out to you!
Neil Lehnherr
15 months ago
First Namekrissy and mark millner
15 months ago
You are so strong, keep going!