Be the first to like this update
So - I thought it was time for another update! Minstrel has finally been booked in for his next operation on Friday, so he will be having the wire removed from his jaw! YAY!
His fur is growing back beautifully... and he now looks like someone actually owns him again! He has got his full appetite back and has well and truly found his voice in the household again, even though he is still desperate to be back in the big wide world of the outdoors! All in good time...
We still have £185 left to pay the first part of his bill... and Friday will bring more costs, so would love to reach our goal by then. We have been saving to pay the extra - but every penny will really help!
My thanks again to everyone who have donated to help Minstrel - the difference in him really is amazing!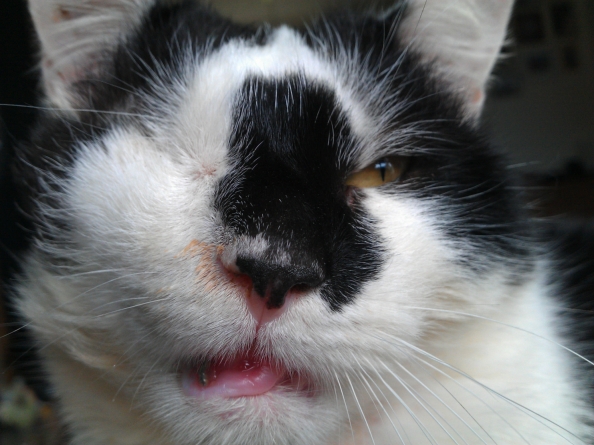 Minstrel, our cat, was hit by a car on Wednesday morning and ran off into the fields near our house.
We spent 3 days looking for him knowing he was hurt. We even posted flyers to all our neighbours and put up a few posters just to try and find more information!
Very early on Saturday morning we were amazed when Minstrel made his own way home.. and he looked a mess. It was clear that he had been hit in the head by the car.
We took him to the vet to be told that he needs an operation to fix a broken jaw - which requires two procedures - 1 to put wire into the jaw to hold it in place and the second to remove the wire. He was also likely to lose his eye.
4 days later he is still in the vets after his surgery and loosing his eye. Suffering a lot of bruising, swelling and infection he is still not eating by himself... but was so happy to see us when we visited even rolling over just to get his head scratched!
What does this mean? Well, from the first estimate of around £500 for his care it now seems that all in all the vets bill is going to be around the £1,400 mark which frankly we don't have. We did have pet insurance up until a few months back, but times have been a little hard and we couldn't afford to keep paying... we never imagined that this would be around the corner!
We basically have few days to raise the money to pay for surgery as Minstrel should be able to come home by the end of the week if he starts to eat by himself.
We are pleading for your help! We didn't want to have the cat put down just because of the size of the bill. He is only 3 and should make a good recovery. Asking for donations is our last resort. We have exhausted all other options. We have managed to cobble together a bit of money but unfortunately nothing like enough to cover the whole bill.
If you can help us and our little man, THANK YOU!