OM Worlds! Help Kids of Millennium MS!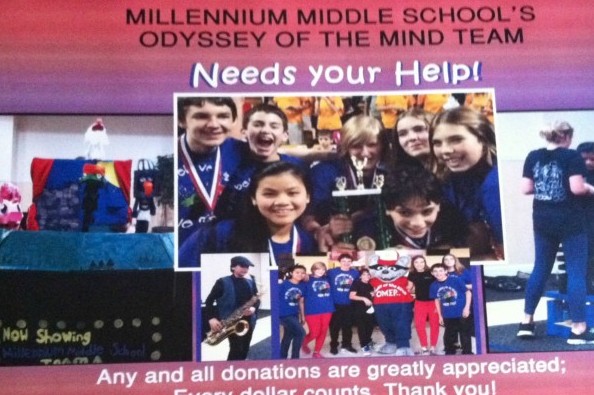 Raised: $1,915.00
Goal: $10,000.00
Created by
Risa Jackson Katz
157 Friends
Contact
Embed
Created by Risa Jackson Katz on April 11, 2013
On April 6 our team competed against other teams from across the state of Florida and came in 2nd place. This secured their place at the Odyssey of the Mind World Competition in Michigan where they will represent Florida and the USA. At Michigan State University, the team will have the opportunity to meet and compete against other students from all over the world. The kids have worked incredibly hard and have created an amazing performance worthy of the World Competition. The average cost for a team to attend the World Competition is $10,000. The school and parents are financing a small portion of the costs. But the kids need your help to fund the rest. This page is part of a parent run fundraiser and all proceeds will go directly to cover costs and expenses of the trip.
Recent Donations (37)
$1,915 raised by 37 people in 12 months.
$100.00
Elizabeth Barber
11 months ago
So proud of MMS!
$10.00
Andres Suner
11 months ago
Good luck and keep up the great work!
$30.00
Peggy Shaw
11 months ago
$100.00
John Felter
11 months ago
$10.00
Melissa Richards
11 months ago
Hope you get to your goal!!!
$15.00
Jon Wainer
11 months ago
Good Luck!!!
$25.00
Kim Bonds
11 months ago
$15.00
Anonymous
11 months ago
$10.00
Anonymous
11 months ago
$20.00
Anonymous
11 months ago
1-10 of 37 donations
Next