Jenna and Mary Margaret's Special Needs.
PRINCESS ROOMS UPDATE: We have really been blessed! God is so good!!! The framing on our project is almost finished. We hope to finish the brick and the roofing in the next few weeks. We will then have to raise more money to cover the costs of the remaining building expenses. Our original goal was $25,000. We had no idea in the beginning that this would not be enough to complete our project. In retrospect we should have done a better job at estimating the costs. We were naïve as to how expensive adding a "special needs" addition to our home would be. We have also had a few unexpected setbacks and expenses due to foundation problems. Our family has been very humbled throughout this entire process. We will need to raise our new goal to $44,000 to complete "Jenna and Mary Margaret's special needs rooms," also known as "The Princess Suites." We are confident that this project will be completed. We know that God is in control and that HE will make a way. All things are possible with God!!! We would once again like to thank everyone that has already contributed to our cause. All previous, as well as additional donations whether big or small are huge in our hearts! We just want everyone to be a part of our blessing!!! We are so grateful for all of the love and kindness that has been shared with our family.
LOVE,
The Sullivan Family + + +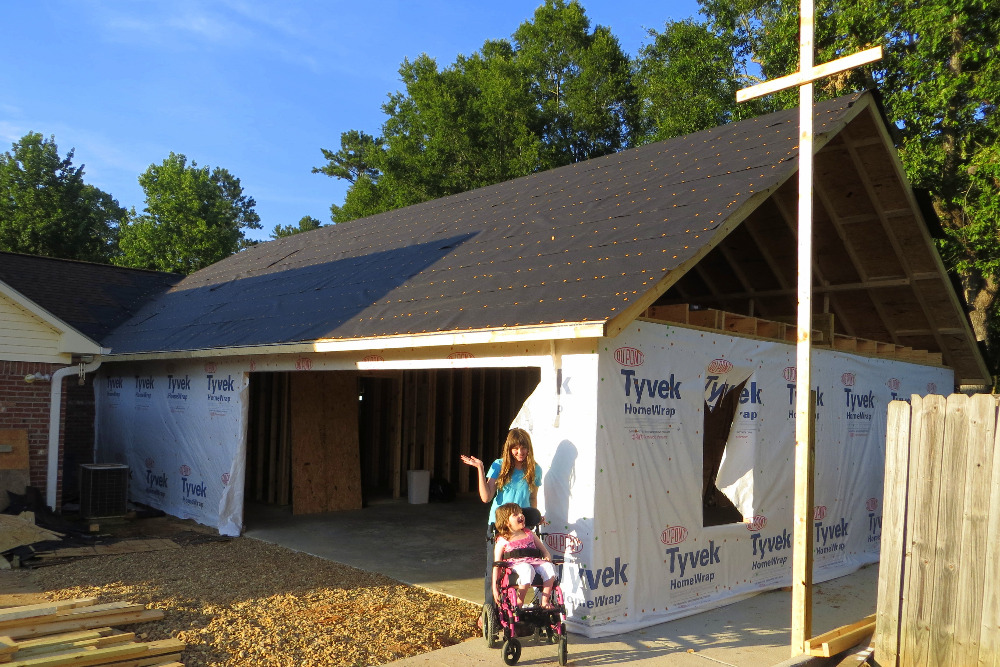 We are BLESSED with three beautiful children. The oldest is Jenna, who is ten years old. Our middle child is Mary Margaret, who is six years old. And our youngest is Michael, who is four. God has been so good to us. Our son Michael is a healthy little boy but both Jenna and Mary Margaret have very serious medical conditions.
At three years old Jenna was diagnosed with a tumor in her left eye. The medical name for it is a Hamartoma. It's a benign tumor. The doctors told us that she would have very little sight in her left eye because the tumor had caused too much damage to her retina and optic nerve. They said it would be too risky to remove it but that it shouldn't get any bigger or cause her any future problems other than her not being able to see well from the eye. Well, it did cause future problems.  We noticed that her left eye, which was blue, was turning green and that her pupil was extremely dilated and not centered. We took her to the eye doctor and discovered that blood vessels growing off of the tumor had done more major damage to her eye. Her retina was totally detached and her eye was under extreme pressure. They stuck two needles in her eye that day, one to relieve the pressure and the other to administer medicine. She was so brave! A week later she had vitrectomy surgery to try to save the eye. It's been several months and thousands of eye drops later and her eye still looks rough.  It has a large cataract growing in it.  Jenna is now totally blind in  her left eye.   The doctors have prepared us for the possibility that she may lose her eye completely and have to get a prosthetic one. They have told us that it is more than likely she will need more surgeries in the future.
A short time after first learning about the tumor in Jenna's eye, we learned through a neonatal specialist that our unborn daughter, Mary Margaret, would be born with some serious medical complications. While still in the womb, the doctor diagnosed her with a congenital anomaly called a Dandy Walker Malformation on her brain. He also said that she had Agenesis of the Corpus Callosum (the absence of the center part of her brain that connects the left and right hemispheres). We were devastated. We prayed to God, and put all of our faith and trust in Him to bring the good that only He can out of our situation. And, He did just that!!! On June 9th, 2006, after 30 hours of labor, Mary Margaret Sullivan was born. She came into this world fighting for her life and has not stopped since. She has almost died six times in her short life. She has ridden in two Life Flight helicopters and six ambulances. Mary Margaret has spent a tremendous amount of time in hospitals in three different states and in many, many doctor's offices. In addition to her other conditions, she also has been diagnosed with septo-optic dysplasia (deMorsier's Syndrome); she is blind and has paralysis of the vocal cord. Her other health impairments include: Diabetes Insipidus, Pituitary Insufficiency, Hypothyroidism, Low Cortisol, Asthma, and Seizures. She is in a wheelchair and has limited strength as well as physical movement. She is totally unable to do anything for herself. Her health is very delicate.  Mary Margaret's  presence is such a blessing and it's only by the grace of God that she is still with us today.
We've heard it said, "God gives special needs children to special parents." When we tell others about our daughters' medical issues,  most of the time the response we get from people is, "I had no idea your family had these problems," or "I'm so sorry to hear that." Our response has always been that it's not a problem because God has always been in control. We tell folks, "Don't feel sorry for us.  God has blessed us with circumstances in our lives that draw us closer to Him." Our children are such a blessing! God has taught us through their health, as well as through their illnesses and conditions, so much about HIS GREAT LOVE. God doesn't make mistakes!
Jenna and Mary Margaret share a very small bedroom. There is medical equipment in every room of our house. Our dream is to build Mary Margaret her very own special needs room with the door openings, the bath tub, the countertops, the windows and everything else in it designed just for her. This would also allow sweet Jenna to have her own princess room! At this time, with all of our medical bills and medical needs our dream seems so far off. Sometimes it seems impossible, But, WE BELIEVE WITH GOD ALL THINGS ARE POSSIBLE!
Thank you for all of your prayers and support, and thank you for reading our story.
May the Good Lord bless all!
What is GoFundMe?

Fundraising made easy >>
CONTACT
LINK
POSTER
REPORT