Just wanted to post an update.
A big Thank you to Casey Chambers and all the wonderful people at Brewskis...who raised $7600 at a Chive meetup to go towards the playground.
Other playgrounds that have been built have taken years to raise the funds and smooth out all the details, so rest assured this playground will happen. We are moving towards our goal slow and steady, 1 dollar at a time. Everyone who has donated, we thank you so much from the bottom of our hearts!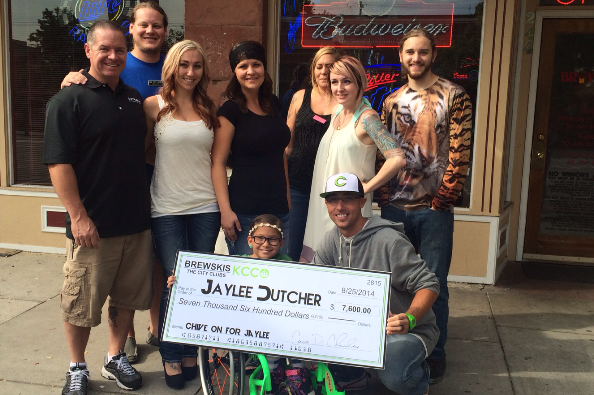 Every child deserves a playground!  Jaylee's park will be a community wide volunteer effort to build the first fully-inclusive and accessible playground in Weber County.  A place where children can come together for a one-of-a-kind, shoulder-to-shoulder play experience, where ALL children can come together, interact, be included and grow, through the gift of play.
We invite you to be part of this effort, and to learn more about the need of an 'Inclusive Playground' in our community.
I started this venture for my own personal reasons, I will start off by telling you those first. 
Every time I took Jaylee to the park, I had to help her get everywhere she wanted to go, and this was fine when she was younger.  As she got older, she got embarrassed when I had to help, so she would rather not do certain things.  This was just the beginning.
I went to Jaylee's school to have lunch with her one afternoon.  When we finished eating, I walked her to the playground and said goodbye.  I sat there and watched from a distance for a while.  She just rolled along the blacktop, doing wheelies, and occasionally interacting with the kids as they left the playground.
She could not join them, because she couldnt even get to the playground, the sand and woodchips make it very difficult for people with disabilities to access a playground.  
No child deserves to play alone at recess.  I have to change this...I will change this.  Cities, Schools, the State, and even the Government have no plans of changing the playgrounds to make them accessible.  Its up to US...WE have to make the change!! 
I started this venture for my own personal reasons, but I will see it through to the end for EVERY child whose ABILITIES are just a little different. 
Jaylee's Park
Jaylee's Facebook