Help Fayette Elementary School win a $30,000. playground makeover.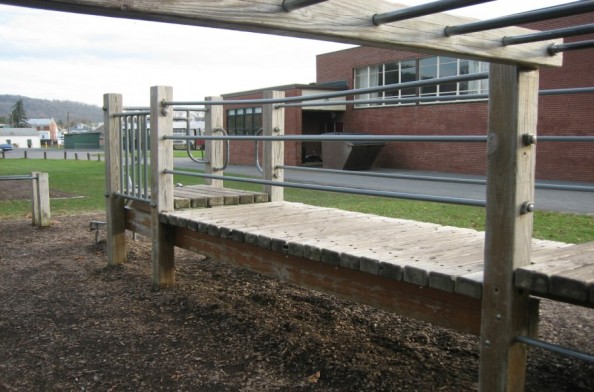 Please consider a small donation for our kids. We are working so hard on this project, and our children deserve safe, new, and fun equipment. No more splinters!
Juniata County School District has no funds for playground equipment at Fayette Elementary School in McAlisterville, PA. At recess, our children use 25 year old equipment which is terribly outdated. Concerned parents have come together and entered the Dannon Rally for Recess national contest to win a $30,000. playground makeover. It would take YEARS to raise this amount on our own. We are now in second place in our division. We send Dannon requests for free codes that we then enter into our account. Parents buy envelopes, index cards, labels, and stamps. However, we are a small community and need your help. Whatever you contribute will be used to buy stamps to send our requests for free codes to Dannon. Check our progress on www.rallyforrecess.com (Wildcat Division). The contest ends on December 31, 2012. LET'S RALLY TOGETHER FOR KIDS! Thank you for your support.

What is GoFundMe?

Fundraising made easy >>
CONTACT
LINK
POSTER
REPORT
Jennifer Wolfe
22 months ago
Send a pic of the swing set when you win!
Debi Bartosek
22 months ago
Given in honor of student, Ellie M. Keeping our fingers crossed that your school wins!! Love you bunches, Uncle Jody & Aunt Debi
Jason Mackanick
23 months ago
Good Luck with the goal
Tracy Durst
23 months ago
good luck!!!!! This is for you Ellie and EVERYONE at your school. Devin & Tracy
Sarah Dunston Wilhelms
23 months ago
A small token to help a friends' cause. Good luck Christa, i hope you get your playground :)
Christine Brenner
23 months ago
Good luck reaching your goal!!
Jenn Spencer
23 months ago
Win it!
Michelle Loveless
23 months ago
Good luck!!!