Lost his battle Jan 27, 2014 345am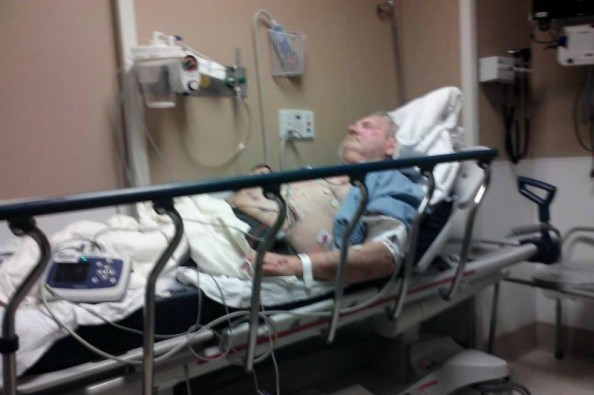 Thanks to all who has already helped! Just an update.. Gil will be moving to hospice soon. This has broken all of our hearts to make this choice, but it's the only choice there is. He's got delirium, and has not yet come out of it. He sees stuff, and is living through his memories now. Good ones. He's talking to the people he loves who has already passed. Mom (Tina) is still not working, she can't leave him alone at the hospital... This is why hospice is the only option. Keep praying...
When I first posted this message, I guess I thought everyone would know it was medical bills... but I will go deeper and explain that on the first of the year mom and dad have a deductible and out of pocket expense they have to meet before the insurance company will start to pay their potion.. this amount is 10,000 total.. both added up. initially I was asking for 10,000 but that's a lot to ask now a days. yes, medical bills are starting to come in and my daddy is still going to the dr everyday right now for one visit or another. bills are going to continue to roll in... my mom and dad would give anybody anything and never ask for anything. all I ask is 10.00 from people. . . together, 10.00 is a lot, and will go a very long way to help my mom and dad out... thanks again everyone! even if you cant donate, please continue to pray and share this around.

his story:

This page is for my dad. Gil. May 25th 2012 he was diagnosed with stage 4 Hodgkin's Lymphoma. He went through 6 months of chemo and was told he was in remissioin. 1 month later he was diagnosed with stage 3 lung cancer. He went through chemo again, and again was told it was gone. At his routine check 3 months later (Sept 2013) they found a tumor in his brain. The lung cancer metastasis from his lung to his brain. He just recently made it through brain surgery to remove the tumor. Now he has to go through full head radiation. Dad has had 12 surgery's since may 2012. My mom never asked for help. But now its just too much after the brain surgery. Mom is having to take too much time off work and money is getting tight with all of these medical bills, and radiation readings coming in at once it's getting even harder. Any help will help. I guess it comes a time that one has to swallow pride and ask for help... thanks for reading. Don't feel bad for my dad... pray for him. He is a fighter and continues to fight!
What is GoFundMe?

Fundraising made easy >>
CONTACT
LINK
POSTER
REPORT
Nicholas Conner
13 months ago
Vincent Bell
13 months ago
Joann Planche
13 months ago
Always family!
Mike Haenes & Wendy Welch
13 months ago
Praying for you
Praying for Gil and his family!
The Gerson's
13 months ago
God bless.
Bradley and Raelynn
13 months ago