Desperate, last resort car fund.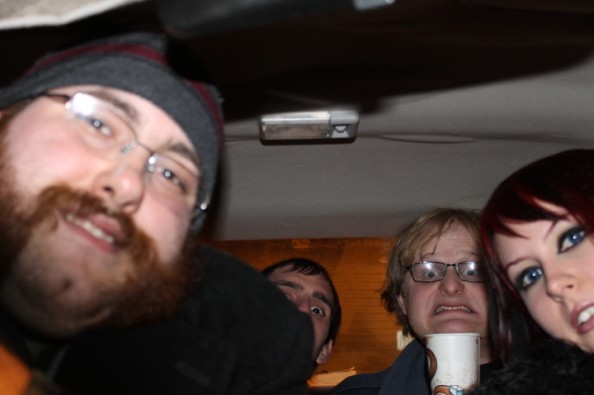 I got my new(to me) car on Tuesday! A relative is selling it to me at a great price. I now can get to work and don't have to sleep at a friend's house to walk there. I now am the proud owner of a 2004 Ford Focus in great condition, I hope that means no more setbacks or car problems for me! I really needed this and so many of my anxieties have ceased knowing that I can now get back on my feet and have a safe, reliable vehicle allowing me to do so! Thank you all so much for helping me out! I honestly can't thank you all enough. Now in my spare time I will need to get plates and title transferred and registered and insurance, this will all be several hindred dollars but thanks to everyone who donated I can afford to do that and don't need to stress anymore! I feel like this is the greatest thing that has happenes in my life. :) by the way, I started my job and so far I love it! Thank you all again!
Hello! My name is Carly and I desperately need a cheap used car to get to work with. I lost my job in October and have been unemployed and applying at many, many places since then. My car broke down in November and I have not had the income to get repairs. I was told that the timing chain on my '95 Saturn SC2 needs to be replaced, and that it's possible that since it slipped I may have extra damage to other parts such as bent heads and other related damages that won't be confirmed until after the chain is replaced and I drive it. If the chain is replaced and there IS extra damage I was told my car will break down again and will be rendered totally useless. A friend of my mom's was going to fix it for around $500, but when he realized all that was involved he said that he did not want to be held responsible if something else goes wrong after he replaces the chain. He told me that all the work involved would cost more than the car was worth. I don't want to give up on Sheila(my car) but I am desperate and don't know what to do. It was recommended that I scrap her and try to get together any money I can to get a cheap used car, but since I have been unemployed all the money i have saved up is $185. I am to be starting a new job on February 10th but I do not have a car to get there and I am starting to get really stressed! I need a car to get to work but I need work to get money for a car! I had to leave my husband in April because of his alcoholism and was renting a room from a woman's house where he can not find me, and when I lost my job she let me stay here rent free since October until I can get back on my feet. I hate doing that to her and really need this job so I can get caught up on rent and bills! I just really need some help to get back on my feet and I feel like I'm asking a huge favor.

I don't have much so I'm not sure what to offer for rewards levels, but when I figure something out for that I will post them!

Thank you to anyone who helps, I appreciate ANY help so much!(Keep in mind 5% of every donation goes toward the website with another 3% processing fee, so I won't be getting all of the donations but I'll get most of it!)
What is GoFundMe?

Fundraising made easy >>
CONTACT
LINK
POSTER
REPORT
My personal savings
14 months ago (Offline Donation)
Withheld
14 months ago (Offline Donation)
It was my birthday this week. Happy birthday!
Joshua Gantt
14 months ago
You are Romany Suicide. Of course I'll donate. I don't have any other choice.
Veronica Stewart
14 months ago
Hi, I don't know you at all. But I know all too well what it is like to have a clunker car while busting your butt trying to get your life in order to make something for yourself. Don't get discouraged. As long as you keep looking up you WILL get there! It may take some but it is possible!
Justin Acohido
14 months ago
Best of luck to you from one of your biggest SG fans! ♡♥♡♥♡