"Tom's Team"- Winning this race together!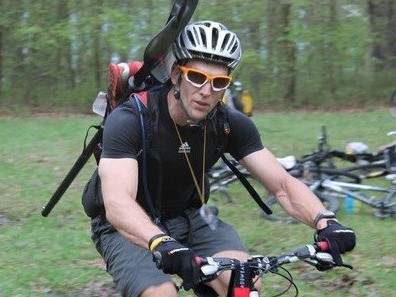 The response has be absolutely wonderful. I would have never dreamed that in 6 months we would reach 130% of the originally set goal. Thank you to everyone who contributed. Your support will certainly make a difference.
On May 17, 2012, TOM MORRIS suffered a C6 spinal cord injury as a result of a mountain biking accident. Four days post injury, was admitted to RHI (Rehab Hospital of Indiana). On June 15th, he transferred to Frazier Rehab in Louisville, KY. Tom was discharged from inpatient rehab on Saturday, July 21st and began outpatient Occupational and Physical Therapies on Monday, July 23rd. He continues to participate in most intensive training program of his life at Frazier Rehab.

Those who are fortunate enough to know Tom understand that his love for his family and friends is evident in all he does. His joy of life and light-hearted personality draw people of all kinds to him. As an avid cyclist, mountain biker, and adventure racer, he is continually challenging himself and those around him. He is a Penn State Alumni and currently employed as a strength and conditioning coach at Indiana University.

The physical, emotional, and pyschological tolls of spinal cord rehabilitation are extensive. As Tom and Christa work to overcome those challenges, my goal is for us to help relieve the significant financial needs involved in helping Tom win this race.

Tom is always the first to offer help, NOW it's our turn... Please contribute!
What is GoFundMe?

Fundraising made easy >>
CONTACT
LINK
POSTER
REPORT
Keep fighting, Tom. We're praying for you. -Nate, Kelly, Grayson, and Scarlett
Daviess County Slow Spokes
30 months ago
A group of friends who enjoy riding together, Daviess County Slow Spokes, hosted our annual ride yesterday. We had heard about your accident and wanted to support a fellow cyclist. We asked each rider to make a donation on your behalf. Prayers for your continued recovery.
Keep it up Tom! You are an inspiration to us all!
Josh & Andi Ditsky
31 months ago
Frank Tedesco
31 months ago
Stay strong and keep working!