Seattle Children's Hospital Fund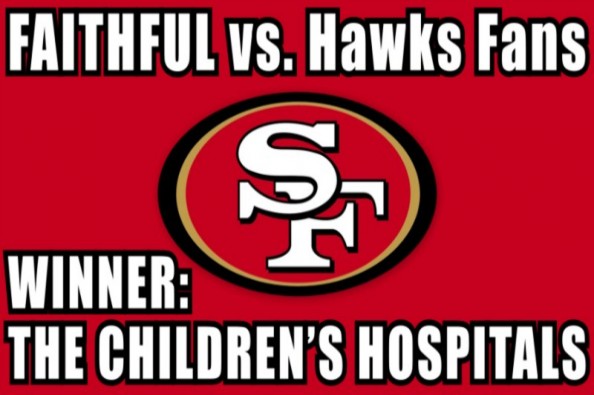 THANK YOU FAITHFUL, Hawks fans, and all other fans who have donated! We are concluding our donations today.

Although the billboard was the initial spark that started our funding page, the charitable aspect took on a much larger role and ended up being the most important part of our project. We had no idea when we started how big this would become, but we now realize how awesome football fans really are! We look forward to a great future rivalry with the Hawks, and doing more charitable events in the future for our cities. Thank you again to all who have donated and supported our cause. We have raised $35,322 total (of which the initial $7,200 pays for the billboard), and the remainder shall be donated to Seattle Children's Hospital (and is being matched by the 49ers and Hawks). GO NINERS, and get us that #6 next year!
FAITHFUL,

100% of Funds are now going to Seattle Children's Hospital!
--------

After lots of discussion in the 49er Faithful group (and based on the great idea of Michael Narvios), a lot of us have decided to counter the Seahawks' fans flying a plane with their banner around Candlestick by placing a billboard showing our 49er pride in Seattle.

This group has been created to raise funds to place a billboard in Seattle. The location will be voted on. Seahawk fans raised 2k, let's show them we can raise a lot more. We have contacted companies in Seattle with multiple billboard ad locations. We are looking to raise about 7-8k to keep our ad there for at least 1 month, all during December and some of January for their playoff games.

A GoFundMe account has been set up, everything will be transparent, and tells you what our goal is and how much we raised. Screenshots will be posted of where the billboard will be placed, of all costs, and constant posts on where we are with the funds, as well as photos of where we plan to place the billboard. We can even generate some press with this!

All extra funds will be donated to Seattle Children's Hospital. Your donation will be directed to Seattle Children's greatest needs fund to help ensure that they can care for every child in the region who needs them, support their families and search for cures to eliminate pediatric disease. Not any money will be used for this site or for anything but the billboard and for charity. If we do not receive the goal of 7k, nobody will be charged. The goal will give us 4 weeks of ad placement.

Please donate here:

http://www.gofundme.com/Seattle-Billboard-Fund
Let's show em Seahawks where the real faithful fans are!

Please discuss and see updates on our Facebook Page:

https://www.facebook.com/groups/690495124303683/


What is GoFundMe?

Fundraising made easy >>
CONTACT
LINK
POSTER
REPORT
GOLD LEVEL
Lake Family
14 months ago
Bay Area transplants to WA - - loved the billboard! =) Supporting our team as well as Seattle Children's Hospital. The "real" Bowl was two weeks ago & oh so close. Great class and great effort Faithful. 9er fans always ~
DIAMOND LEVEL
Tim's tavern @ 105 th
14 months ago
Customers rally at Tim's tavern for a raffle fundraiser in support of the Seahawks and seattle children's hospital!
DIAMOND LEVEL
ZymoGenetics /BMS
14 months ago
ZymoGenetics Staff fundraising event in support of the 12th Man and Children's Hospital!
PLATINUM LEVEL
Kim Hemphill
14 months ago
Go Hawks!
PLATINUM LEVEL
Donna Ferriero
14 months ago
GOLD LEVEL
Anthony Simon
14 months ago
Great game niners! Look forward to another great year.
GOLD LEVEL
I'm not even a football fan, but I think this is such a wonderful example of the good in the world. You all are an amazing group of people!
Gregory Mow
14 months ago
GOLD LEVEL
Willie Chan
14 months ago
Good game. The Niners will be a force to reckon with in the playoffs next year.
DIAMOND LEVEL
David Schilling
14 months ago