Hi Everyone!

I'm sorry that I haven't updated you on the progress of my film, but I am VERY happy and relieved to say that I have completed the editing of a 20-minute science documentary entitled Greenland's Glaciers and that I will be screening it in Corvallis at Oregon State University this coming Thursday at 5pm. If any of you are in the area, let me know and I'll give you location details!

I'm also screening it on June 18th at the Hatfield Marine Science Center in Newport, OR as part of the Markham Symposium, for those of you who live out there.

For those who live too far away to join me this Thursday, I will be posting a final edit of the film online for private viewing at the end of the week. I say private because I'm submitting the film to several science film festivals internationally and I'm not supposed to distribute it on my own. Please email me if you are interested in seeing the film in this way and I will send you a link with the password.

The film has come together really nicely. I reached my goals of communicating a complex piece of research about the ocean's role in glacier melting and sea level rise by revealing the people (the scientists) behind the research. It is a human story with some education and awareness built in, and I hope to make a career out of exposing science through narrative in film.

Thank you SO MUCH again for your kind contributions and for believing in me.

Love,
Saskia
Hi Friends, and Friends of Friends,
Thank you for checking out my video and taking the time to read this. I have won a small award through the Holt Marine Education Fund at the Hatfield Marine Science Center in Newport, OR, to partially support the production of my documentary, Greenland's Glaciers. However, I was not able to secure enough funds to support the entire production and am still in need of about $8,000 to cover equipment. The budget is outlined in the table below (maybe you have one of these items to donate!).
I will credit you as a Producer if you contribute 20% of this budget ($1,600) and as an Executive Producer if you contribute 10% of this budget ($800). Everyone who contributes will be acknowledged in the credits and will have access to some of my raw footage for their own use with CC licensing.
Please consider contributing something... anything!
Thanks again for your attention and I look forward to sending you a rough cut of the film in November.
Love,
Saskia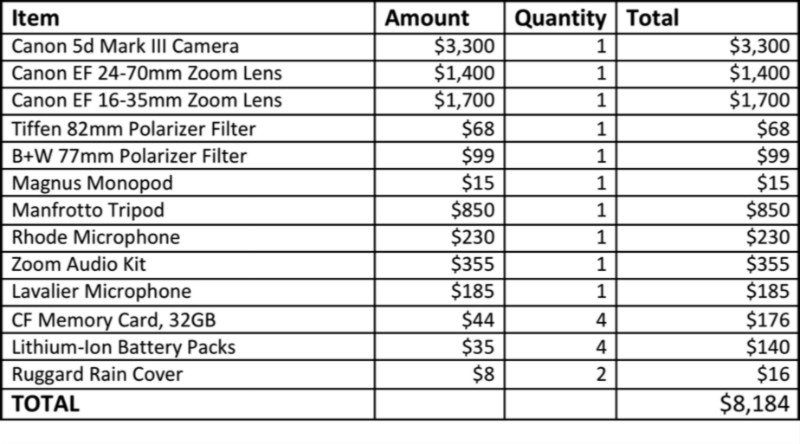 Check out what I've been up to at Oregon State University:
My college profile page
Curriculum Vitae
Salmon Bowl