Geary County Children's Choir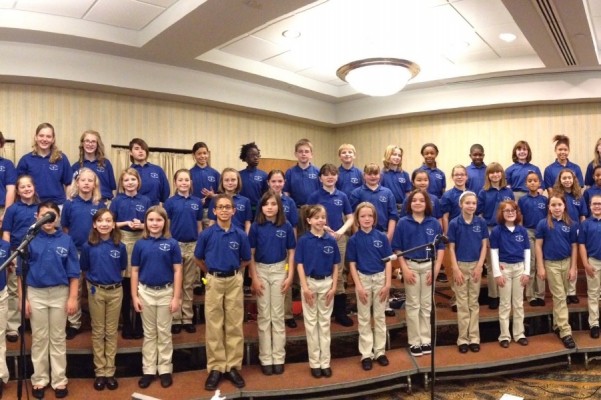 The Geary County Children's Choir has been busy this year. The students performed at the Christkindl Market on Ft. Riley, KS, Milford's tree lightening ceremony, and at the United Methodist Church in Chapman. This past weekend they had the opportunity to sing at the Opera House for the art walk and then headed to Ft. Riley to sing at a battalion Christmas Party. A small group will be performing at the PX on Ft. Riley, KS Dec. 19th from 1130am to 100pm. We are fundraising now for a day trip next year. Any way that you can help support the choir, whether through donations or coming to a performance is greatly appreciated by all the students, parents, and directors!

Upcoming events:
Biscuit/Gravy fundraiser on January 17th, 2015 from 7am to 1030 am at the Eagles Hall, located at 203 East 10th St in Junction City, KS. Advance tickets are $5 and $6 at the door.
Please help us as we raise money for our performance group of children in grades 4 thru 8. We plan a day trip in the local area on the odd years while fundraising for a 3 or 4 day out of area trip during the summer break in 2012 we performed in Branson Missouri, And in 2014 we performed in Colorado Springs Colorado. We are looking to perform again in Branson Missouri durning the summer of 2016

Please consider partnering with us -- every $1 helps us reach our goal.

Thank you for supporting Music Education and our students!

The Geary County Children's Choir has 501(c)3 status so your donation is tax deductible.


What is GoFundMe?

Fundraising made easy >>
CONTACT
LINK
POSTER
REPORT
Good luck Junction City kids! We're rooting for you to raise the money.
Janet Campbell
14 months ago
Courtney Darnell
14 months ago
Elisabeth Caraballo
14 months ago
:)
Sherry Frewerd
16 months ago
Dee Dee Bushnell
17 months ago
Hoping more people help these children do something positive that can possibly change one or more of their lives. Please contribute $1 or $5 or whatever you can. Every little bit helps. Love you Destiny!