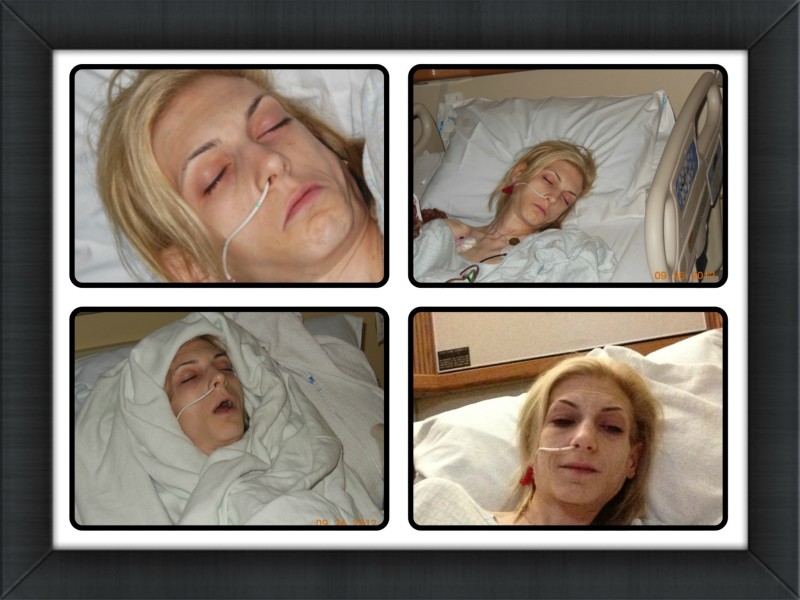 HOMEPAGE AND BLOG: HTTP://FallonMirsky.wordpress.com
Once an "A " student who loved school, was involved in many extracurricular activities, was a competitive figure skater and violinist, enjoyed spending time with family and friends, I have spent the last couple of years incapacitated, paralyzed, and unable to sit, walk, or even eat. Currently, I am 31 years old and suffering from a rare and life-threatening disease known as Reflex Sympathetic Dystrophy that was diagnosed in May 2001. I am also suffering from severe Autonomic Dysfunction, severe Gastroparesis, Osteonecrosis and a Pituitary Brain Tumor.
Imagine being tormented every waking moment of every day by searing pain in your limbs. Your arms and legs feel like they are on fire, they are swollen, hot to the touch or freezing cold, and you are unable to sweat. It feels like all the veins of your body being filled with lighter fluid and light them on fire all the time (24/7). Even minor knocks are agonizing. These are just some of the symptoms of Reflex Sympathetic Dystrophy, a poorly understood nerve disease defined by pain in the limbs that is way out of proportion from what is expected following a particular injury or harmful event, such as a surgery or injury; it is a rare, disabling pain disorder in which ordinary sensations such as touch, warmth, and even coolness are perceived as painful. I suffer daily from constant sharp, stabbing, tingling and burning pain; severe headaches; paralysis; intense muscle spasms; twisting of limbs (dystonia); sensitivity to any touch (allodynia); extreme sensitivity to lights and sounds; inability to sweat; swelling; fevers; softening of bones; decreased hair growth; redness and discoloration of the limbs; and painful skin ulcers.
Doctors have said that "these diseases are one of the worst a person can have and to make matters worse, I am the one of the WORST cases that they have ever seen." The pain is constant and unrelenting, but despite my suffering, I still have hope for a future. Everyone who knows me is amazed and inspired by how strong and fearless I have been through this entire painful process.
I suffer from a disease that ranks higher on the pain scale than Cancer, childbirth, amputation of a digit, etc. I suffer daily (24/7) from sharp, stabbing, tingling and burning pain; severe headaches; paralysis; intense muscle spasms; dystonia; sensitivity to any touch (allodynia); extreme sensitivity to lights and sounds; inability to sweat; swelling; deterioration of bones; decreased hair growth; discoloration of the limbs; and painful skin ulcers. I have severe autonomic dysfunction and as a result I have the failure of the nerves to transmit necessary signals and it involves organ failure. As I have severe Gastroparesis, my small and large intestines, stomach, and esophagus are all paralyzed and I cannot swallow. I cannot keep any food or liquids in me, and I vomit constantly. As a result, I have dwindled down to weighing only in the 60 plus pound range and having a BMI of about 10.8. Doctors do not know how I am currently living with all that is happening to me, but I am still pushing on and hoping for a day that I am 'cured' and able to live my life to the fullest!
Due to the complexity of my illness, we have to seek the help of top specialists across the country because not many doctors are knowledgeable about my disease and able to help me. We travel to Stanford Medical Center in California, John Hopkins in Maryland, Mayo Clinic in Minnesota, Drexel Hospital in Pennsylvania, Florida, and have doctors in the New York area as well.
I have seen many doctors, undergone numerous painful tests and procedures, had so many surgeries, been hospitalized frequently (including being intubated and on a ventilator), and been prescribed various medications as I am currently taking over 50 pills daily including Methadone, Morphine, Dilaudid, Nucynta, Ketamine to just name a few. Many doctors have told me that the amount of medications that I am taking would be enough to "kill a horse"—yet they have had little to no effect on me.
I have deteriorated so much and the pain has been so profound that I must undergo the most extreme and expensive of therapies—being placed under a Ketamine coma—to hopefully reset the pain connections of the body and fix the nervous system. However, although I am undergoing weekly ketamine comas/infusions in New York, the amount of ketamine that I really require cannot be attained and is only able to be obtained out-of-the-country, which is extremely expensive. I also require a rare and risky transplant that only 8 hospitals in the country perform, and it also carries the highest rejection rate of all transplants. I need a multivisceral organ transplant, which will encompass receiving a totally new digestive system (new stomach, esophagus and intestines).
The disease has robbed me of so many joys of life that people take for granted such as being able to walk (have to rely on crutches), going to school full days, taking a shower, going out to socialize with friends, and even eating. Due to how hypersensitive I am, my parents at times can't even kiss me, I can't wear a sock, I can't sleep with a blanket, I can't be bother by vibrations and voice, as these all can make the pain skyrocket. In order for me to somewhat function and make it throughout the day, I take more than 50 pills per day, which all come with side effects.
Unfortunately my illness poses a real financial burden on me and my family. We have a growing stack of bills from very costly insurance premiums, co-pays, and traveling. With just co-payments, we pay over $25,000 per year... and that is without the cost of the medication, doctors, and treatments that are not covered by insurance. My parents try as much as possible to make ends meet, but they have had to take an indefinite leave of absences from their careers in order to provide the vital at-home care needed to help me get me through this ordeal, as well as to take me to the doctors and to get treatments. .
I desperately need help from as many people as I can. I need help in raising funds because we cannot afford the lifesaving treatment on our own that I so desperately need. I desperately need your help so I can LIVE! I love life and I have so much to offer the world! I have an ambition to become a future doctor so that I can make others better. However, I fear that further treatments might have to be curtailed, and even possibly stopped, because the cost is just becoming too great. Please help me because even $1 is one less than I have to worry about.
I also need all the SUPPORT and PRAYERS that can be given. It is a huge struggle to go through each and every day and there are plenty of days that we don't even know if I am going to make it through the day or night.
Thank you for all your help and support!