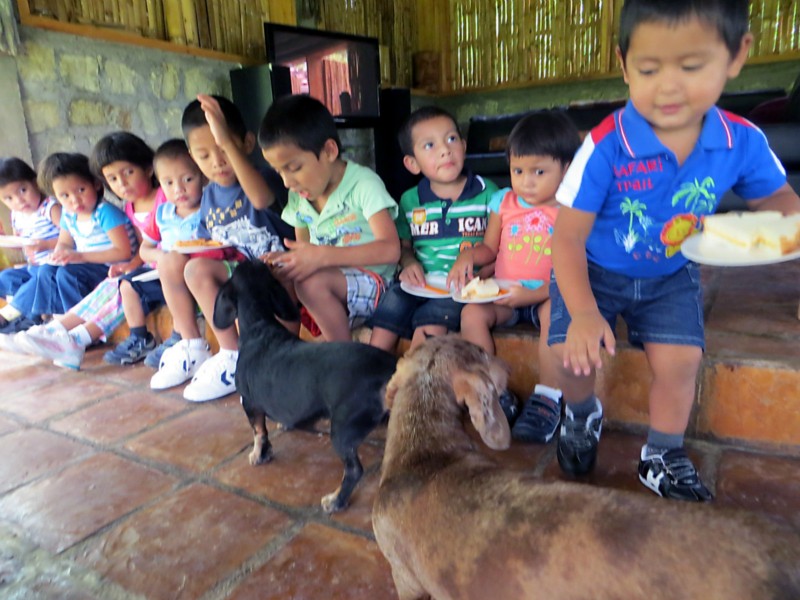 Welcome to the private fundraising page of Jody Paterson and Paul Willcocks. Paul and I are on a volunteer mission in Copan Ruinas, Honduras through
Cuso International
, and this page is about other good work we're hoping to accomplish before our placements finish in March 2014.
While settling into our new community, we came across a foster home here in Copan for 25 children without families, El Hogar Angelitos Felices. It was heartbreaking to see the tough conditions these children are living in, and we are doing what we can to help improve the lives of these profoundly underprivileged kids while we're here.
We've been doing capital-improvement projects at Angelitos since July 2012. The biggest one was a new water system and a total renovation of all three bathrooms, which cost about $5,300 in all. Thanks to the tremendous support of our friends, family and acquaintances abroad, we have been able to provide the children with a giant new water tank so the water doesn't run out (well, at least not quite as often!), hot showers for the first time, toilets connected to a proper sewer system, and much improved water services in the two kitchens.
In November 2012, we put down new ceramic-tile floors throughout the home and painted inside. This $4,000 project made an amazing difference to brighten the look of the place and make it much easier to keep clean. The old floors were made of worn-out cement that always looked black and dirty, so the bright white ceramic is quite a change.
In March and April 2013, we did a big renovation upstairs where a smoky old wood fire for cooking tortillas was creating way too much smoke for good health; now, there's a brand new "eco-fogon" downstairs near the kitchen that burns 45 per cent less wood and is completely smoke-free. and the upstairs area has been converted into an area for washing and hanging the laundry. In June, seven members of the Calvary Baptist Church in Ruston, Louisiana, returned to Copan Ruinas after first meeting the Angelitos kids last December and have now built 24 sturdy, beautiful new bunkbeds in the home. It's the first time each child has had their own bed.
The number of children at the home has dropped to 14 now, with another 2 living in the house of the woman who owns Angelitos. That's the result of some kids going back to their families as they age into teenagers. One was helped by the people at
Casita Copan
to return to his grandmother's home and is now attending the much better run day program at Casita Copan.
We'd love to build a public playground for all the children in Copan, as the town really needs one. Stay tuned for more on that pending project. We've presented to municipal council and are hoping for the best, but people have cautioned us not to expect much from the council.
The kids are desperate for activities, so we're also funding trips to a hotel swimming pool every other Sunday and doing crafts, music, river visits and other outings with them on alternating Sundays.
The children eat and live very simply, but it's still about $25 a day to cover basic operating costs at the home. So we're spending $25 a week or so on other necessities at Angelitos: food for the children; disposable diapers; laundry soap (25 kids generate a lot of laundry!); medications for staph, fungal infections; and various one-off needs that we come across.
We recognize that whatever support we're able to give will end when we finish our Cuso term, so we're also committed to building more support for the children in the Copan community. Our hope is that more of the children will eventually relocate to Casita Copan, a day care for impoverished single moms that marked its one-year anniversary in September 2013 and is working its way through permissions to become a permanent home for children. (
More on that project here
.)
We hope you'll join us in helping the children of Angelitos Felices. Many will spend their entire childhoods at the home. These kids were born into difficult lives and there's no easy future ahead for any of them. But a little love, a second helping of spaghetti and better living conditions can go a long way to brightening the days of these kids.
Thanks for your gift. This site takes a five per cent admin fee on donations and another 3.5 per cent fee per transaction for the service of managing on-line donations, but you have our word that every cent you give beyond that will go directly to the children.
I'm an avid photographer and will be posting many photos to this site, my blog and Facebook of the children and these projects as we go along. I'd be happy to email photos to individual donors wanting clear evidence of their gifts at work - and of course, all requests for donations for a specific purpose will be honoured.
And
here's a link to some blog posts
I've written on Angelitos Felices, including a little photo video I did up after a Mother's Day photo shoot at the home.