Alabama Cats Need Cage Free Sanctuary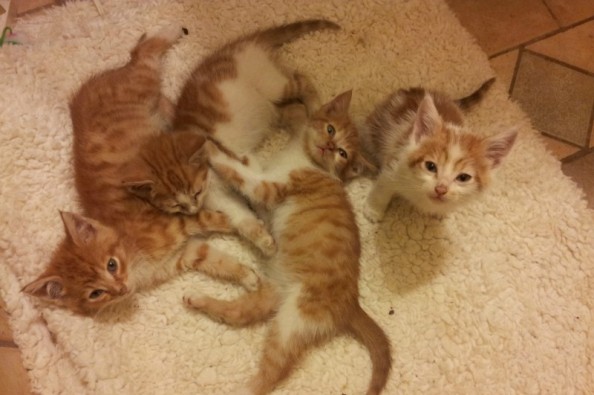 Raised: $3,845.00
Goal: $15,000.00
Created by
Kathy Stiles Freeland
504 Friends
Contact
Embed
Wish List
Contribute any amount to the items below.
Created by Kathy Stiles Freeland on June 5, 2013
It is past time to create a cage-free retirement home/sanctuary for cats in the metro Birmingham area. I ask you to join me in making it happen by donating to a "seed" fund for the project.

Almost daily I get an email or phone call from an animal rescuer or a friend begging for help. Sometimes it is on behalf of an elderly or critically ill person who can no longer care for their cat(s) and has no one to care for the cat (s). Other times, it is begging for a place for an unadoptable adult, injured or permanently disabled cat.

Sadly, there is usually no place for that elderly, disabled or unadoptable cat to be taken or often the shelter which does take it cannot get it adopted and it is condemned to either a caged existence or euthanized.

This dream began taking shape in my head and heart as I became more and more involved with animal rescue and saw this need. My vision is to one day have a retirement home/sanctuary located on a large tract of land within Jefferson County, especially designed and built for cage free living for unadoptable, elderly, or disabled cats.

Why have I decided to take this on?

Because I am a cat lover and rescuer and have been all my life.
I recently retired from a fulfilling 30+ year professional career as founder/Executive Director of two conservation organizations in Alabama. I was fortunate to be able to protect some great wild places that are home to incredible Alabama wildlife.

During that time I learned skills that I can now use for this project: fundraising, creating and managing a board and staff; developing business plans, strategic planning and overseeing the design and construction of a new building.
While my professional career focused on saving nature and native wildlife, I have rescued countless cats and dogs since I was a child. As a 9 year old, I decided I wanted to "raise cats" when I grew up.

I am a trained Trap/Neuter/Release volunteer and work with numerous animal rescuers in Alabama. Part of the dream is that this sanctuary will encourage spaying/neutering of cats and help people get that done.

It will educate cat owners on how they can keep their cats indoors to protect them and wildlife (especially birds) and yet give the cats access to sun and fresh air. It will secure good homes for cats that are adoptable. It will work with Alabama animal rescue groups to build a stronger network that is mutually supportive for the good of all those doing important rescue work. Hopefully, this one can serve as a proto-type for similar sanctuaries in other parts of Alabama. These "seed" funds will be used to develop the plan for this project and its leadership under the guidance of Best Friends Animal Sanctuary in Utah, a renown leader in the no-kill animal shelter movement. It will pay for legal services to incorporate, create by-laws and apply for the important 50l (c)(3) nonprofit status from IRS. It will pay for development of a business plan to make sure it is financially and operational stable, it will pay for tuition, travel and lodging for a sanctuary training session for at least two attendees at Best Friends sanctuary in Utah. It will cover the costs of basic office/computer equipment and supplies. The success of this seed fund campaign will show community support for the project to potential individual, corporate and foundation donors who will be asked for funds to acquire land, build the facility and staff it. I hope you will lend your support to help me make this dream a reality for those Alabama cats in need of a safe haven. For you dog lovers (and I am one): I am focusing on a cat sanctuary now because a greater number of cats are euthanized each year for lack of homes than dogs in Alabama. However, my hope is that this project, once successful, can be replicated in other communities in Alabama and can be expanded to accommodate dogs.

Recent Donations (56)
$3,845 raised by 56 people in 10 months.
$50.00
Anonymous
8 days ago (Monthly Donation)
$25.00
Anonymous
17 days ago (Monthly Donation)
$50.00
Anonymous
1 month ago (Monthly Donation)
$25.00
Anonymous
1 month ago (Monthly Donation)
$50.00
Anonymous
2 months ago (Monthly Donation)
$25.00
Anonymous
2 months ago (Monthly Donation)
$50.00
Anonymous
3 months ago (Monthly Donation)
$25.00
Anonymous
3 months ago (Monthly Donation)
$25.00
Linda Corliss
3 months ago
Great work Kathy !
$285.00
Conservation Alabama Foundation
3 months ago (Offline Donation)
Estimated value: $285 Donated a Toshiba laptop computer as part of office equipment upgrade.
1-10 of 56 donations
Next