Help Romeo the kitty cat burn victim!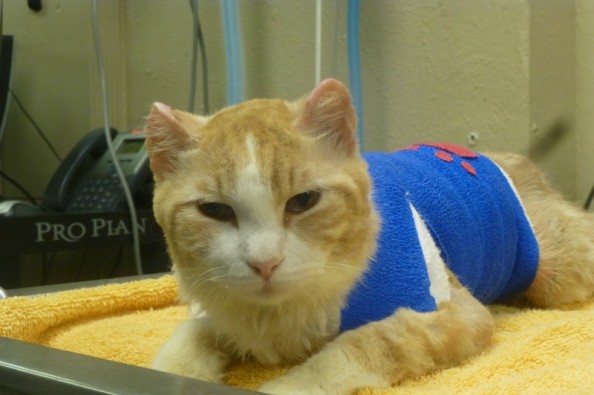 Hi Susan, I see you are doing your share in the kitten department. We have three litters, and feed wildcats as well. There are three kittens in the wildcats population here. I can't bear to see them go hungry, so we continue to feed them. We are having all of our cats, spay or neutered, two a month as we can afford to have them done. I love to see the kittens play and run, but we don't want anymore kittens. I know right now there is an over abundance of kittens. Our are tame, litter box trained, and healthy. Good luck finding homes for your kittens. I am still trying, otherwise, we will be kitten poor.
In March, Romeo was severely burned by a very bad person!  He has undergone several medical burn treatments and has to have bandage changes and pain injections routinely while he is healing.  Any donations to help with these medical bills are greatly appreciated!
What is GoFundMe?

Fundraising made easy >>
CONTACT
LINK
POSTER
REPORT
Susan Bennett
9 months ago
Darlene Morrison
9 months ago
Ok group I hate to leave things unfinished. Dr. Wingo and his staff have done their part. Romeo's mom is still doing her part. We need to finish our part. I kick started us with $25.00 today all we need now is $75.00 to reach our goal. I know we can do this for all the Romeo's whose story does not end so well. Have a Blessed day! Darlene
Laura Newell
10 months ago
Yay!
Helen Peterson
10 months ago
Cynthia Wentland
10 months ago
We are so close!
Karen Bleazard
10 months ago
Bless you darling little Romeo! May you recover completely!
Laura Newell
10 months ago
KATHRYN BALESTRACCI
10 months ago
So close, so close.